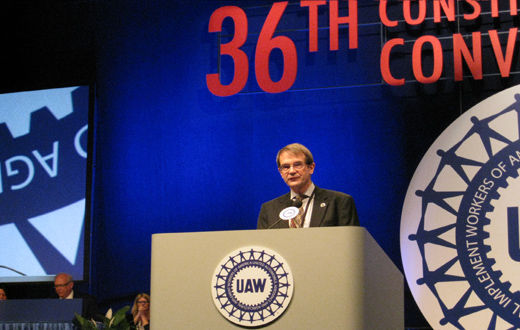 DETROIT – Speaking at the United Auto Workers 36th Constitutional Convention here on Wednesday, retiring President Bob King proclaimed a truism long understood by labor activists, "The amount of power you have determines the amount of justice you get."
In his last major address to his union, King acknowledged there is a big power gap in the country right now.
Due to the actions of far-right, anti-union extremists like the Koch brothers, working families have been "losing on every measure of social justice," King said. We are in a "war" for democracy, King said, and you don't have democracy without a "strong middle class." Central to democracy is the right to "organize and collectively bargain," he said.
A theme running through the convention is that saving democracy and winning at the bargaining table requires building global solidarity with unions around the world.
King said autoworkers at General Motors, Ford and Chrysler "can't win" unless the U.S. plants of Nissan, Toyota, Volkswagen and others are organized.
Honda, Toyota, and Nissan have had second-tier (lower-wage) and temporary workers for 25 years, King noted. That has set a standard that U.S. auto companies have been trying to force on their workers as well, he said. Thus, he said, organizing the plants is critical: "Our future depends on this."
The UAW has been actively involved in organizing the Nissan plant in Canton, Miss., and the Volkswagen plant in Chattanooga, Tenn..
The union narrowly lost an election at the Volkswagen plant earlier this year after a concerted campaign, not by the company, but by right-wing politicians and organizations. A change of just 44 votes would have meant victory said Frank Patta, general secretary of the European and World Group Works Council at Volkswagen, who addressed the convention earlier in the day.
Patta said that in the 25 years he's been doing union work, the "barrage" of anti-union propaganda was "the likes of which I have never seen before." The barrage included billboards, TV ads, leaflets and more. Patta pledged that autoworkers at Volkswagen and other auto companies around the world will never give up.
Nissan workers have a booth at the convention. Travis Parks, a night shift worker at the Canton, Miss., plant, said he has met South African and Brazilian Nissan workers who back the Canton drive.
Parks said it is hard to organize in a state like Mississippi because "every time you try to do something they put more laws into place to make it more difficult."
In addition, Parks said, "fear" is a factor. Management always inevitably tells the workers that unionization will result in closing the plant and this has an effect on some, he said.
But Parks is far from being deterred. He said he was at the convention "to take back and show the support we have" to his fellow workers and explain to them that the final say is with the workers, not the management.
International solidarity, re-energizing the membership and building stronger ties with civil rights, environmental, and broader social justice movements have been priorities for King and though he is retiring, he said he plans to be an "active" retiree.
Photo: Outoging UAW President Bob King addresses the union's convention in Detroit, June 4, 2013. John Rummel/PW