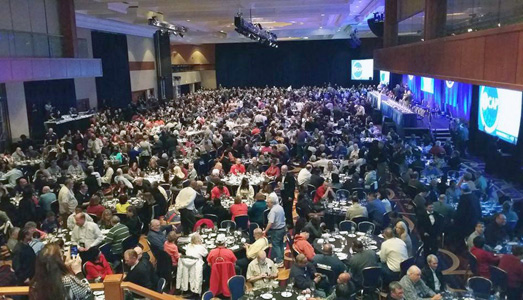 WASHINGTON (PAI)-In the halls of Congress, in the streets and at the ballot box, "activism is needed to overcome obstructionists" who scheme to destroy workers' rights, cut their wages and benefits, trash Social Security and block action to close income inequality and help the jobless, UAW President Bob King says.
In a message to 1,000-plus activists, attending the union's political action conference in D.C., the union leader added that activism is even more necessary because 2014 is an election year, when foes of workers will go all out against them.
"There are plenty of well-funded, far-right extremists supported by Wall Street and corporate America who are fine with the way things are, with corporations making incredible profits and paying out multi-million-dollar executive compensation packages while the rest of America is hard-pressed to get by. This year, our activism is needed to overcome these obstructionists," he declared.
"Tea party lawmakers and their conservative patrons seek once again to roll back the Affordable Care Act. They want to continue to balance the budget on the backs of the poor and middle class while allowing Wall Street a blank check. Income inequality and the battle to give hard-working Americans a chance to climb out of poverty will continue to be at the top of our legislative agenda.
"We will continue to fight for workers' basic human rights to organize and to participate in collective bargaining free from threats and intimidation from their employers. There is no quicker remedy to ending poverty than workers' participating in collective bargaining through their unions," he declared.
King's comments set the tone for the meeting, where delegates concentrated on two key causes on Capitol Hill: Closing income inequality and fair trade, not free trade. That means defeating trade promotion authority, otherwise known as fast track, and the secret pro-corporate Trans-Pacific Partnership (TPP) treaty fast track would permit.
The House's ruling Republicans show no signs of wanting to close the gap between the rich and the rest of us. And UAW Legislative Director Josh Nasser gave an extensive briefing on the Democratic Obama administration's push for fast-track authority to negotiate trade treaties in secret, and push them through Congress with no changes in implementing legislation, little debate on simple up-or-down votes.
The pacts lack worker rights and environmental protections, Nasser said. They also wouldn't stop Japan from blocking U.S. cars, while exporting its cars here. And moves to help close the income gap start with raising the minimum wage and restoring extended federal benefits for the long-term unemployed, he said. "When we have such a low minimum wage" in the U.S. "it puts downward pressure on everyone's wages," he added.
Nasser's explanation prompted delegate Bill Jackson of Local 588 in Chicago Heights to propose UAW also lobby for imposing a maximum wage on corporate executives as part of the minimum wage fight. Nasser responded that, in line with delegates' recommendations after last year's conference, UAW narrowed the number of issues it raised with lawmakers this year.
"We can talk about fairness in taxes" as part of closing income inequality "but we can't go in and talk effectively about every issue," he told Jackson.
"In Washington, D.C., there are more than 11,000 corporate lobbyists. They're not talking about raising the minimum wage, social justice or labor rights," Nasser added. "The Chamber of Commerce alone spent $74 million. We have to counter them. We're outgunned" in money "but we have the people back home."
King, AFL-CIO Legislative Director Bill Samuel and other speakers gave delegates tips on how to effectively lobby lawmakers, even the ruling House GOP. They emphasized being firm but polite, being direct, pressing directly for commitments on issues and – if they don't get answers – following up in lawmakers' home districts.
"Even the tea party has to start paying attention to its constituents," Nasser said.
That prompted Jerry Donovan of Local 2000 in northern Ohio to raise a question. After telling delegates they now have a powerful new ally on income inequality, Pope Francis I, Donovan, in a true Irish brogue, objected to being nice to all the lawmakers.
"You say we've got to be nice to these people. We don't want to be nice to them," Donovan said of implacable anti-worker lawmakers. "Money talks. That's how we got 'right to work' in Michigan. They all got afraid" of losing primaries to more-extreme hopefuls. "Sometimes we've got to go over there and put fear into the people we are talking to." Donovan got a rousing ovation.
And Ed Lucas of Local 677 suggested to King that UAW take the fight against fast track directly to the top, raising it publicly when Vice President Joseph Biden addresses the legislative conference on Feb. 5. King, who said he has raised the issue with both Obama and Biden, turned thumbs down to that idea, but said he would reiterate labor's stand on fast track in a private meeting with Biden before the VP's speech. "I don't want to put Biden in that position. He knows very strongly how we feel, and he's the strongest advocate for us in the administration," King explained.
Photo: UAW conference in D.C., February 2. UAW Facebook page.