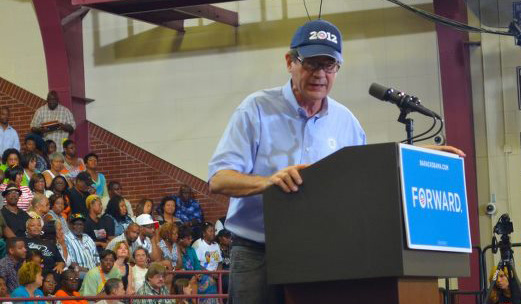 CHARLOTTE, N.C. (PAI)–Democratic President Barack Obama showed great "moral courage," in rescuing GM and Chrysler, UAW President Bob King says.
In a Sept. 5 prime time speech to the Democratic National Convention meeting in Charlotte, N.C., King said Obama went against popular sentiment when he constructed the rescue plan for the two firms.
The auto rescue plan, King reminded the delegates, required sacrifice from everyone in order to keep the two Detroit-based auto firms going. That wasn't very popular, even among his own members, King admitted.
Video of Bob King's speech to the DNC
And "the Republican response was to do nothing," he said.
King actually understated the anti-GOP case. Senate Republicans, led by the two from Alabama, campaigned to kill the Detroit-based auto firms, and the UAW with them. They wanted lower paying "transplants" of foreign auto firms, virtually all of them in the anti-union Southern states, to take over the U.S. market.
King concentrated on the rescue of the auto firms, through a government-structured bankruptcy for GM and Chrysler, followed by Chrysler's sale to Fiat. But their collapse would have thrown 1 million people out of jobs, at the auto plants, but also at suppliers and at small businesses – barbers, diners and more – that depended on business from autoworkers, King said.
Instead, the firms survived and now thrive "and since July 2009, the auto companies have added 250,000 jobs," King declared. And the auto firms are leading the economy, and the middle class, back, he added.
But collective bargaining is also vital to preserving the middle class, King said. He contrasted Obama's support of collective bargaining and the right to organize with the GOP alternative.
"Republicans want to take us back to a time when workers couldn't speak up for themselves, with one voice, for fairness and opportunity," he declared. "That's why unions matter," he said, to cheers and waving signs reading "1.1 million jobs saved."
King was one of a string of union members speaking to the convention. Others included Karen Usanio of the UAW local at GM's Lordstown, Ohio, plant, and veteran former Steelworker Vice President David Foster. He now heads the labor-environmentalist BlueGreen Alliance. Obama "walked in our shoes," in rescuing the auto firms, Usanio said.
Foster discussed something he would not have preferred to: The time, as a Steelworker vice president, he had to tell workers at a Kansas City company that Bain Capital, then run by present GOP presidential nominee Mitt Romney, pulled the plug on their company and their jobs. Bain and Romney walked away with millions, he added.
"We don't need a president who fires Steelworkers or who says 'Let Detroit go bankrupt!" Foster declared.
Photo: UAW President Bob King gave a rousing speech in advance of President Obama's address at the Toledo Labor Day rally. He urged people, especially those whose fortunes are tied to the auto industry, to remember who had their backs. Photo courtesy of Marci Leahey/UAW Local 1435.