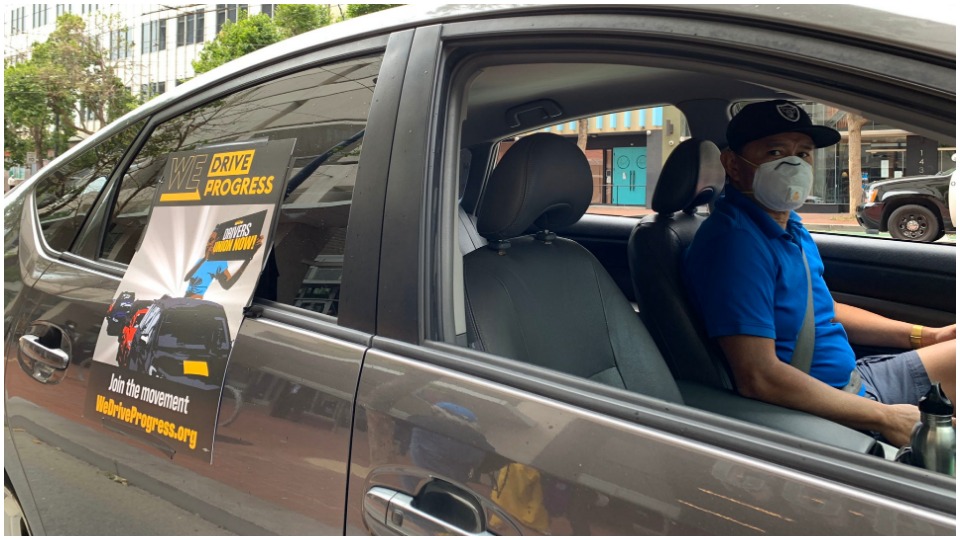 OAKLAND, Calif.—Bay Area drivers for Uber and Lyft started this week with a May 11 car caravan that poured through downtown San Francisco before circling around Uber's headquarters on Market Street, demanding that the giant app-based ride-sharing firm comply with Assembly Bill 5, "Worker Status: Employees and Independent Contractors," and accept that they are indeed employees, not contractors as the company calls them.
The law, passed overwhelmingly by the state legislature last year and in effect since Jan. 1, requires that as employees, Uber and other app-based drivers must have protections including minimum wages, paid sick leave, Social Security, unemployment, and the right to organize.
Monday's protest followed closely on last week's move by California Attorney General Xavier Becerra and city attorneys from San Francisco, Los Angeles, and San Diego to sue Uber and Lyft over their refusal to recognize their drivers as employees under AB 5.
The drivers' caravan, brought together by Gig Workers Rising and We Drive Progress, also demanded that Uber end its support for a $110 million ballot initiative to repeal AB 5. Instead of helping to fund the prospective November 2020 measure it initiated with Lyft and DoorDash, the drivers say Uber should provide direct help for drivers who must now choose between working through the pandemic or facing devastating housing and food insecurity. Drivers also pressed the company to provide much more personal protective equipment.
Gig Workers Rising organizer and former Lyft driver Edan Alva told the startup and technology web site techcrunch.org, "It's never been clearer than during these times how benefits, sick days, and unemployment benefits are absolutely critical for workers, especially for workers who are considered essential and are the most vulnerable in society overall. What they earn immediately goes to sustaining themselves and their families."
When he decided last month to stop driving for Lyft, he said he was "making $5 an hour" and felt there was no point in putting himself at risk to earn that little.
The great difficulties most drivers face now were made clear when We Drive Progress and the Southern-California based Mobile Workers Alliance released results of a late April survey of over a thousand drivers, nearly two-thirds of whom drove mostly for Uber or Lyft.
Eighty-three percent said they needed immediate emergency funds for bills, food, and other necessities. Two-thirds said they probably wouldn't be able to pay rent or meet their mortgage payment for May. Over a quarter said they had no health insurance, nearly half said they had already filed for unemployment compensation, and another 14% said they planned to apply.
Asked about personal protective equipment, over two-thirds said their company doesn't provide gloves, sanitizing products, or other PPE, while 82% said their company doesn't offer training to protect drivers from the pandemic, and 80% said their company doesn't offer financial help if they are exposed to or diagnosed with COVID-19.
A study released May 5 by the University of California-Santa Cruz's Institute for Social Transformation reinforced those findings. Among 643 workers for app-based on-demand companies in San Francisco who were surveyed, nearly half said they couldn't handle a $400 emergency expense, over one-fifth didn't have health insurance, and 15% relied on public assistance like Temporary Assistance for Needy Families (TANF), housing vouchers, or food stamps.
Half worked more than 40 hours a week for their company, with earnings after expenses dropping as low as $360 per week for ride-sharing drivers and $224 per week for delivery drivers. Over three-quarters had seen a significant drop in jobs and income since the start of the pandemic.
Some 78% of those surveyed were people of color and over half were immigrants, coming from many different countries.
Underscoring the urgency of Attorney General Becerra's suit demanding Uber and Lyft comply with AB 5, a study released last week by the University of California-Berkeley Center for Labor Research and Education found that the two companies could owe California more than $400 million in unpaid unemployment insurance funds.
The study's authors, Ken Jacobs and Michael Reich, said that in the decade they have existed, Uber and Lyft have not paid into California's Unemployment Insurance Fund despite repeated findings by California's Employment Development Department that as employees, their drivers are entitled to unemployment benefits. If Uber and Lyft had treated workers as employees, the authors said, the two companies would have paid $413 million into the state's unemployment Insurance Fund between 2014 and 2019.
In a May 5 statement, California Labor Federation Executive Secretary-Treasurer Art Pulaski commended Attorney General Becerra and the city attorneys for their "aggressive action to hold the companies accountable for cheating drivers out of basic protections all workers deserve."
When the companies "refuse to pay their fair share for unemployment insurance and other programs that are a lifeline to out-of-work drivers," Pulaski said, "taxpayers foot the bill while the bank accounts of the companies' millionaire executives swell."