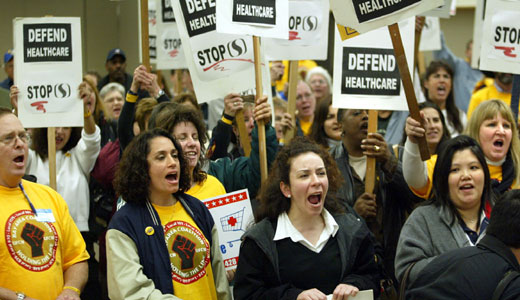 WASHINGTON — With less than a month to go before their contracts with the United Food and Commercial Workers expire, the Washington-Baltimore area's two biggest grocery chains, Giant and Safeway, are "going nuclear" in their war against their combined 30,000 workers, UFCW Local 400 President Tom McNutt says.
The two firms, which control 60 percent of the area grocery market, have posted help wanted ads for "replacement workers" – also known as scabs – in their stores. They also are banning their workers from handing out little cards to shoppers urging support for the employees. The firms' contracts with the union expire March 31.
The firms are also trying to restrict workers' use of social media such as Facebook and Twitter. Taken together, the companies' tactics show Giant and Safeway want to either force a strike or lock out their workers after expiration, said McNutt.
The firms' tactics forced Local 400 to file unfair labor practices complaints with the Baltimore regional office of the National Labor Relations Board, the local added.
"This is about the one percent waging class warfare against the 99 percent by trying to pit neighbors against each other for the same jobs, only with lower pay and fewer benefits," McNutt said. "But it won't work because people know the threat to our living standards comes from corporate greed, not our fellow workers."
"If Giant and Safeway think trying to intimidate, frighten, and silence their workers will force us to bow to their demands, they've got another think coming. In fact, they're having the exact opposite impact. Our members are empowered, we are united, and we've got each other's backs.
"These companies will not trample on our members' right to improve their lives through collective bargaining. The days of Giant and Safeway goosing their profits by driving down our members' economic standing are coming to an end," McNutt said.
The union says Safeway and Giant management put more than 30 takeback demands on the bargaining table, and refuses to budge. It also notes that Giant and another chain, the smaller Boston-based Stop 'n Shop, are responsible for more than half the revenue of their profitable Dutch-based corporate owner, Royal Ahold.
An investor presentation by Ahold CEO Richard Boer and chief financial officer Jeff Carr showed net sales at the U.S. chains rose by 6.6 percent last year, to $25.1 billion. Net income for Ahold rose 19.2 percent, and Boer told investors he would seek a 38 percent raise in the firm's dividend. Carr chimed in that the company "has too much cash" on hand.
"One easy solution would be for that money to be reinvested back into existing workers – like us," Local 400 commented after hearing about Carr's comment.
Photo: The UFCW, at a rally in Calif. against chain grocery store Safeway. Dino Vournas/AP