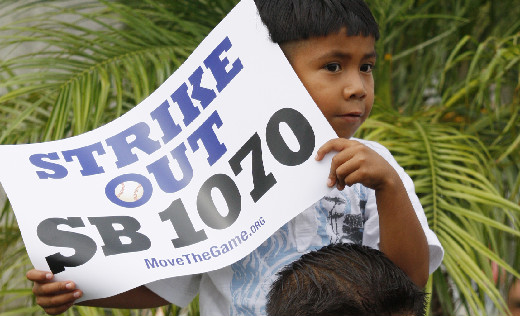 PHOENIX (PAI) – The United Food and Commercial Workers and the Service Employees with civil liberties groups are leading, a class-action suit to stop Arizona's new law targeting people based solely on the suspicion – due to skin color – that they are undocumented. The groups sued on May 17 in federal court in Phoenix.
The law, signed by Gov. Jan Brewer, R-Ariz., and passed by the legislature's Republican majority, orders state and local law enforcement officials to stop anyone they suspect of being undocumented and demand they immediately produce proof they legally live in the U.S.
Those who cannot immediately produce such papers are arrested and detained and could be deported.
Both large unions, which have tens of thousands of Spanish-speaking members, were outraged. Both also are among many groups that will boycott Arizona until the law is repealed or declared unconstitutional.
"Arizona's legislation is unworkable, it is unconstitutional and it undermines our nation's rich immigrant history and heritage. It is a recipe for racial profiling and a marked retreat from the values and ideals that make America strong," UFCW President Joe Hansen said when the class-action suit was filed.
"For our members, this issue is personal. UFCW members have seen first-hand how enforcement-only tactics fuel racial profiling – and lead to the trampling of our Constitution," he declared. He specifically cited Immigration and Customs Enforcement (ICE) raids, undertaken during the anti-worker GOP Bush government, against unionized Swift & Co., meatpacking plants.
Of the more than 1,200 workers arrested in those ICE raids on Swift, only 62 – not all of them with Hispanic names – were undocumented. Swift was crippled so badly financially by having its plants closed for days, due to a decimated workforce, that its owners were forced to sell the historic Chicago-based firm to a Brazilian meatpacker.
"We are filing this suit to protect the rights of our members and all workers in Arizona – and to uphold the values and ideals that make our nation strong," Hansen said.
"UFCW has been at the forefront of the fight for immigration reform because we have seen firsthand the devastation caused by enforcement-only strategies. We've seen families torn apart, we've seen communities destroyed and we've seen workers'
rights shredded. We need a comprehensive overhaul of our broken immigration
system at the federal level, not regressive, racially motivated laws enacted on a state-by-state basis," he explained.
"Arizona's new immigration law is a flawed solution to a serious problem," said SEIU Executive Vice President Eliseo Medina, the son of immigrants. "If implemented, the law will violate our most basic civil rights, burden local law enforcement and undermine public safety – all while failing to solve Arizona's immigration problems.
"We hope to stop the law before it institutionalizes racial profiling, pushes an unfunded mandate on cities and counties already strapped for cash, and wastes precious taxpayer resources on the costly litigation that will inevitably ensue," Medina added.
The class action suit charges the Arizona law violates the U.S. Constitution by unlawfully interfering with federal power and authority over immigration matters. It also invites racial profiling against people of color by law enforcement in violation of the Constitution's equal protection guarantee and prohibition on unreasonable seizures, and the law infringes on the free speech rights of Arizonans.
The suit also says Arizona's law violates that state's own constitutional ban on investigatory stops by law enforcement without reasonable suspicion of criminal activity.
Besides UFCW and SEIU, organizations that filed the case in federal court in Phoenix include the American Civil Liberties Union, which drafted the complaint, SEIU Local 5 in Phoenix, the Mexican-American Legal Defense and Education Fund (MALDEF), the NAACP and the National Immigration Law Center (NILC).
"We saw during the Bush administration raids on our Swift plants how Latino workers were treated, how they were profiled because of the color of their skin, how law enforcement separated workers based simply on who they believed were undocumented," Hansen said. "These heavy-handed tactics unfairly – and incorrectly – targeted U.S. citizens and legal permanent residents.
"That is why we are committed to fighting this legislation – and why we are abstaining from doing business in the state of Arizona until this issue is resolved."
Arizona's law has drawn nationwide and foreign protests. The Mexican government, for the first time ever, issued a "travel advisory" for its citizens, warning them to stay out of Arizona. Mexican President Felipe Calderon, on a state visit to Washington in mid-May, officially protested the Arizona law to both President Barack Obama and Congress. There are also demands that major league baseball move its future All-Star Game, scheduled for Phoenix, out of the city, especially since baseball teams have a large percentage of Latin American players.
Photo: Young baseball fan wants the All-Star game moved out of Arizona. AP.