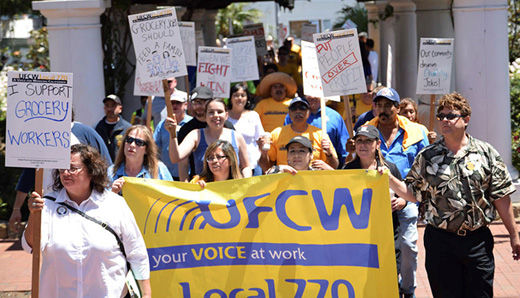 LOS ANGELES – Grocery Workers reached a tentative agreement on a new contract with Kroger Company and Cerberus Capital, the owners of Ralphs and Vons/Albertsons, respectively.
After intense negotiations following the imposition of an August 8thdeadline by the seven locals of the United Food & Commercial Workers Union, the federal mediator helped guide the parties to a proposed contract.
"We are happy to say that five months after our previous contract expired, the corporate owners of Ralphs and Vons/Albertsons have agreed to a proposed contract," said Rick Icaza, one of the chief negotiators for the UFCW and the President of one of the largest UFCW locals in the country. "This would not have been possible without the strength and solidarity of all the 50,000 grocery workers throughout Central and Southern California, the cooperation of the seven California UFCW locals and the UFCW International Union. We also owe deep thanks to the support of consumers and community leaders. Because of the unshakable unity of our membership, we were able to bring these negotiations to a conclusion, and will present the offer to membership for ratification on Monday, August 8th."
"While we are unable to divulge the details of the agreement until we inform our members, we would like to thank the Federal Mediation Conciliation Service (FMCS) Deputy Director Scot Beckenbaugh and Commissioner Isael Hermosillo, without whom this agreement would not have been possible," said John Grant, Secretary­Treasurer of Local 770. "We believe this contract will address our members' concerns and begin to secure the important role grocery workers play in our community."
The previous contract covering nearly 50,000 Central and Southern California grocery workers expired nearly five months ago. Since then, grocery workers have worked without a contract, staging numerous rallies, marches, and events designed to bring attention to their fight and to bring the corporate owners of Ralphs and Vons/Albertsons to the table. Just last Tuesday, for instance, thousands of grocery workers, community members, clergy, and fellow union members marched across Los Angeles to demand a conclusion to negotiations.
Grocery workers across Central and Southern California will gather to review the details of the contract and vote on the offer. Results of the vote will be released when voting is complete by all seven UFCW Locals.
Photo: UFCW 770