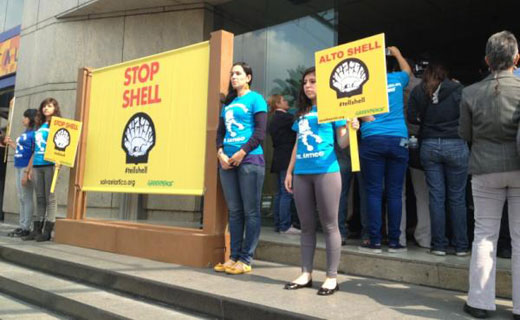 Trained activists with Greenpeace shut down 74 Shell gas stations July 16, in London and Edinburgh, to protest the oil corporation's plans to drill into the sensitive Arctic ecosystem for oil.
The organization's response has been the sharpest yet to Shell's plans and, for better or worse, draws attention to just how much controversy the oil company has generated.
There are 71 gas stations closed in London and three in Edinburgh, with 24 total arrests of activists involved. The protesters sabotaged the locations as a way to fight back against what they view to be Shell's corrupt plans for the Arctic, where drilling may threaten or compromise the safety of the environment and natural life there.
The activists are shutting down the stations by using an emergency shut-off switch to stop gas from going to the pumps, and by removing a fuse in order to delay it from being switched back on. Though the protesters seem willing to work outside the law to combat Shell, one of them noted, "We're being careful not to destroy property. Even the carefully removed components will go back to Shell."
These actions are part of Greenpeace's Save the Arctic campaign, the goal of which is to not only defeat Shell's efforts to invade the Arctic, but to do so by having the region recognized as a world park. However, the organization is fully aware that Shell will begin actual drilling there in the coming weeks.
While perhaps not a laudable effort in the eyes of many, Greenpeace's latest move is a telling sign of the apparent desperation to which environmentalists are being pushed by Shell, whose grip on the vital Arctic ecosystem is tightening under the oversight of pro-oil capitalism.
Shell has been notoriously responsible for pollution in many parts of the world and, albeit indirectly, the murder of peaceful activists in Nigeria.
"It's time to draw a line in the ice and tell Shell to stop," said Sara Ayech, a demonstrator at one of the Shell stations. "That's why we're going to shut down all of Shell's petrol stations in the capital cities of London and Edinburgh."
According to Greenpeace campaigner Graham Thompson, "We need to ratchet up the pressure. We need to let Shell know this isn't a publicity campaign; we're going to put pressure on them until they agree to stop what they're doing."
Ayech underscored the dire imperative activists feel to fight back. "The oil giant is preparing, for the first time, to unleash a drilling fleet of huge vessels upon the fragile and beautiful Arctic, home of the polar bears.
"An oil spill [there] would be catastrophic for wildlife such as walruses and whales, and Shell knows full well that it would be impossible to clean up after such devastation."
Photo: UK Greenpeace activists protest Shell's planned drilling in the Arctic. Greenpeace.org