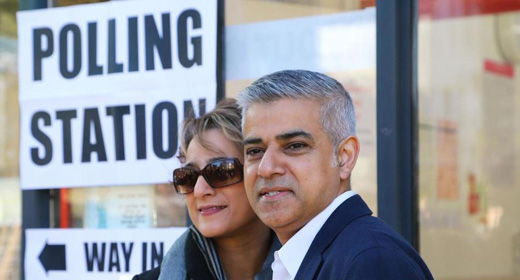 The last 12 months of UK politics has been mind-numbing. Elections one year ago saw the Conservative Party, led by PM David Cameron, take a surprise majority government. The election of Jeremy Corbyn as Labour leader, meanwhile, has been roundly and perniciously attacked by the liberal establishment and the punchline of endless right-wing jokes.
The man who took up the reigns of a party riven by infighting, but without an ideology to show for it, took his leadership to its first big test on Thursday.
Status quo prevails in England
England went to the polls to elect local council members with little prospect of significant upset in any direction. Unperturbed by the banality that confronted them, news editors across the nation painted the situation as a do-or-die moment for the novice leader, with even the possibility of a coup-attempt to bolster sales. Labour's grassroots, still mostly enamored of Corbyn, pitted against their ivory tower MP (Member of Parliament) overlords in a desperate struggle for power.
None of it came to pass. Labour held some councils, others they'll have to govern with coalition partners. Shortly after polls closed, the idea of a coup attempt died when prominent Labour parliamentarians and malcontents went on TV to announce laconically that, at least tonight, it just wouldn't happen.
Labour fades further in Scotland
At least they still have jobs. In Scotland, the red rosette badge of the Labour Party has been firmly relegated to vintage status in activist wardrobes over the past decade. That trend continued Thursday, when the pro-independence Scottish National Party's (SNP) hegemonic grasp on every level of Scottish political life was usurped, unexpectedly, by the Scottish Conservatives.
A common joke in recent years has been that Edinburgh Zoo has more Pandas (2) than Scotland had Conservative MPs (1). Friday morning saw Conservatives wake up to find they had surged to their highest showing since 1992, eclipsing Labour as the party of opposition at the Scottish Parliament. Zoologists, at least, will be pleased to have their funding proposals given added weight.
Voters in Scotland and Wales elect candidates at constituency and regional levels, to allow smaller parties better representation. The Scottish Green Party had a strong night, returning 6 MSPs (Members of Scottish Parliament), up from 2, but expressed disappointment at not winning their first ever constituency seat (it went to the SNP).
Socialist groups, including RISE (Respect – Independence – Socialism – Environmentalism) – an alliance born out of the highly-effective Radical Independence Campaign, failed to win any seats. By the next election, Scotland will have amassed 18 years without leftist representation in Edinburgh, beyond even the SNP's wildest dreams.
Labour sank to third place behind the Conservatives, and their fourth leader in five years – Kezia Dugdale – has announced she intends to stay on despite murmurs of a leadership challenge. The party, widely seen as intellectually moribund, could do worse than to give its newest leader at least another three months – if only to celebrate the anniversary of her election.
Welsh Labour cedes ground to the right
Carwyn Jones, as leader of Welsh Labour, represents the essential conundrum of the neoliberal, progressive party post-Blair. How long can a person go on, ruthlessly selling out not just their own principles but those of swathes of their constituents, with only coloniality to support them? At least five more years, it seems. Leanne Wood, the energetic force behind the resurgent separatist Plaid Cymru, was never expected to oust Jones' zombie Labour Party. Even still, she secured a constituency seat in the colonist's back yard – the industrial region of the Rhondda.
Labour's real losses in Wales were to right-wing parties like UKIP (UK Independence Party) and the Conservatives, which makes sense. Prospering under New Labour turns you into a Conservative, it doesn't keep you a liberal. Blair's darlings now have political representation elsewhere – they'll never be killed.
British hegemony runs deep in Wales but it's also more obvious compared to Scotland. Pockets of resistance under Plaid Cymru are more vibrant than anything in Scotland, but also further from a political breakthrough. Wales' economy has moved from being heavily industrial, with steel mills around the Rhondda and the Valleys region, to being overly dependent on the public sector, whose institutions could be moved if ever the UK Government were to be threatened. Even if Labour were motivated to stand up for workers, and perhaps more importantly for people for whom work simply isn't an option anymore, they couldn't without threatening the hand that feeds.
Son of Pakistani immigrant elected London mayor
In London, that's less of a concern, which is precisely why the Conservatives tried to make it one. Zac Goldsmith, a candidate with all the fluidity and charm of a thunderbirds puppet, waged a predictable PR offensive against Sadiq Khan.
Khan was Labour's man designated to retake the capital city mayoralty after eight years of inertia (and an Olympics) under the Conservative Boris Johnson – whose tenure has seen his meteoric rise from national embarrassment to the international stage.
Sadiq Khan is, in addition to being the son of a bus driver who emigrated from Pakistan and an esteemed human rights lawyer, a Muslim. Zac Goldsmith's line of attack, backed fully by the Conservative leadership, was entirely foreseeable. Khan was variously insinuated to have "dangerous," even "radical," associations – a crazed choice compared to the "safe" Goldsmith.
The nauseatingly obvious line of attack failed to gain traction in one of the world's most diverse cities. A voting population larger than Scotland's decided, 57 percent to 43 percent, that Khan was their man. Power to him – he inherits a city with an inequality crisis that would have Margaret Thatcher wondering "What is to be done?" and a financial services economic heart that might be ripped out by a vote to leave the EU within two months of his election.
Photo: London mayoral candidate Sadiq Khan arrives with his wife Saadiya to cast their votes at a polling station in Streatham, south west London. | AP