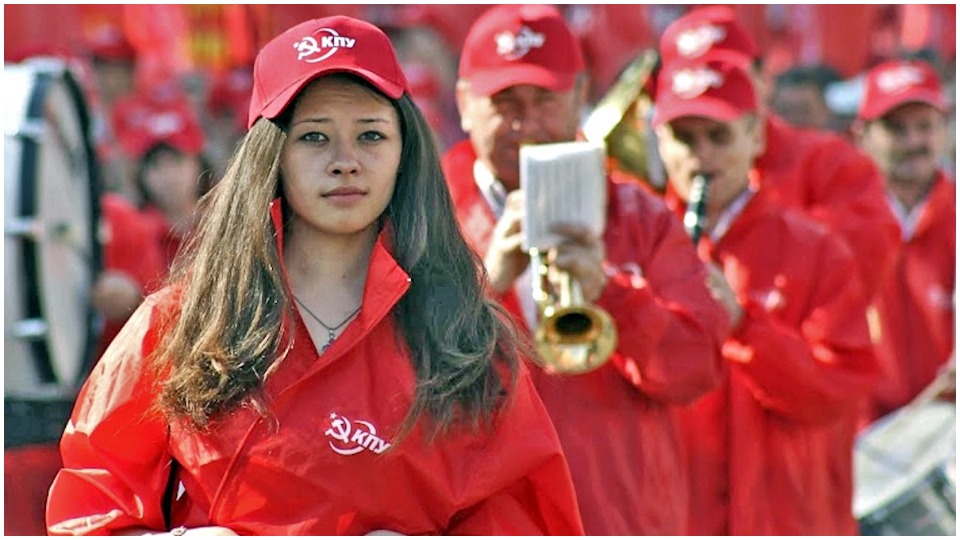 Ukraine's Communist Youth (Komsomol) members joined a rally against the planned marketization of the nation's agricultural land on Sunday near the office of President Volodymyr Zelensky in Kiev. Protesters left political party banners and flags behind to emphasize that the great land sell-off "concerns all residents of Ukraine."
The demo chanted: "No to the sale of land!" and "A referendum on land!" to put pressure on Zelensky, who is wrapped up in the Trump impeachment scandal, to go to the people about the "reform," which has long been demanded by international financial institutions such as the World Bank.
Komsomol first secretary Mikhail Kononovich said the persecution of the Communist Party, which has been banned in Ukraine despite polling 2.6 million votes in the last election in which it was allowed to participate, was to "clear the political field of left parties so they would not interfere with lowering social standards and selling land. The sale of land is our Stalingrad—not one step back! No sale of land!"
The Komsomol members then took their placards opposing land sales to a protest against the blockade of Cuba at the U.S. embassy, explaining that U.S. companies were "the main customer" when it came to planned land sales.
After the fall of the Soviet Union, Ukraine abandoned its collective farm system but distributed the land among former collective farmers, with a ban on its sale to protect smallholders from being swallowed up by industrial agricultural giants, though in practice many lease the land anyway.
Ukraine has as much agricultural land as France and Germany combined and much of it is considered higher quality. President Zelensky has sought to reassure citizens that the land will not be bought up by foreigners: "The land belongs to Ukrainians. In the model we propose with the government, only Ukrainian citizens and Ukrainian companies will be able to buy or sell land.
"Horror stories about the Chinese, about the Arabs, or about the aliens who will bring out our land on wagons are nonsense."
However, the law actually stipulates that "Ukrainian-registered companies," which may be owned by anyone except Russian nationals, can buy the land, opening Ukraine's agriculture to exploitation by U.S. and EU agribusiness.
Polls suggest around three-quarters of Ukrainians oppose the proposed land market, due to open next autumn.
Morning Star