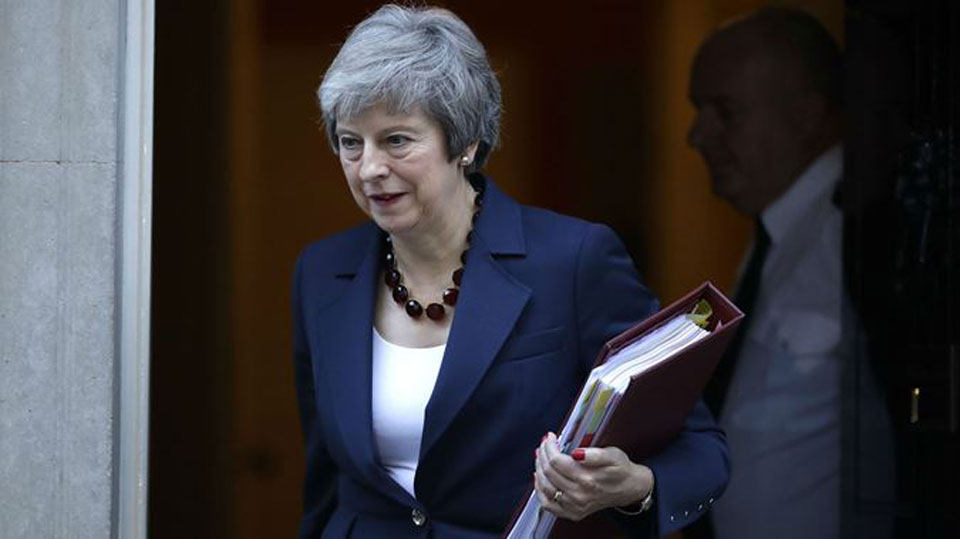 Well, we've finally reached the end.
Not an end to Brexit, but an end to Theresa May's time as Britain's prime minister.
A deal was struck Thursday between May and senior rank-and-file members of the Conservative Party outlining a timetable for May's departure from No. 10 Downing Street in the first week of June.
"We had a very frank exchange with the prime minister," said Graham Brady, the Conservative Party's most senior rank-and-file leader. "May will meet backbenchers [members of Parliament] to agree on a timetable for the election of a new Conservative leader after MP's Brexit vote in June."
May might be leaving, but it doesn't mean she'll exit quietly. In fact, her plan is to set up one final showdown—fourth time's a charm, right?
Beginning the week of June 3, while Donald Trump traverses the U.K., May will again put the negotiated European Union Withdrawal Agreement Bill (WAB) before the House of Commons with the hope it will pass into law. Activists say Trump's three-day visit will prompt "huge mobilization."
The burning question: How would the deal, rejected three times already, gain majority support?
The short answer, it probably won't.
After seven weeks of talks between May and Labour leader Jeremy Corbyn, no cross-party solution has been found. The Conservative government refuses to move their redline on a permanent customs union between the U.K. and EU post-Brexit. It's a central demand of Labour and one which they won't move on either.
"In terms of the customs union, we've been repeatedly pushing them on this point, and they haven't reached the position that we would like them to get to by any stretch at the moment," said Labour's shadow business secretary and key member of Labour's negotiating team, Rebecca Long-Bailing. on BBC Radio 4.
"It is imperative that this is sorted out as quickly as possible," she continued, "and I think stunts and pushing things forward without consensus within parliament are very dangerous at this stage."
May is certainly crossing over into dangerous political terrain with a fourth Brexit vote, and relies too much on the "Greater Fool Theory"—a risky, speculative strategy, rarely delivering long-term results, for a win.
In the case of Brexit, May places all hope that MPs from all parties will be shocked into submission following costly defeats in next week's European Parliament [the directly elected legislative body of the European Union] elections.
Recent polling data for the election shows her Conservative party fell 4 percentage points from last month to 12 percent, while Nigel Farage's Brexit Party grew to a six-point lead with 30 percent. Labour came in second with 24 percent.
It's bad enough that Britain's political disunity is emboldening Farage's unholy return but relying on his party's victory for a small win back home will only legitimize the Brexit party's racist, anti-immigrant, ultra-nationalist agenda.
For May, is it a risk worth taking?
In the end, only the Brexit deal's fourth vote results will tell.
Honestly, the only thing worse would be a Boris Johnson premiership…oh, wait, it's also a real possibility, as Johnson, a key face of the Brexit campaign, confirmed, and continues to outperform his opponents in the bid for Conservative Party leadership.
And now onto June.