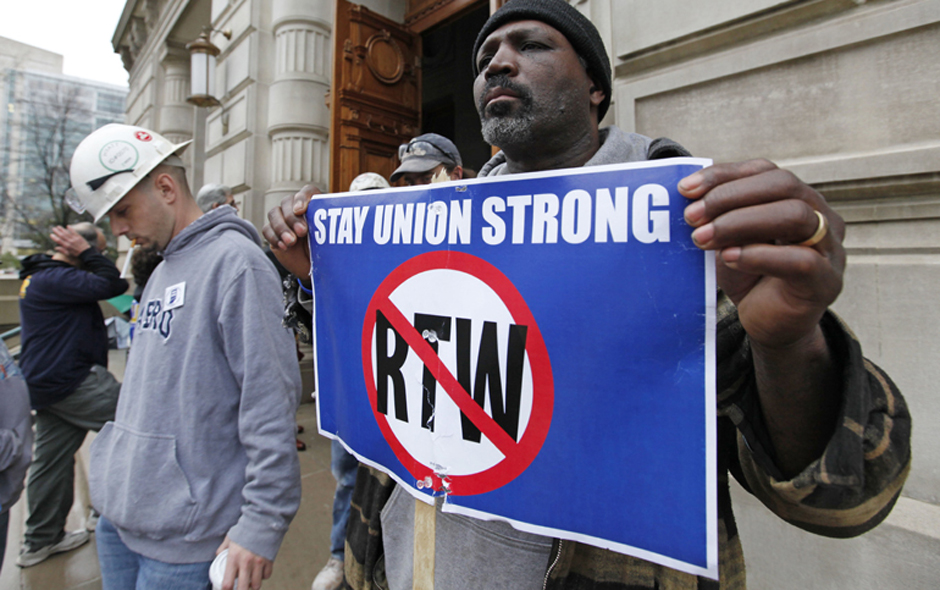 ST. LOUIS – Is your union – or are you — doing business with Uline?
Richard Uihlein, the Illinois mega-donor executive behind the family-owned Uline packaging company — a major supplier to unions and other businesses of shipping, retail, safety, material handling and industrial supplies in Missouri, Illinois and nationwide — has contributed $500,000 to the effort to make Missouri a "right-to-work" (RTW) state.
Uihlein contributed in late February to a Kansas City-based political action committee named "Freedom to Work," formed last year to oppose efforts to take Missouri's phony anti-worker, anti-union RTW legislation to a vote of the people.
Uihlein has also contributed to the campaigns of three top right-wing Republicans: Illinois Gov. Bruce Rauner, Missouri Gov. Eric Greitens and Missouri Attorney General Josh Hawley's bid for U.S. Senate. The two governors are notable union haters who constantly scheme to destroy workers and their unions, especially public workers.
Greitens ran on a RTW platform in winning the open Missouri gubernatorial seat in 2016 and signed the RTW bill after the heavily Republican legislature approved it. Workers and their allies collected more than 300,000 signatures – triple the number needed – to put RTW on this year's August ballot, and, in the process, delay its implementation.
Rauner was the original complainer to the courts in the Janus v AFSCME District Council 31 case the U.S. Supreme Court heard on Feb. 26. Janus is part of his constant effort to destroy Illinois public workers and unions. The first federal judge hearing the case tossed him out because he wasn't directly hurt, and the RTW crowd found Mark Janus as a substitute.
Uihlein contributed $360,000 to Greitens' bid for governor in 2016. Greitens' own dark money group, A New Missouri, formed by his campaign aides, has given $1.1 million to the Freedom to Work PAC, but the sources of that money are hidden. Greitens' campaign office shares space in the same building as A New Missouri
Freedom to Work is only one of several groups formed to promote RTW, which will appear on the Missouri ballot as Proposition A. Voting 'NO' on Prop A will defeat RTW in the Show Me State.
Uihlein and his company follow the pattern of other right-wing millionaire corporate magnates nationwide, who fund the war on workers, often through shadowy groups that hide their money sources. Other such moguls include the Koch Brothers of Kansas City, the Bradley Foundation of Milwaukee and corporate backers of both the American Legislative Exchange Council (ALEC) and the National Right to Work Committee.
Although Uihlein has been contributing to anti-union Republican candidates and causes for decades, it wasn't until the St. Louis Post-Dispatch reported his $500,000 donation to the Freedom to Work PAC last week that the full extent of this anti-worker financing became known.
Unions across Missouri are being urged to determine if they, or their training programs, are buying equipment or supplies from his company called Uline and whether, under the circumstances, they want to continue doing so.
Long a Republican donor, Uihlein increased his political giving after the 2010 Citizens United Supreme Court decision, which ruled that companies are people and, as such, can give as much money as they want to political candidates and their campaigns. After that, Uihlein quickly surged to the top of the conservative donors' list.
Crain's Chicago Business has called him the "Koch of conservative politics in Illinois," noting that he is "Illinois' largest GOP donor nationwide."
Federal Election Commission filings show Uihlein has given at least $17 million to the Republican National Committee and super PACs supporting Republican candidates in this election cycle, putting him on track to meet or exceed his 2016 political giving, which totaled $19 million, according to calculations by the Center for Responsive Politics. Of that, $2.6 million went to Rauner.
Among the groups Uihlein has contributed to this cycle are the conservative Club for Growth Action, which received a $3.5 million check, and the Tea Party Patriots Fund, which received $500,000.
Uihlein became controversial among Republican donors last year when he gave $100,000 to the political action committee backing failed and disgraced Alabama U.S. Senate candidate Roy Moore.
Uihlein's contribution in the RTW fight highlights the disproportionate financial odds being faced by We Are Missouri, the coalition of workers' groups, students, seniors and their families fighting to keep Missouri workers free to have a strong voice in their workplaces, protect good-paying jobs, and hold accountable extremist politicians who insist on attacking workers rather than creating jobs.
We Are Missouri is fighting to build a Missouri economy that works for everyone, starting with the defeat of "right-to-work," expected to appear on the August ballot as Proposition A. The coalition is asking workers statewide to donate $18, or whatever they can afford, to the "$18 for '18" campaign by writing a check payable to "We Are MO" and mailing it to the group at 227 Jefferson St., in Jefferson City, Mo., 65101, or donating online at wearemo.org.