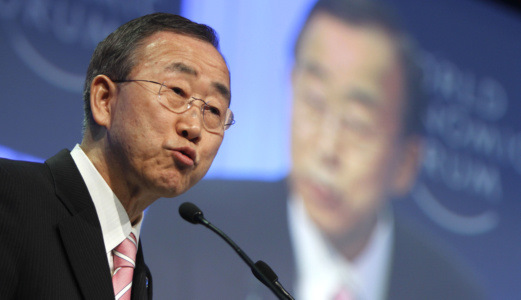 Describing the world's economic model based on insatiable consumption of resources "a global suicide pact," U.N. Secretary-General Ban Ki-moon challenged world leaders at the World Economic Forum last week to "make major changes – in our lifestyles, our economic models, our social organization, and our political life."
The U.N. chief warned that humanity is "running out of time."
He told the gathering of heads of State, international economists, business leaders and representatives of civil society that to avoid national and global "disaster" will require balanced development that will lift millions out of poverty and, at the same time, protect the planet and ecosystems that support economic growth. He said, "It is good business – good politics – and good for society."
"China is going to leave all of us in the dust," Christiana Figueres, head of the U.N. Framework Convention on Climate Change declared the previous day, the Associated Press reported.
The diplomat leading the U.N. Climate talks said that China is surpassing the U.S. and Europe in developing clean and low-carbon energy as a way to spur its economy.
"China is committed to winning the green economy race," she said. "And honestly they are not doing it just because they want to save the planet. They are doing it because it's good for the economy."
Last year China increased spending on low-carbon energy by 30 percent to $51.1 billion, "by far the largest figure for any country," according to Bloomberg New Energy Finance. The accounting firm Ernst & Young reported in September that China for the first time surpassed the U.S. in its quarterly index of the most appealing countries for renewable energy projects.
"You can leapfrog – you don't have to follow the model of the north," Figueres declared. "China is showing this." China's chief climate negotiator Su Wei has said his country will boost energy efficiency in its next five-year plan being worked out this year.
European Union Climate Commissioner Connie Hedegaard called on U.S. business to take greater initiative in embracing a more energy-efficient economic model.
Governments can provide the conditions for green growth by setting "a price on carbon," Hedegaard said. "If it costs a lot to pollute a lot, then business has an incentive to pollute less."
Photo: UN Secretary General Ban Ki-moon addresses a session at the World Economic Forum Jan. 28. (Virginia Mayo/AP)