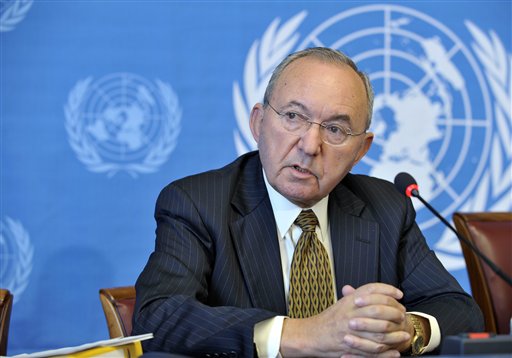 Predictably, a United Nations report on last winter's Gaza war has become a political football.
Following the war, with reports of well over a thousand civilian deaths, charges that Israel had used deadly white phosphorus in densely populated areas, and Israeli anger over rocket attacks on its civilian population, the UN Human Rights Council set up a fact-finding mission chaired by respected international jurist Richard Goldstone, a South African who is Jewish.
The team issued its findings, known as the "Goldstone report," in late September. It concluded that both Israel and Palestinian armed groups had committed war crimes as well as possibly "crimes against humanity." Israel, it said, had committed "serious violations of international human rights and humanitarian law … in the context of its military operations in Gaza."
The report said both Israel and the authorities in Gaza should be required to conduct investigations and prosecutions and report to the Security Council within six months.
Israeli Prime Minister Benjamin Netanyahu immediately seized the opportunity to deflect attention away from the growing pressure on Israel to stop settlement expansion in the occupied Palestinian West Bank. Assailing the findings as biased and anti-Israel, he declared that Israeli-Palestinian peace talks would not resume unless the report was shelved.
The Obama administration, anxious not to derail its push for peace negotiations, tried to get the Palestinians not to press for wider UN action on the report, but this effort backfired. Palestinian President Mahmoud Abbas first acceded to the U.S., but after a firestorm of protest from Palestinians, he switched and pushed for UN action. The UN General Assembly was scheduled to take up the issue today.
Joining Netanyahu, right-wing groups in the U.S., which have long insisted that any criticism of Israeli government actions is "anti-Israel," launched a barrage of attacks on the report.
Yesterday, the U.S. House of Representatives passed a resolution calling on the president and secretary of state to "oppose unequivocally any endorsement or further consideration" of the report in international forums.
The resolution, H. Res. 867, passed in a roll-call vote, 344 to 36, with 22 representatives voting "present" and 30 not voting. Votes of liberal and progressive House members were divided among all those categories.
Clearly, fear of being labeled anti-Israel along with genuine concern about Israel's security are still potent forces on Capitol Hill. Yet shifting political dynamics suggest that the resolution is unlikely to have much long-term significance.
Many of the same lawmakers who voted for the resolution or abstained on it also publicly endorsed and attended last week's inaugural conference of J Street, the American Jewish peace advocacy group. The high-profile gathering drew 1,500 participants from across the country along with an array of influential policy experts, including Israelis and Palestinians, and was keynoted by White House National Security Adviser Jim Jones.
On the heels of that highly successful conference, J Street issued a statement yesterday reiterating its "strong support for President Barack Obama's commitment to end the Israeli-Palestinian conflict through a two-state solution and comprehensive regional peace during his first term in office – and for his belief that all parties have obligations to fulfill if we are to reach a resolution."
Among those obligations, J Street emphasized, was an Israeli freeze on settlement expansion.
President Obama is scheduled to make a major address to the American Jewish community next week.
J Street urged the president to keep in mind what his security adviser, Gen. Jones, told the conference last week: "that if he could urge the president to solve one problem in the world, it would be the Israeli-Palestinian conflict."
Photo: Judge Richard Goldstone, who headed the UN fact-finding mission on the Gaza war. (AP/Keystone, Martial Trezzini, file)