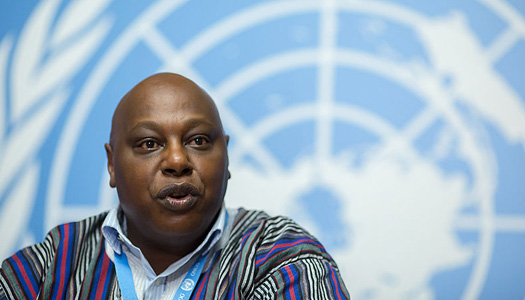 A top United Nations human rights official, attending the two political party conventions as part of his investigation of U.S. conditions, is warning of a large threat to U.S. workers' rights, and specifically to freedom of association. That freedom was threatened outside the party conventions, too, he said.
And while Maina Kiai, a Harvard-trained attorney from Kenya, didn't mention the Republicans by name, his implications are clear. And he adds the threat to freedom of association in the U.S. goes hand-in-hand with threats by race.
"Today, unfortunately, America seems to be at a moment where it is struggling to live up to its ideals on a number of important issues, the most critical being racial, social and economic inequality, which are often intertwined," Kiai reported.
"To be clear, the focus of my mission was not race or discrimination. My mandate concerns the enjoyment of the rights to freedom of peaceful assembly and of association. But it is impossible to discuss these rights without issues of racism pervading the discussions. Racism and the exclusion, persecution and marginalization that come with it, affect the enabling environment for the exercise of association and assembly rights."
The criticisms from Kiai, the UN's Special Rapporteur on the rights of freedom of assembly and association, echo those U.S. workers and unions have voiced for years about weak U.S. labor law, virtual elimination of the right to strike and employer abuses against workers, documented and undocumented.
For his preliminary report and his full study next year, Kiai met with representatives of the National Labor Relations Board (NLRB), the U.S. Labor Department, the AFL-CIO, its Solidarity Center, and the ACLU during his trip from July 11-27. He also traveled to Washington, New York, Baltimore, Ferguson, Mo., Cleveland, Phoenix, New Orleans, Baton Rouge, La., Jackson, Miss., and Philadelphia.
Ferguson was the site of the killing of Michael Brown, an unarmed African-American, by police, which started the Black Lives Matter movement. Jackson is the site of a Nissan "transplant" auto plant, whose workers are overwhelmingly African-American or Latino. The UAW is trying to organize the plant despite company labor law-breaking.
Kiai did not like what he saw. He was particularly perturbed by restrictions on peaceful protests outside the conventions. Restrictions violate the right to freedom of association, regardless of the protests' content. Kiai was even more scathing about lack of workers' rights.
"In law, workers are not prevented from forming unions. However, in practice the ability to form and join unions is impeded by a number of factors: Inordinate deference to employers to undermine union formation, a so-called 'neutral' stance on unions by authorities-when in fact international law requires they facilitate unions-weak remedies and penalties for intimidation, coercion and undue influence by employers, and political interference and overt support for industry at the expense of workers," Kiai said.
And "permanent replacement" of striking workers "renders the right to strike ineffective," Kiai added, despite international guarantees of that right.
Even where workers unionize, employers are under no mandate to bargain first contracts, Kiai said. Companies can intentionally draw out negotiations to be "open-ended and unproductive." That way employers "demoralize and frustrate union members, thus weakening their bargaining power."
In organizing, Kiai singled out the inequality of employer-mandated "captive audience" meetings versus bans on distribution of union literature in workplaces and on the rights of workers to meet at plants or to protest without management presence or retaliation. He also hit "pervasive employer interference practices…vividly illustrated by the strength of the $4 billion dollar 'union-busting' industry."
And Kiai criticized states – he singled out Mississippi – for touting lack of unionization and ability to exploit workers "as a great benefit to employers." At Nissan, "workers have suffered greatly," Kiai reported. Nissan now outsources all hiring to a temp agency, "which pays significantly lower wages and benefits," he noted. "Nissan reportedly operates 44 major plants throughout the world. All are unionized, except for two in the U.S. South. Why not Mississippi?"
Kiai also blasted so-called "right to work" laws in Louisiana, Arizona, Mississippi and elsewhere as "a particularly insidious way of weakening unions, because it removes any incentive for workers to join" while the unions must still pay to defend them on the job. While he did not say so, Republican-run state legislatures and governors have pushed RTW laws.
"Coupled with the intense pressure by employers against unionization, it" – right to work – "also gives enterprises a free pass to unilaterally set terms and conditions of employment to the detriment of workers," Kiai said.
The NLRB, charged with overseeing worker-management relations for most U.S. private enterprise and some public enterprises, is a weak reed, in so many words, Kiai found. The board "is unfortunately unable to issue penalties for employers' violations of rights.
Its "remedies…do not serve any deterrent purpose and underfunding severely limits the number of cases the board can investigate. Enforcement arms of the NLRB" and the Labor Department must "be strengthened dramatically to effectively address the challenges workers face in exercising their rights to freedom of association.
"International human rights law explicitly sets out the rights of workers, including the right to organize and the right to strike, and is equally clear about" every nation's "duties not only to respect these rights but also to protect and actively facilitate their enjoyment," Kiai said.
Photo: UN Special Rapporteur on the rights to freedom of peaceful assembly and of association Maina Kiai speaks at a press conference in Geneva on March 11, 2016. | Wikipedia (CC)