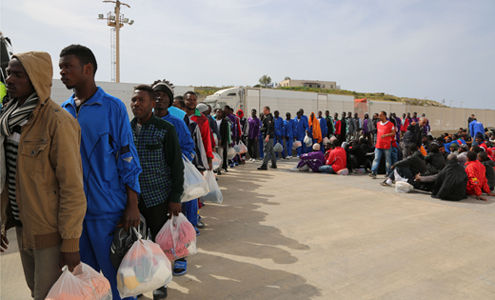 Senior United Nations officials took the unusual step of urging European Union leaders to take "bold collective action" to save refugees' lives in the Mediterranean.
UN high commissioner for refugees Antonio Guterres, the UN secretary-general's special representative Peter Sutherland, UN high commissioner for human rights Zeid Ra'ad Al Hussein and International Organization for Migration director-general William L Swing united in their call to EU politicians.
"A tragedy of epic proportions is unfolding in the Mediterranean," they said.
We "strongly urge European leaders to put human life, rights and dignity first today when agreeing upon a common response to the humanitarian crisis in the Mediterranean."
They went beyond the bland platitudes of the EU government leaders by demanding that they set in place a "state-led, robust, proactive and well-resourced search-and-rescue operation, urgently and without delay, with a capacity similar to Operation Mare Nostrum and a clear mission to save lives."
The UN officials requested that EU states create sufficient channels for safe and regular migration, including for low-skilled migrant workers and family reunifications, so that desperate people do not depend on people-smugglers.
They also urged "a firm commitment to receive significantly higher numbers of refugees through EU-wide resettlement, in addition to current quotas, and on a scale which will make a real impact, combined with other legal means for refugees to reach safety."
However, early signs indicated that their pleas had fallen on deaf ears.
The EU leaders were planning to double financial sources to save lives in the Mediterranean, but this would not even match the original Operation Mare Nostrum exercise that was axed last October.
A draft statement under discussion said that the 28 nations would "increase search and rescue possibilities."
However, EU foreign policy head Federica Mogherini revived memories of "humanitarian bombing" by saying the bloc would immediately start preparing an operation likely to have a military component.
"We will take action now. Europe is declaring war on smugglers," said EU migration official Dimitris Avramopoulos, in Malta for the funeral of 24 migrants who died at sea.
Photo: Migrants board a ship as they leave the Island of Lampedusa, Southern Italy, to be transferred in Porto Empedocle, Sicily, April 17. An unprecedented wave of migrants has headed for the European Union's promised shores over the past week, with 10,000 people making the trip. Hundreds have disappeared into the waters of the Mediterranean. (AP Photo/Francesco Malavolta)