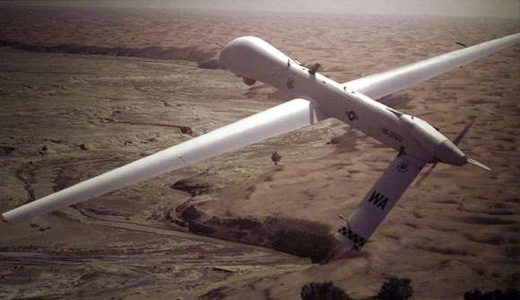 The announcement late last month that a United Nations expert will spend much of the year investigating the civilian impact and human rights implications of targeted killings – largely by armed drone aircraft – comes as several related aspects of U.S. military policy are intersecting early in President Obama's second term.
Three countries – the U.S., United Kingdom and Israel – are known to have used drones in targeted strikes. The vast majority have been conducted by the U.S.
Strikes by armed drones in areas like Afghanistan, Pakistan and Yemen, and resulting deaths among civilians as well as armed insurgents have risen sharply in recent years.
The president's nominee to head the CIA, John Brennan, is often called the "chief architect" of the agency's drone strike program, or the drone "czar." He has also called for establishing legal restrictions on their use. The issue is sure to be prominent in Brennan's confirmation hearings in early February.
And the U.S. military is preparing to open a new base for drone flights in northwest Africa.
On Jan. 24 British lawyer Ben Emmerson, the UN Special Rapporteur on counterterrorism and human rights, told a London press conference that he would launch an inquiry into the civilian impact and human rights implications of targeted killings, with a report due next fall.
"The exponential rise in the use of drone technology in a variety of military and nonmilitary contexts represents a real challenge to the framework of established international law," he told reporters.
In a Jan. 29 interview with wired.com's Spencer Ackerman, Emmerson said he would focus on 25 specific situations in the Middle East and south Asia, most involving drone attacks. Noting that countries are obligated under international law to conduct "independent and impartial" investigations of drone attacks involving civilian deaths, he said the UN may have to investigate individual strikes if nations fail to do so.
Three countries asked for the UN investigation: Pakistan, and two unnamed permanent Security Council members, presumed to be Russia and China.
In Pakistan, drone strikes rose from 35 in the last year of George W. Bush's presidency, to 117 in 2010, before dropping to 64 in 2011 and 46 in 2012. Seven drone strikes hit Pakistan in the first 10 days of this year.
A report issued last fall by the Stanford Law School and New York University School of Law said in the last eight years, between 2,562 and 3,325 people have been killed in drone attacks there, including between 474 and 881 civilians – among them some 176 children – while only an estimated 2 percent of fatalities involved "high level" militants.
Peace and civil rights organizations are welcoming the UN probe. The American Civil Liberties Union is participating in a legal challenge on behalf of three Americans killed in targeted strikes in Yemen in 2011, and is also litigating two Freedom of Information Act lawsuits related to the targeted killing program. The ACLU points to the government's "vague and shifting legal standards" and lack of oversight and accountability to make sure strikes are consistent with the Constitution and with international law.
Hina Shamsi, director of the ACLU's National Security Project, welcomed the inquiry "in the hopes that global pressure will bring the U.S. back into line with international law requirements that strictly limit the use of lethal force."
As the Senate confirmation process proceeds for Brennan, and for Chuck Hagel to become Defense Secretary, Just Foreign Policy has launched a petition calling for more transparency and accountability regarding drone strikes, compliance with international and U.S. law, and an end to types of strikes that are particularly apt to result in high civilian casualties.
Writing in the Washington Post in mid-January, U.S. Rep. Keith Ellison, D-Minn., co-chair of the Congressional Progressive Caucus, said that while weaponized drones have killed 22 of al-Qaeda's top 30 leaders and their use has cut the number of U.S. casualties, more civilians have been killed than Washington has acknowledged. He noted that 97 percent of Pakistanis, whose country has been the biggest target for drone strikes, strongly disapprove of them, and 94 percent think they kill too many civilians.
And now-retired General Stanley McChrystal, former commander of all U.S. forces in Afghanistan, has acknowledged that the strikes create great resentment around the world, and says their use should be re-evaluated.
Meanwhile, the New York Times noted Jan. 28 that as part of its increased attention to Africa, the U.S. military is getting ready to set up a drone base in northwest Africa – probably in Niger – to conduct surveillance missions on extremist groups in the area. Initially the drones are to be unarmed, but future missile strikes have not been ruled out.
Photo: U.S. drone, via AP and the Department of Defense.