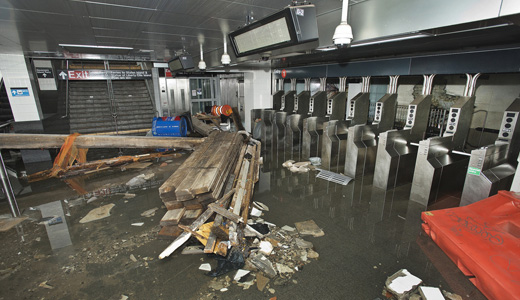 WASHINGTON (PAI) – The Republican-run House Rules Committee decided not to invite more confrontations over GOP reluctance to aid the millions of victims of Hurricane Sandy, so it dumped four potential "poison pill" amendments to suspend the Davis-Bacon Act for the billions in Sandy reconstruction projects using U.S. funds.
The panel's action, on Jan. 14 without debate, scotched anti-Davis-Bacon schemes by Reps. Steve King, R-Iowa, and Paul Gosar, R-Ariz.
"I think they (the GOP) didn't want to have any more controversy" over Sandy aid, one Democratic aide on the committee that helps disburse the Sandy money explained. House Speaker John Boehner, R-Ohio, had delayed the Sandy aid, earning bipartisan and labor outrage.
The House spent Jan. 16 debating the $60 billion Sandy aid bill. The Oct. 29 superstorm caused at least that much damage in the Northeast alone. It left hundreds of homes in ashes and dozens of people dead.
The aid bill includes $11 billion to restore and repair smashed mass transit facilities in New York and New Jersey – the subway and railroad tunnels were flooded — and $25 million for area job retraining.
Photo: In this Oct. 30 2012 photo provided by the Metropolitan Transportation Authority, the South Ferry subway station in New York City is filled with seawater and debris from Superstorm Sandy. Metropolitan Transportation Authority, File/AP