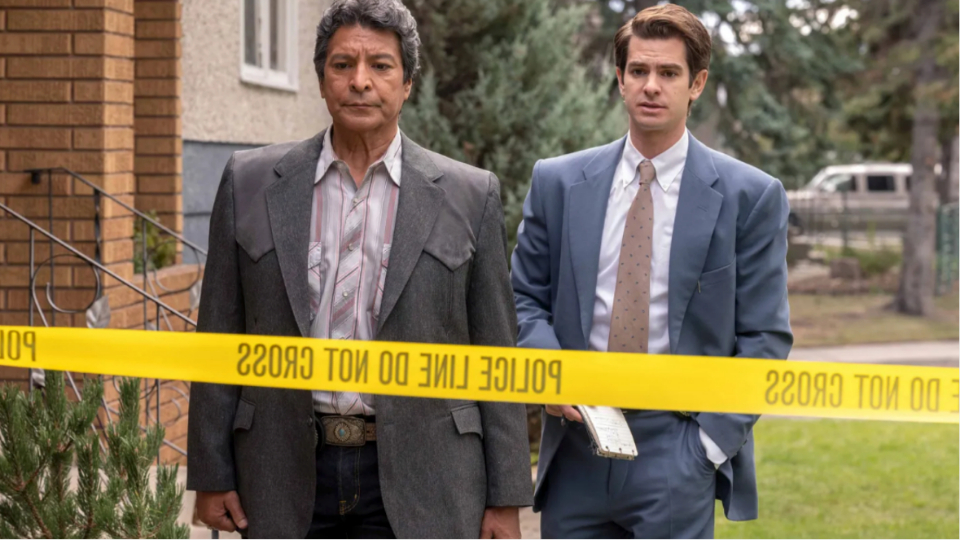 Hulu's new television series Under the Banner of Heaven is a powerful reconsideration of fundamentalist religion. Academy Award-winning writer Dustin Lance Black's adaptation of Jon Krakauer's book is not just an eerie murder thriller.  It raises elemental questions about the role of religion in modern life.
The television series, like the book, is presented as a crime story mystery, based on the actual killings. Utah Police Detectives Jeb Pyre, a devout Mormon, and Bill Taba, a world-weary to cynical Paiute Native American, are called out in the middle of the night to investigate the grisly murder of Brenda Lafferty (Daisy Edgar Jones) and her infant daughter Erica. Andrew Garfield plays Pyre as a clear-eyed practitioner caught between a faith which he generally accepts and the reality of his job. Gil Birmingham playing Taba benefits more from the experience of being a person of color in a very white world.
Picking through a chaotic crime scene awash in blood, the detectives apprehend Brenda's inchoate husband Allen. Under police questioning, the shocked Allen rambles on about a conspiracy of bearded men who have some role in his family's murder. Allen goes quickly from being suspect to victim.
The mystery is multifold. The crime is ghastly. Writer Black pieces together the complex family drama, interspersing it with flashbacks of Mormon history. The development of Mormon heterodox religious practices posed both real and imagined threats to surrounding communities. Of course, polygamy was the most notable difference. Differences in costume, worship, and even manner of addressing each other also set aside the true believers.
Underpinning the entire religion was Mormons' challenging the legitimacy of the United States government itself. This conflict led to struggles within the Lafferty family that set the stage for their bloody discord. The religionists flaunted the very civil liberties that the U.S. Constitution and Bill of Rights guaranteed to citizens.
Although the television show tries to distinguish between good or moderate Mormons and the extremist fundamentalists, it is clear that a climate of fear, authoritarianism, and misogyny brings it into inexorable and bloody conflict with the secular laws that rule the country.
As the Mormon leadership has declared and its members embraced: God is greater than the United States, and when the Government conflicts with heaven, we will be ranged under the banner of heaven against the Government.
John Krakauer and Dustin Lance Black have created a compelling look at where a particular fundamentalist branch of religion has led. But in doing so they raise the larger issue: where codified spiritual claims conflict with civil society, how do such issues get resolved? American society is currently under such threats by Evangelical fundamentalists and other actors within organized religion, often claiming primacy over government. A society ruled by superstitions, no matter what their "spiritual" claims or how large their congregations are, is a dangerous condition.
Under the Banner of Heaven is available streaming on FX through HULU.