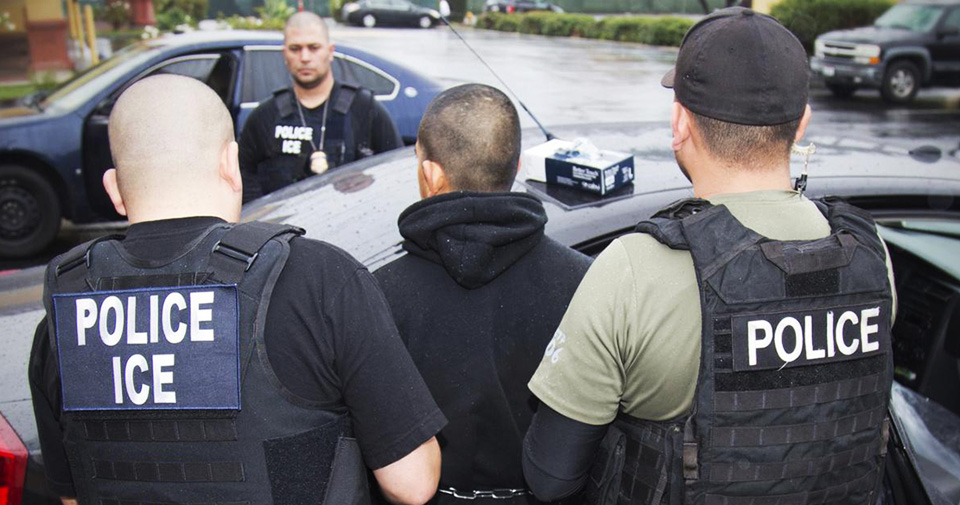 WASHINGTON – Under guidelines issued by the Homeland Security Department, the Trump administration will round up thousands of people arbitrarily deemed to be "removable aliens" and will build more detention camps in which to hold them. You may have to prove you are not an undocumented immigrant to avoid being jailed.
The guidelines, intended to flesh out the implementation of two executive orders signed by President Trump last month, are in two memos issued Tuesday by John Kelly, the secretary of homeland security.
They "unleash the full force of the federal government to find, arrest and deport" anyone suspected of not having proper papers, whether they have committed serious crimes or not, according to the New York Times.
The memos call for putting people in detention camps while they wait for a hearing rather than allowing them to stay with relatives and deporting undocumented immigrants to Mexico, regardless of their nationality.
There has been pushback from courts, several states and cities, from immigrant rights advocates and from the government of Mexico itself.
The Times reports that "Mr. Kelly's actions … serve to reinforce the president's … [blaming] unauthorized immigrants for taking jobs away from citizens, committing heinous crimes and being a financial burden on federal, state and local governments."
"The new enforcement policies put into practice language that Mr. Trump used on the campaign trail," the Times states, … "warning … [that] unauthorized immigrants 'routinely victimize Americans,' disregard the 'rule of law and pose a threat' to people in communities across the United States."
These assertions are all alt-facts. Research shows lower levels of crime among immigrants than among native-born Americans.
Kelly's memos call for enlisting local law enforcement agencies to round up undocumented immigrants and the hiring of some 10,000 new Immigration and Customs Enforcement officers and 5,000 new Border Patrol agents.
The memos greatly expand the category of "removable aliens" who may have committed a crime — even if they haven't been convicted. Under the guidelines in the memo, immigration officials can bypass due process procedures and deport anyone the officials deem to have "abused" any public benefit program or "pose a threat to public safety or national security."
The Washington Post explains that "the provisions also mandate that the government detain immigrants until they are granted a hearing before an immigration judge, ending the Obama administration's policy of releasing some to live with relatives until their hearing."
Backlogs at immigration courts have delayed hearings for more than a year.
To deal with this, despite a campaign promise Trump made not to use detention camps, the Department of plans to do just that, including spending millions of dollars to build more camps.
Worst of all, the provisions allow federal authorities to prosecute the parents of unaccompanied minors who enter the country "illegally" if they are found to have paid smugglers.
Hundreds of children cross the border every year, trying to become re-united with their parents.
People deported from the United States after crossing a land border will be returned to "the territory from which they arrived" rather than their nation of origin. Mexico will be expected to take in deported individuals, even if they are not Mexican citizens.
This might not be so easy. Mexico is refusing to be bullied by Trump.
Luis Videgaray, the Mexican foreign minister, said on Wednesday that his government "will not accept" the U.S's new, "unilateral" immigration proposals.
Videgaray also said the Mexican government wouldn't hesitate to go to the UN in order "to defend the rights of immigrants," Reuters reported.
Furthermore, the  The New York Times reports that advocates for immigrants plan to challenge the new rules in court.
Already, courts in Illinois, Oregon, Pennsylvania and several other states have rejected the federal government's attempt to force local police authorities to assist in rounding up immigrants. If a person is arrested for violating a traffic regulation, for instance, The Times reports that many local law enforcement agencies "will not hold them for up to 48 hours beyond their scheduled release from detention at the request of federal authorities under a program known as Secure Communities, which Mr. Trump is reviving."
"When you tell state and local police that their job is to do immigration enforcement," said Omar Jadwat, director of the American Civil Liberties Union's Immigrants' Rights Project, "it translates into the unwarranted and illegal targeting of people because of their race, because of their language, because of the color of their skin."
What's more, Trump's directives face resistance from many states and dozens of so-called sanctuary cities, which have refused to allow their law enforcement workers to help round up undocumented individuals. In New York, Mayor Bill de Blasio in a statement on Tuesday pledged the city's cooperation in cases involving "proven public safety threats," but vowed that "what we will not do is turn our N.Y.P.D. officers into immigration agents."
However, the most effective resistance to the draconian measures outlined by Kelly is coming from communities across America where neighbors are organizing to protect neighbors who might be targeted for being round up.
Recently, for example, the residents of Takoma Park, Maryland met with City officials to map out a plan of protection.