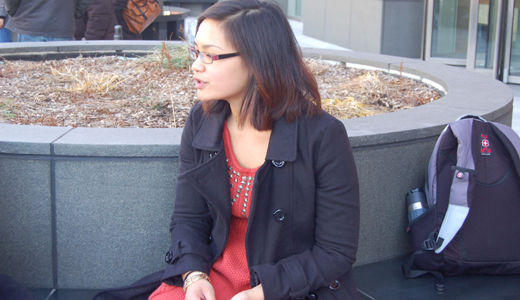 Six undocumented youth appeared in Chicago's Circuit Court yesterday to face charges of mob action and obstruction of traffic. The charges were filed by the State of Illinois and the City of Chicago. They are the first-ever undocumented immigrants in Illinois to be put on trial for protesting immigration policy.
The youth, who are admiringly referred to as the Chicago Six, were arrested for sitting in the street August 17 outside a hearing on the U.S. government's Secure Communities program.
Secure Communities is an American deportation initiative run by U.S. Immigration and Customs Enforcement. It is carried out by close networking among federal, state, and local law enforcement agencies and has come under fire for tearing apart the social fabric of communities and running roughshod over civil liberties.
As active community organizers with the Immigrant Youth Justice League, the Chicago Six made their stance clear when they approached the bench in court yesterday, sporting t-shirts bearing the motto 'Undocumented and Unafraid.' They were represented by the People's Law Center.
State and city lawyers asked Judge J. Ryan to let them file amended charges. Annoyed, Ryan promptly told them that should have been done long ago if that was their intention. "To allow it now would be prejudicial to the defendants," Ryan said.
After then having to deal with further ineptitude on the part of prosecuting attorneys who had served an improper "reckless conduct" charge on the defendants, the judge decided to set a new trial date for March 2 in Chicago's criminal court.
Throughout the trial, the question on peoples' minds was why the state and city were so determined to press criminal charges for a mere protest action. As recent history shows, the usual procedure in political civil disobedience actions is to drop charges. In certain cases, like those of Wall Street occupiers, arrests resulted in community service agreements between lawyers and the city.
When asked during a recess why the Chicago Six were being singled out, Illinois state attorney Eileen Flaherty replied, "I can't answer that. I'm not releasing any information about that, and I have to meet with my guys." She proceeded to walk to a nearby room occupied by three police officers, who presumably were at the Aug. 17 protest.
Before the trial, one of the defendants – Fanny Lopez-Martinez, 22 – spoke with the People's World outside the courthouse about standing up against corruption and inequality.
A DuPage County resident, Fanny was motivated to "come out" as undocumented in order to fight the Secure Communities program. She explained the problems with the program, saying "It endangers my family, my friends, my whole community. The [program's] goal was supposedly to protect communities from criminal aliens. In reality, the problem is that the police are being used to deport immigrants who are innocent. We wanted to outline that this was actually destroying communities and causing a lot of fear, because everyone is afraid to talk to police," viewing them as de facto ICE agents.
"It hurts," she continued, "Because my father, also undocumented, has to drive to work, and even though he's not a criminal, under Secure Communities, he could be stopped for anything – like a traffic ticket – and then potentially face deportation."
Ultimately, Lopez said, making her undocumented status public was not only right, but effective. "When you're not out in the open, it's easy for ICE to harass you. When you do come out and are part of an organization" like the Immigrant Youth Justice League, "ICE doesn't want to come after you, because it's risky; it's bad publicity for them."
Another defendant, Carla Navoa, 22, explained to People's World that Chicago is just as much her home as it is for Chicagoans born in the U.S. "I came here with my parents and two sisters from Manilla in the Philippines when I was five years old," she said. "I have hardly any memories of the Philippines. I grew up in the northern suburbs of Chicago, and that is my home." She is now a student at the University of Illinois, where she pursues a graduate degree in Social Work.
She decided to "go public" with her status in the summer of 2010, encouraged by other active IYJL youth pushing for passage of the DREAM Act.
The DREAM Act would provide conditional permanent residency for morally upstanding undocumented citizens who graduate from U.S. high schools, arrived in the U.S. as minors, and lived in the U.S. for five or more years prior to the bill's enactment.
Navoa is unable to vote, but as an IYJL activist, she actually registers other members of her community to do so. "[My] activism is important," she noted. "Without it, I'd be living in fear of being deported. Too many working people have to face that possibility every day."
Like her shirt proudly stated while she stood with her peers in court, Navoa takes pride now in one thing above all: "I no longer see myself as 'illegal.' I now see myself as 'undocumented.' And after overcoming fear and stigma, that feeling is truly liberating."
Photo: "Carla Navoa, 22, is one of the Chicago Six who is 'undocumented and unafraid.'" Blake Deppe