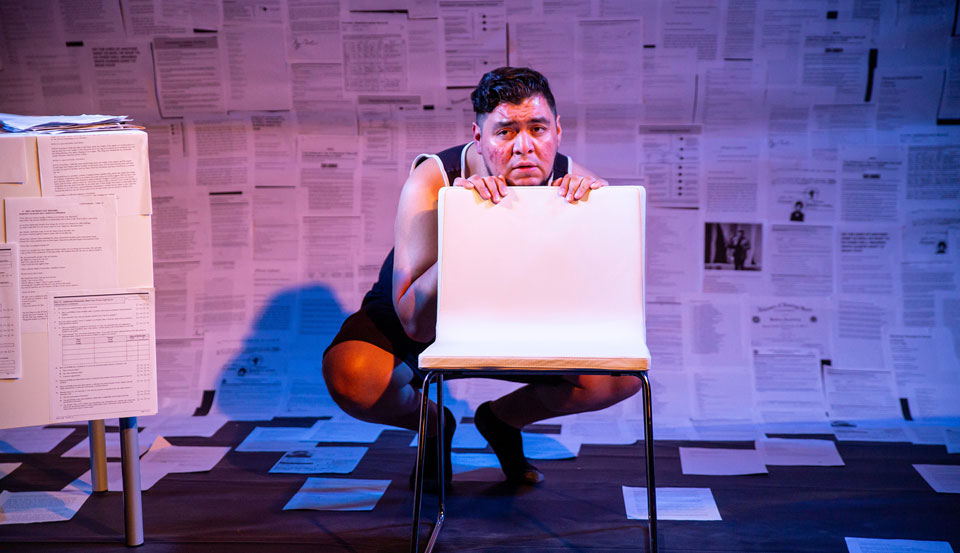 LOS ANGELES — "Citizenships are volatile fictions," says queer actor, theatermaker and poet Jesús I. Valles. What makes us human can never be captured on a government questionnaire. To the Indigenous inhabitants of a continent, who roamed far and wide to follow their sustenance and the seasons, what difference does it make if they cross the 1896-mile-long "big" river (the Rio Grande as the U.S. calls it ) or the "fierce, wild" river (the Río Bravo)? Whose border is that, anyway? It's all stolen land.
Yet in the "absurdity of nationalism" that we live in—in the succinct formulation by José Luis Valenzuela, artistic director of the Latino Theater Company—we of necessity confound our lives with papers, affidavits, certificates, depositions, forms, fear. With a single phrase, you can give up your country. With a single signature, you can tear a family apart. With a single word, you can learn to transform.
Latino Theater Company presents the West Coast premiere of (Un)Documents, written and performed by Jesús I. Valles and directed by Rudy Ramirez. Performances take place through November 20 at the Los Angeles Theatre Center in Downtown L.A.
"Nationalisms are lies," says Valles in his Playwright's Note, "and, more often than not, only help to reveal the specific harms that are inflicted upon us and people across the globe in the name of maintaining the violent project that is nation. A nation is blood constantly drying atop a wound. You trade one cut for another. You always pay in skin. A nation is a thing that kills you, slow and fast. Makes you wait to die. Makes you pay to die."
Clearly this is not going to be an evening of neat expository narration, plot and denouement. It is almost pure poetry from beginning to end, some lyrical, some elegiacal, some raw and rough and desperate. In fact, this multiple award-winning solo work, for original script, lead actor and direction, was adapted from a series of 20 poems Valles wrote following their brother's deportation in a workplace raid—poems about the brother now stuck in Mexico, about citizenship, identity, masculinity, the LGBTQ community, and love, and how we express it, or don't.
(Un)Documents is the heartwarming, but mostly heartrending tale of Valles's journey across the river at El Paso/Ciudad Juárez, which used to be one bicultural metropolis whose folk passed back and forth for work, for food, for shopping, and barely noticed even a vapor from the water in between, much less guards and turnstiles and fences. In the language of those who have lived in the American Southwest since before the Europeans landed on this hemisphere, it was not the Natives who crossed any border—they were there the whole time—but the border that crossed them.
Currently based in Providence, R.I., Valles immigrated to the U.S with their family at the age of nine. "I learned early on what some people are able to do or unable to do, all based on a few pieces of paper and, you know, some holograms on some plastic," they said in an interview. (Un)Documents "asks the audience to rethink how they watch and talk about migrant communities, queer people of color, systems of oppression. And to ask questions of themselves and those in positions of power."
"Hand over your heart," they order when you take your oath and flutter your little stars-and-stripes flag. "Hand." Is that a noun or a verb?
"Citizenship?" Really? "A collection of arbitrary accidents," Valles says.
A common thread running through all these stories, about their father, mother, their seven siblings, is the question, "How did you handle it?" What strategies of coping, for survival, did you adopt? Valles has their own answer to that: "by dipping my toes into the lucrative world of solo performance," like a TV barker enticing the theatergoer with this promotional lure into telling their own stories, revealing the uncomfortable truths of their own lives for fun and profit.
"My country is the people I love. My country is the people who labor and struggle and burn. My country is my people always, always from everywhere. And even then, 'country' is too dangerous a word for all the ways that love and struggle should be. May all borders vanish one day. May all countries end one day. May we all be allowed to be with each other in all the ways divinity has already ordained. May we all be free one day. We only got us. It is everything we need."
Exhilarating an experience as it is to be in Valles's presence, with all their accents and impersonations and characterization, mostly in English but with some spicy Spanish judiciously thrown in for flavor, there were times I felt they were bonding with a clubby community that already knew and understood his language. At certain critical moments in the evening, for example, certain Spanish words went untranslated. For example, their father ultimately obtains his citizenship at the age of 58 and Jesús asks what he will do now, but the response is provided only in Spanish. For the benefit of the Spanish-impaired, the answer was just to continue working—seguir—to go on.
And maybe in the end, that's the central message. Go on. Whoever you are, go on living, loving the fact of being alive, striving for a better life against all the odds.
(Un)Documents plays on Thurs., Fri. and Sat. at 8 p.m. and Sun. at 4 p.m. through Nov. 20. The Los Angeles Theatre Center is located at 514 S. Spring St., Los Angeles 90013. Parking is available for $5 with box office validation at Joe's Parking structure, 530 S. Spring St. (immediately south of the theater), or take Metro.
To purchase tickets and for more information, including up-to-date Covid-19 safety protocols on the day of each performance, call (213) 489-0994 or go to www.latinotheaterco.org.