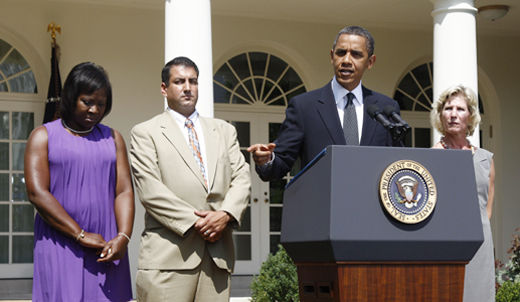 Millions of jobless Americans will continue to receive unemployment benefits through November after a GOP-led filibuster was finally killed today in the U.S. Senate.
Democrats were able to get the 60 votes required to end the Republican obstruction after swearing in a new Democratic senator from West Virginia, Carte Goodwin. He will temporarily fill the seat left vacant by the June 28 death of Robert Byrd.
The unemployment extension received dramatic support from President Obama yesterday when he made a joint White House statement with several unemployed workers.
It will extend benefits for those who have already used their standard 26 weeks of unemployment, including 3 million who have been cut off without any aid whatsoever.
The measure is expected to be approved after a final vote in the Senate and a vote in the House of representatives.
Republicans who have been opposing the extension said today that they also support extending the benefits but are concerned that the $34 billion cost should not add to the deficit. "Of course we ought to extend unemployment," said Senate Minority Leader Mitch McConnell, R-Ky. "But we ought to pay for it."
The vote to end the filibuster came only a few minutes after Goodwin was sworn in, giving the Democrats the 60 votes they needed.
Goodwin was ushered onto the Senate floor by West Virginia's senior senator, Democrat Jay Rockefeller.
Vice President Joe Biden said "Hey Carte, welcome," and then proceeded to administer the oath of office.
Only two republicans, Maine Sens. Olympia Snowe and Susan Collins, voted for the unemployment extension. Sen. Ben Nelson of Nebraska was the one Democrat who voted against it. "I support extending unemployment benefits for Nebraskans and Americans who remain out of work," Nelson said. "However, I opposed the Senate's unemployment bill today because it should have, and it could have, been paid for."
"Finally, finally, finally," said Sen. Barbara Mikulski, Democrat of Maryland. She called the unemployment insurance program a social comport with American workers that meant "when you hit a speed bump and have to be laid off through no fault of your own, there will be a safety net so that you do not fall."
Democrats are criticizing Republican willingness to set aside deficit concerns when they pushed through tax cuts for the rich, but not when unemployment pay for ordinary workers was at stake.
The bill could be approved in both houses of Congress and signed into law by the President as early as Wednesday night.
Photo: AP Photo/Charles Dharapak
President Barack Obama stands with, from left to right: Denise Gibson from Brooklyn, N.Y., Jim Chukalas from Fredon Township, N.J., and Leslie Macko from Charlottesville, Va., all unemployed, as he speaks about the unemployment insurance and the economy in the Rose Garden of the White House in Washington, July 19.