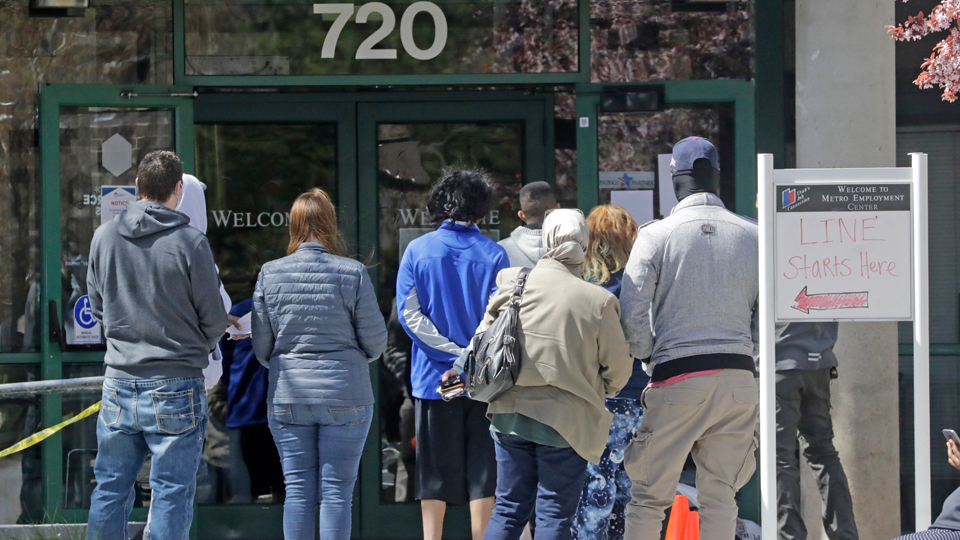 WASHINGTON—Some 5.25 million more people filed initial claims for jobless benefits in the week ending April 11, the Labor Department reported on April 16. Those claims—added to the millions filed in March—raised total jobs lost to the coronavirus pandemic to 22 million, wiping out all gains in U.S. jobs since the end of the Great Recession a decade ago, several analysts pointed out.
The jobless rate shot up, too, even though those numbers lagged a week behind, BLS said. The 6.615 million new claims—9,000 more than the initial figures—from the week ending April 4 and the 6.687 million new claims at the end of March took the jobless rate to 8.2%, BLS added.
That rate doesn't include the unemployed who filed claims last week. Add them in, the analysts add, and the jobless rate blows past the peak of the Great Recession, too.
The picture only gets worse, say top analysts at the Economic Policy Institute. With job loss comes loss, by almost half of those workers, of employer-provided health insurance, they point out. And while women make up half of the private sector workforce, they filed 59% of the jobless claims—and that proportion may be low.
"This is the result of two factors," EPI Policy Director Elise Gould and analysts Jodi Kendra and Ben Zipperer said. "Women are more concentrated in sectors that experienced more job loss, and women also tended to see more job loss than men within these sectors."
"This over-representation could be due to the types of jobs women hold within each sector—partially the result of occupational segregation—or could be due to other phenomena, for instance, labor market discrimination, which led to disproportionate shares of women in jobs within each that are more subject to job loss."
Zipperer and colleague Josh Bivens calculated the health care losses, saying that in the affected industries, 45.7% of the 20.1 million newly jobless workers since mid-March had employer-provided health care. Now, except for those who can afford COBRA—employer-continued benefits for three months, which the worker must pay for out of her own pocket—they've lost it, too.
And while employers overall insured slightly more than half of their workers, the Labor Department noted the big job losses since this coronavirus crash began came in industries with low rates of insured workers, Zipperer and Bivens said.
Data support their analysis. DOL reported that Georgia, the state with the biggest one-week hike in jobless claims—256,312—reported new claims came from workers in "accommodation and food services, trade, health care and social assistance, administrative, support, waste management, and remediation services, and manufacturing industries."
The state with the second-biggest weekly increase in claims, Michigan (84,219), reported workers were laid off in "accommodation and food services, retail trade, wholesale trade, and administrative, support, waste management, and remediation services industries."