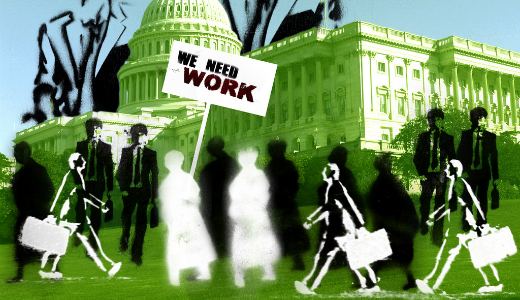 MIAMI – Florida residents, including those who have stable jobs, are reaping nearly billions of dollars worth in benefits from unemployment compensation, but, because of holdups from big business and Republican Governor Rick Scott, they are missing out on billions more.
According to a March 3 Research Institute for Social and Economic Policy report, though Florida ranks far behind most other states in the amount and quality of its unemployment compensation, the program still acts as one of the most efficient stimulus programs, pumping more than $9 billion into the local economy.
Such news is particularly important for a state like Florida, where the unemployment rate in December, 2010, was 12 percent – far exceeding the 9.4 percent national average. In the 12 months prior, just over 43,000 jobs were created, while 1 million workers remain jobless.
"Extending unemployment benefits would generate up to $1.90 in increased economic activity for every budget dollar spent," the report says, "compared with $1.20 for reducing employers' payroll taxes or investing in infrastructure."
The statistics deliver a stern rebuke to tea party "trickle down"-style economic plans: reducing income taxes would return only 40 cents per dollar. On top of that, of course, federal, state or municipal governments would be shorted money not taken in taxes.
The reason why unemployment insurance expenditure is such a stimulus is because, as the report notes, "the money goes to 'those whose consumption is restricted by their current disposable income.'"
In other words, a dollar left in the bank accounts of a millionaire would likely not be spent, while an unemployed person would probably spend each dollar he or she receives in compensation. The cumulative effects of these dollars would do such things as help to keep local storeowners in business, who would then be less likely to layoff a worker or more likely to hire someone new.
The RISEP report explains, "Unemployment compensation in effect offsets the loss of demand from households [that] have had their income severely diminished by job loss. Replacing some of the lost demand from these households reduces the hit to the economy and keeps money flowing to businesses."
RISEP pointed to another study, by the Urban Institute, which showed that UI benefits nationwide kept unemployment 1.6 percent lower than it would otherwise be, meaning an additional 1 million people kept their jobs each month.
The amount of compensation dispensed to unemployed workers during the recession was $14.5 billion. Subtract that from what employers contributed, $4.8 billion, and the remainder represents about $9.8 billion.
Given the statistics showing that each dollar spent on unemployment compensation adds another $1.90 in "economic activity," the total amount added to the state's economy is not $9.8 billion, but nearly $28.5 billion.
But there would be more money were Florida to provide compensation on par with other states.
"Florida has one of the strictest unemployment compensation systems in the country," RISEP research associate Emily Eisenhauer said, adding that many people who are likely entitled to compensation don't receive it.
Of all applicants, only about half receive aid. Florida has the 44th lowest "all programs recipiency rate," meaning that, in 43 other states, unemployed workers have a better chance of receiving compensation. For those who do attain benefits, they take home the 44th lowest in the country, receiving an average of only 38.7 percent of their former salary.
"If the state adopted [more modern methods of accounting], approximately 94,679 claimants who were denied during 2009 and the first quarter of 2010 would have had access to benefits," the report states. "In addition, workers who have to leave work for compelling family reasons, including domestic violence, taking care of a sick family member, and moving with a relocating spouse are excluded from receiving benefits, which impacts women workers in particular."
If the state makes suggested changes by September, not only would more money flow from state coffers into the local economy, but it would, under a federal program, also be eligible to $444 million from the federal government.
The Florida labor movement has long supported modernizing the state's unemployment system. In a Spring 2010 press release, the state AFL-CIO argued, "While some in the legislature continue to attempt to label this as anti-business, this program is a proven engine for economic stimulus and would enable unemployed Floridians to provide for their families and invest in our economy."
"Lobbyists for big businesses are still blocking this critical reform," that press release noted and, as of now, though several bills have been filed in the state legislature, Republican Gov. Rick Scott has ignored the proposal.
Image courtesy t r u t h o u t // CC BY-NC-SA 2.0