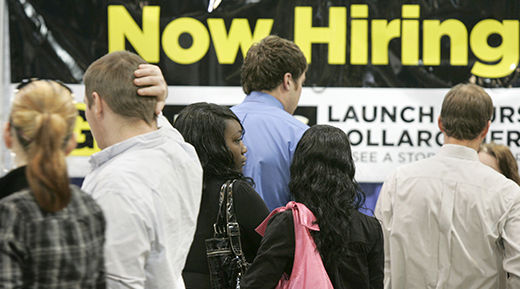 CHICAGO – "The stock market rebound is great news, I suppose, but it means nothing for us at home.
"My boyfriend and I don't have stock in anything and we're both looking for full time jobs. I've been hunting for seven months, he's been looking for a full time job for two years – since we've been together.
"I shouldn't be having all this trouble. I graduated from DePaul three years ago and had a decent computer programming job for a full year before I was laid off. I speak three languages fluently – English, Spanish and Italian. I'm good with computers.
"I have applied for at least 90 jobs including after-school tutor, secretary, administrative assistant, supermarket cashier here at Treasure Island and Starbuck's clerk and haven't gotten a bite yet."
Alice DeLeo, 27, considers herself fortunate, however, because she is collecting unemployment benefits, which didn't run out at the end of 26 weeks because of federal extensions.
Her boyfriend from Guatemala can't collect unemployment benefits when he is out of work because he gets jobs for small contractors who don't pay into the unemployment benefits system. Despite his status as a fully documented worker, he has been able to land only temporary jobs doing painting, carpentry or home repairs.
DeLeo said the economic stimulus measures initiated thus far are not enough. Pointing to a 50-square-foot mural at the entrance to the Hyde Park Metra station behind her, she said, "There are big art and beautification projects, teaching needs, updating and modernizing of libraries, building new parks and fixing old ones, improving of public transportation – all kinds of things young people could do."
The labor movement, progressive economists and many others, of course, agree with her.
The AFL-CIO, for example, passed a resolution at its September convention in Pittsburgh calling for a national jobs initiative that includes creation of a Works Progress Administration-style jobs program to rebuild the nation's manufacturing base and put 7 million Americans back to work immediately.
Heidi Shierholz, an economist at the labor-backed Economic Policy Institute says the situation actually calls for programs that would create substantially more than 7 million jobs.
"Since the start of the recession in Dec., 2007, 8.1 million jobs have been lost but this number understates the size of the hole in the labor market by failing to take into account the fact that the population is growing. To keep up with growth, the economy needs to add 127,000 jobs every month, which translates into 2.8 million jobs over the 22 months since the start of the recession.
"This means that the labor marker is currently 10.9 million jobs below what is needed to return to the pre-recession unemployment rate," Shierholz emphasized, adding, "In order to fully fill the gap in the labor market by October 2011, employment would have to increase by an average of 582,000 jobs every month between now and then."
Shierholz noted that a sustained job growth rate of that magnitude has not been seen since the early 1950's.
Shierholz and her fellow economists at the Economic Policy Institute continue to point out that all of the official unemployment figures fail to show the seriousness of the jobs problem the nation faces.
The EPI economists point out, for example, that the labor force now has 903,000 fewer workers than it did a year ago, which is particularly significant since the working-age population grew by 0.8 percent over the same period. If those "missing" workers were counted as part of the labor force, the unemployment rate would have been 10.7 percent in October, rather than the 10.3 percent announced by the government.
Over the last year, EPI says, the labor force participation rate of people aged 16-24 has dropped by 2.9 percentage points, from 58.4 percent to 55.5 percent, while the labor force participation rate of people aged 25-54 has dropped by 0.5 percentage points, from 83.1 percent to 82.6 percent.
People aged 55 and over, however, says EPI, have increased their labor force participation, from 39.8 percent to 39.9 percent. This increased labor force participation among older workers (especially women) is likely due, EPI says, to a decline in retirement security, the collapse of the housing bubble and the plunge in stock prices, all of which hit this age group the hardest.
Photo: In this photo taken Tuesday, Oct. 27, 2009, job seekers line up in front of a Dollar General booth at a Little Rock, Ark., job fair. New jobless claims drop less than expected to 530,000 Thursday, Oct. 29, as labor market remains weak. (AP Photo/Danny Johnston)