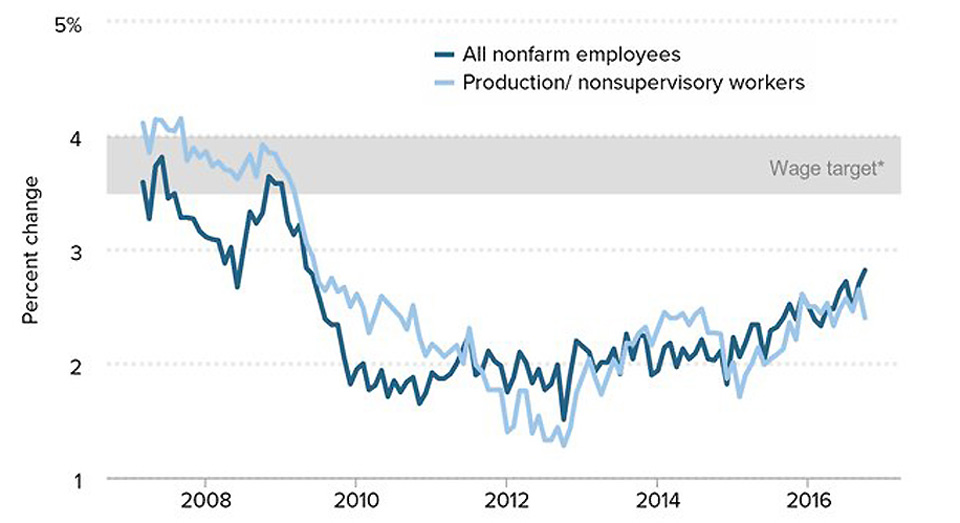 WASHINGTON (PAI) — The U.S. unemployment rate declined 0.1 percent in October, to 4.9 percent, the Bureau of Labor Statistics reported, as businesses claimed to create a net of 142,000 new jobs last month. Governments added another 19,000 jobs.
Despite the decline, and other positive statistics, three-fourths of the U.S. people still believe the country is on the wrong track, according to the recent American Values Survey.
That's a problem for the presidential candidates on the campaign trail as they discuss the jobless rate and its improvement, along with millions of new jobs added since the Great Recession, also known as the Bush Crash, ended.
"The jobs gap shrunk, from 1.4 million in September to 1.1 million in October," said the labor-backed Economic Policy Institute, referring to the number of new jobs the economy still must create to account for population growth and new entrants to the labor market. "But wage growth increased 2.8 percent over the year, the sign of a tightening labor market where workers may be starting to gain some leverage," added EPI analyst Elise Gould.
There were 7.787 million unemployed people in October, 152,000 fewer than the month before. That's almost 50 percent below the peak of 15.35 million, during the Bush Crash, in October 2009. The crash officially ended later that year. Some other key October 2016 data:
The combined rate of the unemployed, under-employed and people so discouraged they stopped seeking work fell 0.2 percent in October to 9.5 percent. That's the lowest rate since April 2008, when it was 9.2 percent as the crash was accelerating.
Factories shed 9,000 jobs in October 2016, to 12.258 million. The big loss was in machinery jobs (-6,200). Some 693,000 factory workers (4.3 percent) were jobless last month. Primary metal firms shed 800 workers and fabricated metal firms lost another 300.
Construction firms added 11,000 workers in October, to 6.68 million, leaving 512,000 jobless building trades workers (5.7 percent). Half of the new construction jobs were with specialty trade contractors.
Construction union leaders say the jobless rate understates unemployment in their sector, since a worker toiling for a few hours on a specific day during the survey week is counted as employed for the full month.
As usual, low-paying services led the way in creating jobs: Health care (+30,500), bars and restaurants (+9,900) and janitors (+7,200). Services claimed to create 141,000 new jobs in October. Trucking added 3,000 jobs. Mass transit lost 800.
The government job gains were in local government (+7,300), not counting the schools, and the federal government (+11,000).