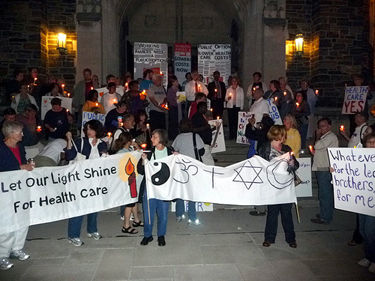 You wouldn't know it from the sensation-hungry commercial media and the right-wing pundits, but supporters of health care reform and a public option are turning out at vigils, rallies and town hall events across the country.
Increasingly, they are outnumbering the hostile right-wing-organized "tea-party" protesters who filled our TV screens and commentaries a week or two ago.
Sunday night, some 200 people turned out for a candlelight vigil and procession from one downtown Columbus church to another, to "Shine Our Light on Health Care." The vigil/procession was led by the Revs. Tim Ahrens of First Congregational Church and Denise Edwards of Trinity Evangelical Lutheran Church.
The peaceful religious-themed event perhaps was not exciting enough for Glenn Beck or Rush Limbaugh. It began with remarks and prayers at First Congregational and concluded with prayers at Trinity. A similar event took place in Youngstown.
On Saturday night, nearly 100 Toledo residents joined together for a vigil as well.
The events, the organizers said, "serve as a reminder that we seek health care reform that is grounded in the sacred bonds of our common humanity, and that this reflects faithful stewardship of our abundant health care resources."
Their goal, they said, was to "demonstrate the depth and breadth of public support for a health care future that includes everyone and works well for all of us."
At a downtown rally in Grand Rapids, Mich., on Sunday, close to 100 supporters of health care reform and a public option outnumbered opponents by about 4 to 1.
Adam Bakker, 31, of Grand Rapids, told the local newspaper, the Grand Rapids Press, that he and friends organized the rally to end what he called a campaign of misinformation and half-truths by right-wingers.
"The debate has been dominated by misinformation," he said. Reading a sign carried by the small anti-health-reform group across the street, Bakker said, "'My health, my choice'? I couldn't agree more. All we want is choice. People should have options, actual choices."
"Some people have to choose between buying a prescription for a child or buying food. We want people to have a real choice," he said.
In West Warwick, R.I., last Thursday, a community dinner with Sens. Jack Reed and Sheldon Whitehouse drew a strongly pro-reform crowd, with more than two-thirds of those inside the event applauding for a public plan and progressive reform, and a similar majority outside.
The American Federation of State, County and Municipal Employees has turned a green RV into a mobile action center fitted out with computers and phones, and taken it on a Highway to Health Care tour to cities across America's heartland. It started out Aug. 12 in Bismark, N.D., headed to Fargo, then Omaha and Lincoln, Neb., Fayetteville and Little Rock, Ark., Shreveport and Baton Rouge, La., Evansville, Bloomington and Indianapolis, Ind., and Cincinnati.
As the RV rolled into Cincinnati on Saturday, AFSCME's Blaine Rummel commented, referring to the right-wing cable shows, "One thing really striking is what we have seen on cable TV is not indicative of what's going on in America."
In Fargo, 100 people came out to write letters to Sen. Kent Conrad, he noted in a video posted on YouTube. Fifty came out in Omaha on a rainy day. In Little Rock, 250 came to the State Capitol. Over 300 came out in Indianapolis, where Rep. Andre Carson lambasted the insurance industry.
As a result of door-knocking by union members and affiliated groups like Working America, 20,000 people have sent letters to Congress in just the last two months pressing for health care reform, Rummel said.
As he spoke, behind him in the AFSCME van people were lined up to sign letters to their senators.
After a rally today in Charlottesville, Va., the action tour heads to Wilmington, Del., tomorrow, and on up to Portland and Bangor, Me., on Wednesday.