2019 ILCA PW Winner, HONORABLE MENTION Saul Miller Award, Collective Bargaining
CHICAGO—United Airlines food service workers are demonstrating across the country to draw attention to the poor working conditions they say they are facing on the job. They are currently the only frontline United employees toiling without the benefit of union representation, and they are demanding that representation now.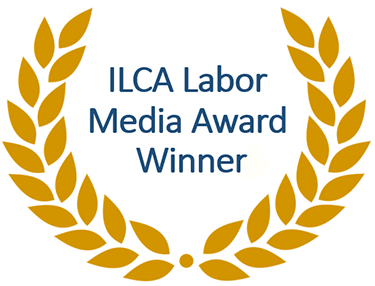 They also want the public to know about how the airline's sick day policy puts the public at risk. Strict time off requirements mean sick employees are effectively forced to stay on the job preparing passenger meals, even when they should be at home in bed.
In January of this year, 76 percent of the airline's catering workers signed cards indicating they wanted Unite Here to be their representative. The airline exercised its right to call for an election but has used the period between the filing and the election to suppress the workers' vote. The company has claimed, without evidence, that the immigrant workers in many of the jobs do not comprehend what they are doing.
More than 100 workers showed just how much they do understand as they gathered outside of Chicago's Willis Tower yesterday to demand that the attendees at the company's annual shareholders meeting inside assent to their demands for a union. Their counterparts gathered at other locations throughout the country.
Airline food workers who are responsible for preparing meals for United flights in Newark, Houston, Denver, Honolulu, Cleveland, San Francisco, Boston, Minneapolis, Seattle, Philadelphia, and Chicago were involved in yesterday's actions.
According to demonstrators, the airline has engaged in an increasingly aggressive anti-union campaign, attempting to convince catering workers that they are part of the "United family" on one hand, while making threats that they could lose existing benefits if they vote to unionize.
One Houston warehouse worker, who identified himself only as Romel, has been with United Airlines for over a year now. He says the company has continually pushed back against efforts to unionize. "We've been fighting for about a year now. We signed up about 80 percent of all five kitchens with over 2,000 workers," says Romel. "Then, we were about to take our vote, but the company sent in a complaint saying that we were coerced into signing, which is a big lie."
The "complaint" Romel references is a fraud claim United Airlines filed with the National Mediation Board (NMB), which is currently being investigated. The NMB has said the catering workers cannot vote on unionizing until the fraud investigation is completed.
Workers agree that the allegations the airline made about immigrant employees not being able to comprehend what they were signing up for is not only insulting to their intelligence, but unfounded. "Everyone knew what they were signing, everyone knows what they want. We all want a union," said Romel.
A United worker in Denver, Eunice Shead, told People's World that she sees unionizing as a means of improving working conditions. "It could be a good job, but it's not. United could do a lot better, but we know that we—the workers—have to fight for better wages, safety, and equality."
It has been reported that United uses scare tactics to keep workers from unionizing; immigrant employees are issued a badge which must be carried while at work—but United often threatens to "pull their badges" if employees cause problems, which would remove their permission to work.
Worker complaints about poor treatment impact on passenger safety, too. A worker on the line reported that because of a rigid and penalizing "point system," kitchen workers often report to work when they are ill. Passengers would not be pleased to know the health conditions faced by the workers packing their meals.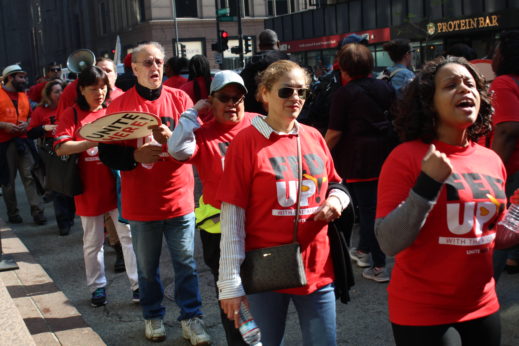 Kitchen workers report being penalized for taking time off for any number of valid reasons under the time-off "point system." This strict arrangement makes it so that employees are forced to work preparing food for passengers, even while sick.
"I'm here for equality, respect, and safety," says Teresita Felix, another kitchen employee. "Equality—for everybody to be treated the same. Safety—People shouldn't be penalized for being sick. Respect—United Airlines shouldn't look down on immigrants, people of color, or people without educational degrees."
United employs over 2,700 workers in its kitchens; over 95 percent of them are people of color and/or immigrants. They earn the lowest wages and face the harshest work rules of any United employee group. They also have the least protection against unjust firing.
The consensus among workers is that the lack of support from United only reiterates the fact that the company is unwilling to be fair. "We've done everything right. We've followed the rules, got jobs, done everything as we're supposed to. So, how come we've been treated differently from everyone else?" asked Romel, as he stood outside of the Willis Tower. "It seems that United has prioritized labor relations with its other unionized employees, but does not see kitchen workers as worthy of the same job security. I want them to know that we're people. We deserve the same rights, and we're not gonna stop until we get those rights."
Saadia Behar contributed to this article with reporting from Denver.