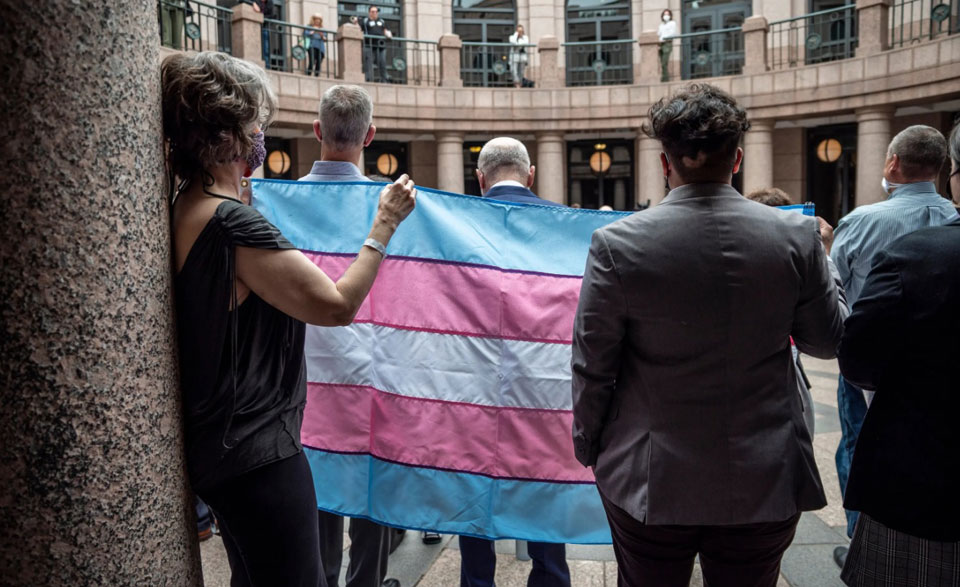 Gov. Greg Abbott sparked a national uproar last month when he authorized child-abuse investigations into families that allow transgender kids to receive gender-affirming care.
But the political momentum toward the move had been building for months, after the failure at the Legislature of a bill to block such treatments for kids paved the way for executive action amid a competitive primary season. Along the way, the issue emerged as a new litmus test for Texas Republicans.
The issue is no longer contained to just the party's fringes — and it is unlikely to go away any time soon as the national fervor grows, Abbott's directive faces legal challenges and it factors prominently into a slew of GOP primary runoffs.
"This is a winning issue," Abbott's top political strategist, Dave Carney, told reporters last week, brushing off any general-election concerns. "Texans have common sense."
Abbott's directive came shortly after the attorney general, Ken Paxton, issued a legal opinion classifying certain types of gender-affirming care as child abuse. Within days, the state was investigating a family after the parents received such treatment for their 16-year-old transgender daughter. The American Civil Liberties Union and Lambda Legal sued on the family's behalf, and a state district judge temporarily blocked the investigation but did not stop Texas from opening other, similar probes.
On Friday, Texas Children's Hospital, the largest pediatric hospital in the country, said it was ending prescription of gender-affirming hormone therapies in response to Abbott's directive. Another major hospital, University of Texas Southwestern Medical Center, closed a clinic for transgender teens last year. On Tuesday, The New York Times reported that the clinic had faced pressure from the governor's office in the days before it dissolved.
Texas Republicans' growing focus on what they call "child gender modification" is the latest illustration of the state's swing to the right after the 2020 election. And it reached an apex as both Abbott and Paxton were in the final days of primaries where they were getting pressured from their right over the issue.
Conservatives pushing the initiatives say they are protecting children from making dramatic changes to their bodies before they are old enough to understand the ramifications. LGBTQ advocates say permanent treatments almost never happen in children and that Texas Republicans are making a cynical play with a vulnerable population with legitimate treatment needs in the crosshairs.
"I think what is happening here is that anti-LGBT politicians realize it's politically advantageous to attack a minority or marginalized community that people know very little about," said Ricardo Martinez, CEO of Equality Texas. "They are exploiting that knowledge gap … with disinformation about who transgender people are as a fear tactic."
Caught in the political crossfire are parents like the Baizes, who have a transgender son. Melissa Baize lived in Fort Worth for 15 years before her family left the state last year, concerned about the ramp-up of legislation targeting trans children.
Baize said it's been painful and surreal to be on the receiving end of political attacks from the state's most powerful leader.
"As a parent, you try so hard to protect your kids whether they're straight or gay or trans or anything," Baize said. "And to have someone who's in power, who has a voice out there and is saying that this is wrong and you need to turn on these people."
Baize said she considered Fort Worth her home, and her husband was born and raised in Texas. But she said "we're never going back, especially now" with the new directive.
The fight over gender-affirming care is the biggest policy battle in Texas over LGBTQ rights since the 2017 "bathroom bill" that sought to restrict which restroom transgender Texans could use. The legislation, a priority of Lt. Gov. Dan Patrick, never reached Abbott's desk, stymied by stubborn opposition from the business community and then-state House Speaker Joe Straus, a Republican.
When the bathroom bill was first introduced, Baize's son was just 10 years old. But she said her son understood then that lawmakers were talking about kids like him. He started to feel afraid to use the bathroom he felt more comfortable in. That was the beginning of the stress that prompted them to leave town.