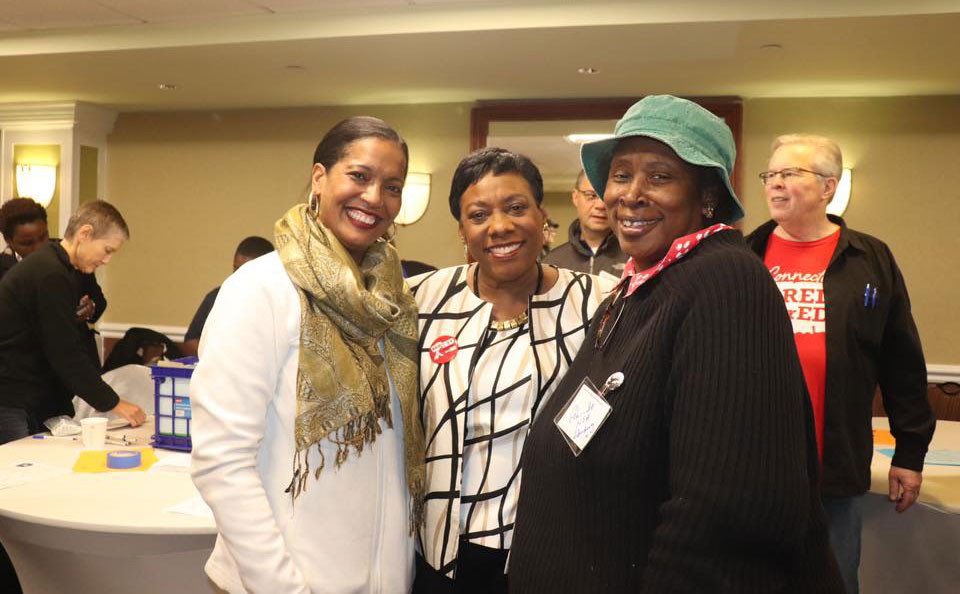 "They keep trying to stop us and we keep coming back," declared Rev. Scott Marks to hollers and applause at the March for Our Future two weeks before this high stakes election day in Connecticut and around the nation.
Organized by the Unite Here unions at Yale and New Haven Rising, the march culminated an intensive six month, three-day-a-week door knocking campaign registering people to vote and demanding that Yale hire New Haven residents into good jobs.
The Governor race remains too close to call, and high turnout from New Haven is key if this state is going to reject an attempted Republican takeover for the benefit of the one percent.
Hundreds from all over the city have volunteered their time out on the doors.  When Ned Lamont, Democrat for Governor, took part in this summer's jobs march through the largely African American Newhallville neighborhood, he earned their support.
Similar efforts are underway throughout the state, where control of the state legislature and an open seat in the Fifth Congressional District are also at stake.
In August, the Republican Governor's Association targeted Connecticut as the best chance to flip a Democratic Governor's seat to Republican.  Through Change PAC they invested over $2.6 million on behalf of Republican Bob Stefanowski for scare-tactic television ads creating the false impression that Lamont's program is to raise the taxes of ordinary people.
In fact, it is Stefanowski's proposals to cut or eliminate the income tax, corporation tax, and estate tax – more than half the state budget – that will benefit the super rich while hurting small homeowners, renters and the cities by forcing cuts in services and drastic increases in property taxes.
Protect Freedom PAC, with ties to Donald Trump adviser Michael Biundo, has also given Stefanowski large sums.
Connecticut's AFL-CIO and SEIU unions have been hard at work with Saturday door knocks, visiting their members at home to talk about the tough issues and get past sound bites and paid ads so voters can understand how the election results will affect them.
They are campaigning hard to elect pro-worker candidates for state senate, which is split 50-50, and for state house where Democrats have a slim margin. While aggressive attacks by Republicans and big business to destroy public sector unions were blocked in this year's legislative session, bills to expand workers' rights did not even make it to the floor.
Union members are running to flip Republican districts. In Danbury, Julie Kushner, former director of Region 9A United Auto Workers of America and candidate for state senate is building a grassroots movement for paid family and medical leave.  Similar state senate campaigns are being waged by Mary Abrams a retired teacher in Meriden; Martha Marx, an AFT Connecticut health care worker in New London, and Jorge Cabrera, an organizer with United Food and Commercial Workers, in the Hamden area.
Knocking on the doors of union members in Hamden, many expressed alarm when they heard about Stefanowski's attack on unions. They said the union is important to them for their job security, benefits, pensions and for their future.
"At work some people think they don't need a union if they don't have trouble," said one state worker.  "They don't understand that the union is able to follow everything in the legislature and stop bad bills that would hurt all the workers."
The difference between Lamont and Stefanowski is stark.
Lamont has called for raising the minimum wage to $15 an hour, paid family and medical leave, and upholding public workers' right to collectively bargain.  He says he will stand up against Trump administration policies attacking immigrants, weakening environmental standards and abortion rights and union rights for workers. These are concrete commitments to which he can be held accountable.
Republican  Bob Stefanowski gives Trump an A.  He opposes any raise in the minimum wage and likes the idea of eliminating it altogether and leaving wages to "market forces."  He greeted the Janus Supreme Court decision saying it is now possible to  "cut unions off at the knees."  He supports tax cuts for the wealthiest households at the expense of everyone else.  As CEO of DFC Global, a payday lending company, he profited from charging high interest rates on loans to low-income workers.
National attention has also been focused on Jahana Hayes, union teacher and candidate for an open seat in the 5th District who, if elected, will be the first African American woman to go to Congress from this state.
At a breakfast attended by construction trades, health care, and teacher union members prior to door knocking in Danbury, National Education Association vice president Becky Pringle roused the crowd with a quote from W.E.B. DuBois: "The freedom to learn—has been bought by bitter sacrifice….we should fight to the last ditch to keep open the right to learn."
Hayes credited Pringle with giving her the encouragement she needed to make the run for Congress by saying, "Don't change any part of who you are. Walk in your truth."
Speaking as a history teacher who was national teacher of the year, Hayes said, "Everything is at stake. I know how we got the 40 hour work week and paid time off and the right to organize.  We used our collective voices.  We used the power of the vote.  Now we have to do that one more time."
Speaking later with the People's World, Hayes said she is ready to hold her own in Washington and that as a teacher "I know the art of collaboration."  She greeted other first time candidates for Congress in the country who, like herself, won hard-fought primaries and will "give voice to those who have not been heard."
"People too will have to stay active and engaged and make sure not go dormant and silent after the election, so we can have your back at the state and local level," she added.
In addition to unions and candidates, the Working Families Party, Women's March Connecticut, Every Town for Gun Safety, Connecticut Students for a Dream, Indivisible and the Hilltop Brigade are among the many groups door knocking and registering voters.  Voter rolls have surged with a record number of 275,000 new voters, mostly 18 to 25-year-olds.
In New Haven, the hundreds of people who took part in the March for Our Future cheered when Unite Here Local 35 president Bob Proto urged everyone to do all they can to turn out on election day, saying "Yale may have billions of dollars, but we have votes and we do the work."
"Our country, our democracy is under siege," said Chris Murphy, who is running for re-election to the U.S. Senate.  "This next two weeks is a decision moment for the nation."