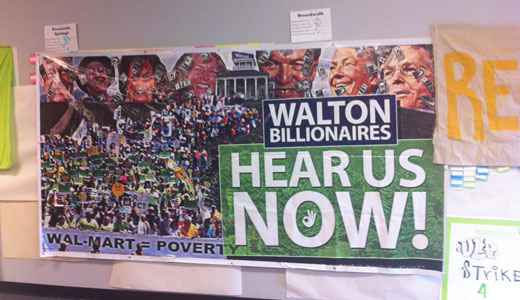 ORLANDO, Fla.- Union brothers and sisters and community supporters organized a barbecue for a caravan of striking Walmart workers who stopped in Orlando on May 28. The event was held at the offices of Unite Here Locals 362 and 737, which represent 19,000 hospitality and tourism workers in Central Florida.
The workers, mostly from South Florida, were part of the Ride for Respect caravan organized by OURWalmart (Organization United for Respect at Walmart). They were on their way to Bentonville, Ark., for several days of actions that were to culminate in a huge protest at Walmart's corporate HQ on June 7 during the company's annual shareholders meeting.
The Ride for Respect caravan was scheduled to stop in several cities in the Deep South to pick up Wal-Mart workers from other parts of the U.S. who are courageously taking their battle against the company's oppression of its workforce to Bentonville.
Some of the workers in the caravan were participating in what OURWalmart organizers described as the first-ever series of "prolonged strikes" against the company, which began May 28 and were expected to last until at least June 7.
While in Bentonville, the workers will press the retail giant – $469 billion in revenues for the fiscal year ended Jan. 31 – to stop its retaliation against workers who join OURWalmart, a worker-led group which seeks to give Walmart "associates" a voice on the job along with better pay, benefits, including affordable health care, and working conditions.
Walmart's heavy-handed tactics against OURWalmart led to one-day work stoppages at Walmarts around the country in October 2012 and on Black Friday. Since then, the company's continued retaliation against OURWalmart members, including terminations, write-ups for unsubstantiated violations of work rules, surveillance and harassment, have fueled the growth of the group, launched in 2011 with support from the United Food and Commercial Workers union.
For many of the Walmart workers at the Orlando event, their reason for joining OURWalmart can be boiled down to one simple concept: respect. They want respect for the work they do and they want to be treated with respect by managers.
"They talk to you like a dog. They do not understand how we do our work," said Toussaint Chapentier, a 63-year-old Haitian immigrant. "Whatever we do, they do not appreciate, and they treat us so bad. That's the reason I joined OURWalmart."
Charpentier, who has worked for Walmart for seven years, started at $7 and hour and currently earns $11.25. He gets full-time hours by working at two Walmarts in the Miami area. Charpentier says he quit getting health insurance through the company four years ago because he couldn't afford it, and believes the company should help cover its workers health care costs.
Johnathan LaFavor, 33, has worked at a Tampa, Fla., Walmart since 2003, starting at $8 an hour, and currently earns $10.60, working full-time in the grocery department.
"What I'm fighting for in going to Bentonville is affordable health care," said LaFavor. The only reason, he says, that he can afford one of the company's health care plans is because he shares living expenses with his mother. If he moved out, he would not be able to pay for health care at his current wages.
LaFavor says he wants the company to pay its employees more and bring back merit raises, along with providing its workers with better equipment "so we could do our job correctly and on time."
Elaine Rozier, 51, works at a Walmart in the Miami suburb of Hialeah. When she started working for the company eight years ago she was paid $7.20 an hour and currently earns $11.80, and gets less than full-time hours. During that time she has developed carpal tunnel syndrome (a repetitive motion injury) from stocking the freezer section in the store's grocery department that has necessitated two surgeries.
Walmart managers have not been accommodating, she says, when it comes to scheduling her work hours so she can make her medical and physical therapy appointments, and she has had to repeatedly remind them to give her less strenuous work because of the limitations imposed by the carpal tunnel.
Rozier believes that she has suffered retaliation both for her medical condition and her activism in OURWalmart, which she joined a year ago. This retaliation has, she says, included being spied upon by managers and loss prevention workers while she takes her lunch break.
"I stood my ground last week, and told them,'Hey, I'm having my lunch, and this is my private time. I'm going to watch you, and I'm going to take your picture, and see how your like it," said Rozier. "I turned and took their picture, and they didn't like it."
On May 28, the same day that her car was repossessed because she couldn't afford the payments and insurance, with a group of her fellow workers at her side, she read her managers a letter informing them that she was getting on the bus to Bentonville. Store managers tried to block the cameras that were recording Rozier doing this, which she says is just another example of the daily disrespect for their workers that comes with Walmart's "every day low prices."
These incidents have only increased Rozier's determination to stand up for her rights. "I'm here for my coworkers who are afraid to come out and support the organization, and I'm here to represent them and to show them they can do it," she said.
Photo: Ben Markeson/PW