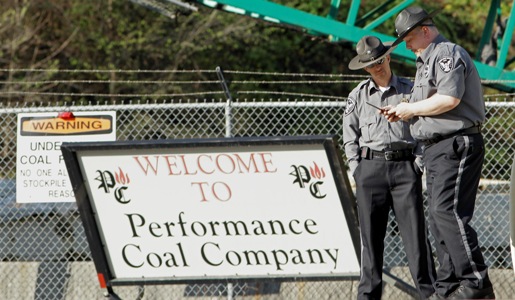 Standing near the portal of the Massey Energy mine where at least 25 miners have died in a deadly explosion, Joe Main, assistant labor secretary for Mine Safety and Health, vowed to "turn over every rock" to get to the bottom of the cause of the April 5 tragedy.
Main, who served as health and safety director of the United Mine Workers before President Obama appointed him to head MSHA, explained to reporters that holes are being drilled hundreds of feet into the mine to vent poisonous methane and carbon monoxide gases so rescue teams can enter the mine. Hope waned when there was no answer from the trapped miners when rescuers tapped on the steel casing leading down into the mine.
Anger is rising that Massey Energy and its CEO, Don Blankenship, are among the most arrogant scofflaws in the mining industry, flouting federal safety mining laws, and aggressively challenging thousands of MSHA safety and health citations.
AFL-CIO President Rich Trumka, himself a former coal miner and former UMW president, extended his condolences to the families of the miners. He said, "This incident isn't just a matter of happenstance but rather the result of a profit-driven system and reckless corporate conduct. Many mining companies have given too little attention to safety over the years and too much to the bottom line."
According to documents posted on MSHA's website, 2,118 citations were issued against Performance Coal Company (wholly owned by Massey) for safety violations at the Upper Big Branch mine since the year 2000. It included 495 violations and $911,802 in "proposed" fines last year.
Since 2005, Massey Energy as a whole, has been cited for 38,997 safety violations in its 35 underground and 12 mountaintop removal mines.
MSHA "proposed" fines totaling $43.5 million for those violations but the company contested the vast majority of these fines, 85 percent in 2007, for example. MSHA, then packed with former coal company executives, backed down. Massey, as one critic put it, "got away, literally, with murder," paying a combined total of only $11.8 million over that five year period.
The corporation, one of the most notorious union-busters in the nation, employs 5,400 miners who produce over 40 million tons of coal annually.
Back in 1984-1985, the company, then called AT Massey, used vicious strikebreaking tactics, with all-out support of President Ronald Reagan, to bust a strike by the United Mine Workers seeking union recognition at Massey mines in Logan County, W. Va.
Massey Energy CEO Don Blankenship reported $24 million in salary and stock options in 2007 and $11.2 million in 2008. Earlier this year, he cashed in 200,000 stock options pocketing $3.8 million.
In 2002, President George W. Bush named Massey Energy executive Stanley Suboleski to the review commission of the Mine Safety and Health Administration that oversees enforcement-or lack thereof-of the Federal Mine Act. Blankenship contributed $3 million to elect a West Virginia Supreme Court Justice. He took one of the Supreme Court justices on a junket to the French Riviera.
Blankenship is a major moneybag for the Republican Party contributing $30,400 to the National Republican Senatorial Committee and thousands more to GOP Senate candidates Pat Toomey in Pennsylvania and Rob Portman in Ohio.
Photo: Guards stand at an entrance to the Performance Coal Company mines on April 6, in Montcoal, W. Va. Mark Humphrey/AP