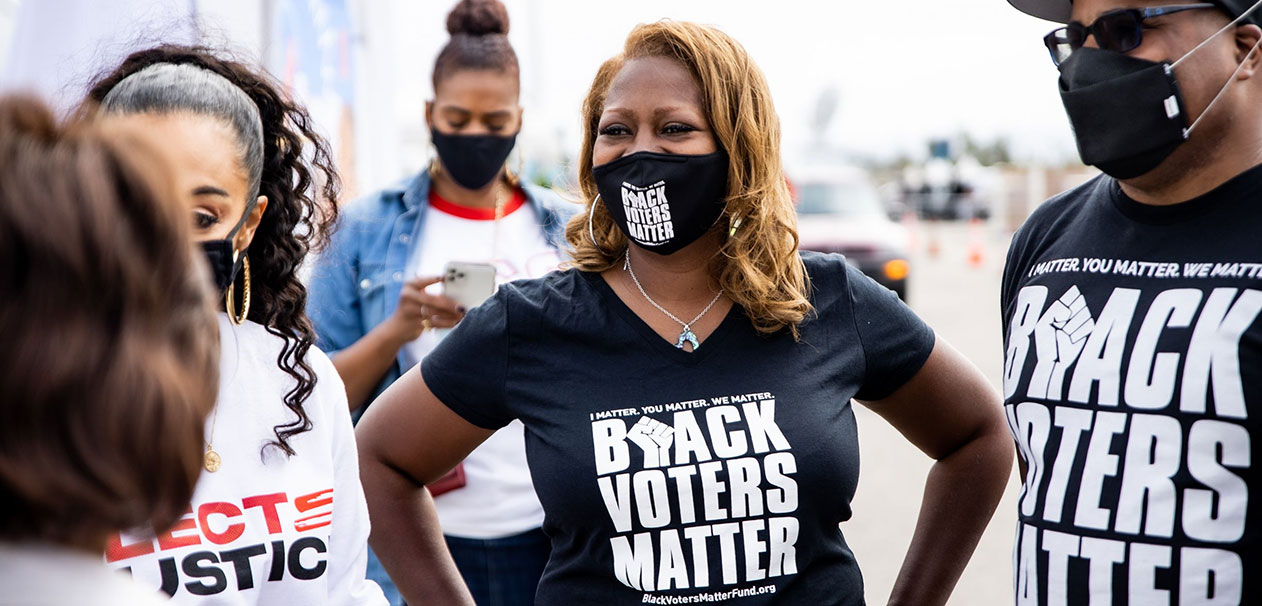 PHILADELPHIA—When it comes to this fall's election, now less than a month away, Unite Here Local 274 President Rosslyn Wuchinich pulls no punches. Her members are not content to live with claims by the New York Times in the lead story in its print edition today that, because of the economy, Republicans now have a clear edge in the elections in three weeks.
The Times says that Democrats are seeing a drop in support from independents and women. The union members combing the streets here report that this is a narrative that is totally false in Philly's inner city and elsewhere and that the key is to pull out the people on Election Day who will dump huge numbers of Trumpites and election deniers.
Among working people, it's not just about inflation or jobs or the rising income inequality in both the U.S. and the Wucinich home in Philadelphia, though she discussed all three during a recent union-sponsored zoom press conference on the union's efforts in key swing states. She didn't even mention the coronavirus pandemic, now at a lower level.
"It's a battle for the soul of our entire state and of our entire nation," she declared of the November 8 balloting.
Evidence of the seriousness with which people are taking this election surfaces outside Pennsylvania too. One such effort is the bus tour of Ohio by Black Voters Matter which has covered major African-American communities across the state, including East Cleveland where tour organizers said they were working in a community where 50 percent of the people did not even know a midterm election was approaching.
Black Voters Matter, like Unite Here, is not spending its time figuring out the shifts in polling. Rather, it is confronting the main task between now and Election Day – reaching and pulling out the voters that will defeat the Trumpite fascists. If they succeed, the predictions of a blue blowout of Republicans across the country, made recently by Michael Moore, the famed film director, will come true.
The Times poll, in any case, is countered by many other polls that see a much tighter race. Polls, in the period right before elections, often shift back and forth. The poll does not measure what would happen if the coalition that elected Biden in 2020 comes out again in full force this year, an outcome progressives are working to achieve.
Recruited hundreds
That's why Wuchinich, Unite Here's Pennsylvania campaign director, has recruited hundreds of unionists to go door-to-door and talk to voters one-on-one about what's at stake: democracy for all and women's constitutional rights to abortion.
They expect to repeat their success with those same voters—low-income, voters of color and infrequent voters—they achieved in 2020 when the union-recruited voters swung Philly and the state for Democratic presidential nominee Joe Biden.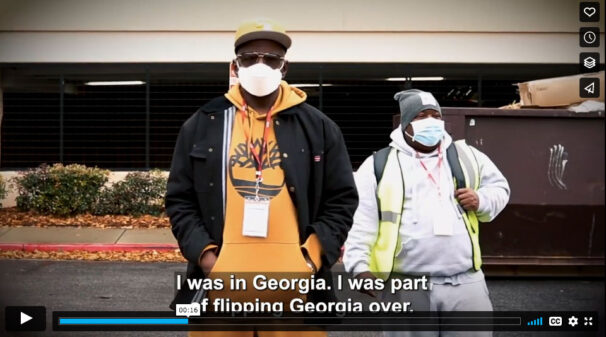 Wuchinich and 22-year Unite Here member Fred Hollis find they're preaching to the choir, so to speak. When they knock on doors and ask voters one-on-one, what concerns them, the voters bring up those two issues, too. The catch, of course, is to get them to the polls.
Also reflecting a determination to pull out a huge Black vote is the planned national tour of former President Barack Obama who will visit Wisconsin, Michigan, and Georgia, among other places. All of those stops are places where the Black vote was decisive in defeating Trump in 2020.
Gretchen Whitmer, the Democratic governor is way ahead in the polls. Obama will speak in Detroit, however, where he will be able to help sway the state legislative races against the Republicans now in control. A huge Black voter turnout which he can help produce there could help take the state legislature out of GOP control, something that will factor big in the 2024 elections by keeping Trumpites out of control of a body that can try to manipulate results.
The expected results of all of these ongoing efforts are, of course, not reflected in any one poll that came out over the last weekend.
The voters reached by the union canvassers and others are particularly upset by the Supreme Court's ruling stripping women of the constitutional right to abortion and about Pennsylvania—and national—Republicans' crusade to strip voting rights from people of color, such as Hollis.
Unite Here's Hollis said that when it comes to abortion rights, he tells voters "I want to be the voice for my young daughters until they get old enough to speak for themselves."
So the Unite Here campaigners have fanned out all over Philadelphia, especially seeking those low-income infrequent voters, engaging them in conversations, and convincing them their vote counts.
And since Pennsylvania statewide races are typically decided by one or two percentage points, Wuchinich tells them every vote counts. So does Hollis. His most recent campaign work for Unite Here wasn't in Philadelphia but in Georgia.
Swung two U.S. Senate seats
Unite Here's legions in Georgia, plus Stacey Abrams' organization, swung two key U.S. Senate seats to Democrats Raphael Warnock and Jon Ossoff. "I tell people if we can flip Georgia, we can flip anywhere," says Rollins.
But when people don't vote, the opposition wins, Wuchinich elaborated. In 2020, Unite Here's legions swung the state for Biden by 80,000 votes. But the 2021 low-turnout judicial election saw widespread Republican wins. She wants to rerun 2020 this fall.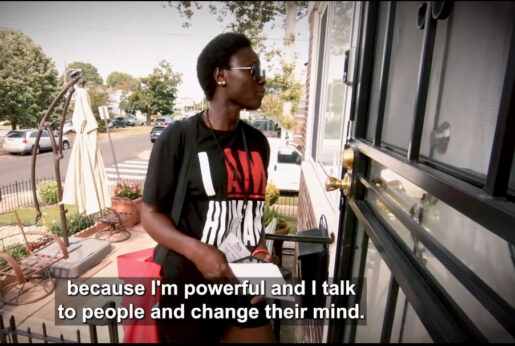 It's especially important in the Pennsylvania open-seat governor's race between Democratic Attorney General Josh Shapiro and Republican State Sen. Doug Mastriano. He repeats Donald Trump's 1980 lies about "fraud" by voters of color, including in Philadelphia. Hollis reported voters bring up the topic with him all the time.
The gubernatorial tilt is particularly important. Not only is Mastriano a Trumpite election denier, but Pennsylvania's governor controls its elections process and machinery.
Voters, Rollins said, recall the sacrifices and struggles of their parents and grandparents during the civil rights movement of the 1950s and 1960s, when campaigning for the right to vote, especially in the segregated South, could be dangerous.
"A lot of elderly voters fought a lot to get the right to vote," they tell Rollins. "They feel very strongly no one should have their voting rights taken from them,"
The Shapiro-Mastriano race is one of two high-profile tilts in the Quaker State. The other, for an open Republican-held U.S. Senate seat, pits Lieut. Gov. John Fetterman (D) against Trump-backed celebrity TV physician Mehmet Oz, who actually lives more often in New Jersey.
The five most recent polls, according to Ballotpedia, give Fetterman slight leads, but all but one are within the margin of error. And, as both the 2020 presidential vote and the more-recent first round of voting in Brazil's presidential race show, opinion polls notoriously undercount right-wing support.
Democrat Shapiro leading by 10 to 16 points
Those polls also give Shapiro leads of between 10 and 16 percentage points.
Other issues do come up in the face-to-face talks with voters, the two Pennsylvanians said. So did Unite Here Secretary-Treasurer Gwen Mills. The most-frequent additional issue is inflation, where union canvassers find voters parroting Republican talking points, amplified through campaign ads and the mainstream media, that Biden is responsible for rising prices.
"They have no credibility," Mills said of the Republicans. The canvassers, she pointed out, recount for voters the Republican record—both before and through the coronavirus pandemic—of tax cuts for corporations and the rich, pro-corporate deregulation, and enormous budget deficits. Those, Mills said, are the long-term causes of current price hikes.
Come back to the issue of abortion
But always, they come back to the future of the constitutional right to abortion, and the future of democracy itself.
"The consequences of losing the ground we've gained—for our union and for the fate of democracy itself—are too high," she said.
The union canvassers, in Pennsylvania and other swing states, notably Arizona and the union's biggest stronghold, Nevada—reach present and potential voters "often not reached by traditional political campaigns by communicating shared experiences and struggles, and these connections with voters are making the critical difference in state races with razor-thin margins."
Fanning out into Philadelphia neighborhoods for face-to-face talks, especially with infrequent voters, notably voters of color, Unite Here canvassers found voters eager to discuss both the threat to democracy and the revocation of the constitutional right to abortion.
And they're using those to urge those often-reluctant people to get to the polls, or mail in ballots, between now and November 8, two of them told a union-sponsored zoom press conference on its 2022 mobilization.
The union hopes to repeat its success of 2020, especially in inner-city Philadelphia, where it convinced reluctant voters of color to head to the polls by the thousands, swinging the city and ultimately the state into Democratic presidential nominee Joe Biden's column.
The Republican reaction was to try to take voting rights away from Black and brown people, and accusations of massive fraud in Philly by Republican foe Donald Trump—accusations repeated and amplified by Republican State Sen. Doug Mastriano, who faces Democratic Attorney General Josh Shapiro for the open gubernatorial seat. The governor has enormous power over Pennsylvania's elections machinery.
Getting back to the NYT-Siena poll the Times based its lead story on and which cited "big swings" in the direction of Republicans. The poll said the GOP was leading Dems, 49 to 45 percent.
Polling researcher Natalie Jackson noted, "Of course, you will see big swings when the total sample size is 792, your response rates are tiny and you are slicing pretty small."
She noted that the polling of independent women relied on a sample size of only 16 of those 792 polled.
"Anyway," said Jackson, be highly skeptical of interpretations based on one poll that says the political landscape has shifted.
"Also be skeptical of 'that abortion bump has faded' from people who resisted its existence in the first place," Jackson said.
Tom Watson, a Democratic strategist added, when "movement" is among a group of less than 150 women in a national election, be very skeptical indeed. And keep wedging Roe everywhere!"