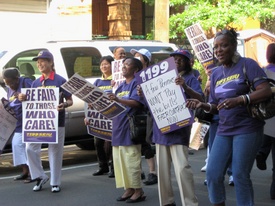 UNION CITY– A fighting militant demonstration of several hundred nursing home workers, members of 1199/SEIU sent a message to their employer, Castle Hill Nursing Home, that they want a new union contract and they mean to get it. No more stalling.
The owner of OMNI nursing homes, Avery Eisenreich has refused to negotiate directly with the union which has been without a contract since 2007. Wages at the Omni group range from $7.90 to $9.00 an hour even after long years of service. By contrast, Eisenreich pays himself $10,000 an hour according to union speakers and the many union picket signs. It was also reported that he is now building his third mansion. Further, by contrast, workers must pay $165 per week for health coverage if they choose to have their families covered out of their meager wages.
Union City Mayor Brian Stack addressed the rally pledging his full support behind the workers. Stack said that he understands their problems. The mayor indicated that both his parents were union members. Stack's mother – who is 75 – is still working. To the cheers of the demonstrators, Mayor Stack said that he, as a State Senator along with Assemblyman Ruben Ramos, Jr. would call for a government investigation into the salary of Eisenreich.
Stack invited the union to demonstrate whenever they need to and that he would supply the hot dogs, soda, and water.
Tom DeGise, county executive of Hudson County said if Mayor Stack is supplying the hot dogs, then "I'm going to supply the hamburgers." Most importantly, DeGise pointed out that Hudson County is the most diverse county in the whole country and that diversity is reflected in the workforce at Castle Hill and "we want you to stay here."
The spirit of unity was deepened by remarks made by Peter Busacca, President of the Hudson County Central Labor Council, AFL-CIO and Mauro Camporeale of the neighboring Bergen County Central Labor Council, AFL-CIO. They were joined by other members and retirees of the Central Labor Councils.
Militant solidarity were at the heart of the chants, slogans, songs and speeches at the rally. The chants were in English and Spanish – everyone joined in. "It's our union, the people's union, the patient's union, the community's union. It's 1199. It's SEIU."
Fully appreciative of the workers rally were the nursing home residents who watched from the windows. When the bosses cut food rations to the residents, nursing home workers dipped into their pockets to augment meals.
New Jersey has historically been a haven for nursing home profiteers.