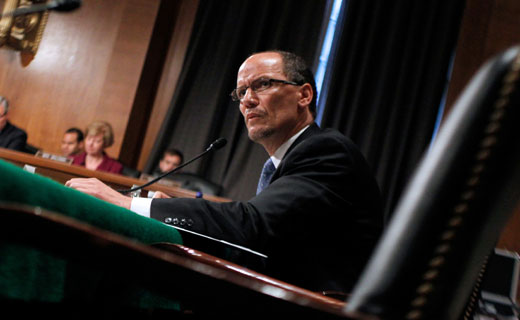 CANTON, Ohio – In an illustration of yet another way unions protect workers, a Steelworkers union complaint led the Occupational Safety and Health Administration to swoop down, earlier this year, on the Republic Steel plant in Canton, Ohio. The result: 24 violations of a prior consent decree Republic signed to right safety wrongs at all its plants – and a proposed $1.14 million in OSHA fines.
In short, Republic was a repeat offender, and the Steelworkers caught them.
"We always prefer to work jointly on safety with employers. But when they refuse to correct the conditions that threaten our members' lives, we're thankful for OSHA," said Steelworkers Ohio district director Dave McCall. "The OSHA inspectors and other staff did a superb job."
Republic, however, can appeal the citations and fines.
The union formally complained to OSHA about inadequate fall protection and other hazards, notably in Canton's melt shop. OSHA's February 2013 inspection found the hazards, and that two workers were seriously injured in falls at the mill in 2012.
All that violated a 2012 settlement that Republic signed with OSHA, covering all its mills, after inspectors found many violations at its Lorain, Ohio, plant.
"Republic has a long history of OSHA violations and disregard for employee safety and health," agency administrator Dr. David Michaels said in a statement. "It is unacceptable that Republic has not taken more-effective steps to improve safety at the Canton plant, particularly in light of" the prior company-wide settlement, he added. "OSHA will remain diligent in its commitment to protect America's steel workers."
"People working hard to provide for their families should not have worry each day whether they'll come home," added Labor Secretary Thomas Perez. "Republic put their workers' lives in danger, and that kind of disregard for safety will not be tolerated."
The serious violations at Canton included no side rail on ladders leading to the gantry and no personal protective silver shields to prevent burns of workers toiling at the electric arc furnace. There was no required training to protect workers who enter confined spaces, electrical panels were in danger of getting wet and shorting out, and no fall protections for workers at the arc furnace – a problem OSHA had found in Lorain.
The Steelworkers thanked OSHA for the inspection, and proposed fines, but called it "unfortunate the inspection and enforcement were necessary." Added McCall: "We have tried to work jointly with Republic to avoid these violations. However, it is obvious that some in management do not understand the seriousness of inaction."
Photo: Labor Secretary Thomas Perez (pictured) backed OSHA's move against Republic Steel. Molly Riley/AP