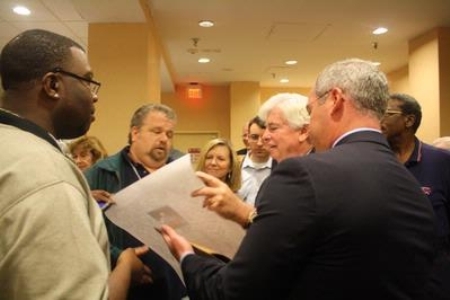 HARTFORD, Conn. — "In the next 77 days," Arlene Holt Baker, AFL-CIO executive vice president told delegates to the Connecticut convention here, "you will determine if we move forward to solutions or backward to the problems we are all trying to resolve… It is time to pull out all the stops."
The 400 delegates gathered for the Connecticut AFL-CIO's political convention and heard from candidates for governor, U.S. Senate and Congress, made their endorsements and then, enthusiastically, signed up to talk to their union sisters and brothers about the issues in this election and how to turn out the vote in record numbers.
"This election is extremely important because the economic crisis in this country is putting the American dream in jeopardy," said John Olsen, Connecticut AFL-CIO president
"Two years ago, the country was going 90 mph in reverse," AFT Connecticut president Sharon Palmer reminded the delegates. "To advance we have to go into drive. That means hundreds of one on one conversations with our members at doors and at the workplace. To drive forward 90 mph we have to go to our members."
Holt Baker came to this battleground state to address the convention, dedicated to retiring Sen. Chris Dodd who has a 96% AFL-CIO lifetime voting record, and Brian Petronella, leader of the United Food and Commercial Workers union who died suddenly at age 54, days earlier.
Calling this election an opportunity to "turn pain into promise and hate into hope," she said "your members might feel disappointment they don't have everything, but without President Obama's recovery plan we would be in a full blown depression."
With an open seat for governor and the possibility of electing a Democrat for the first time in 20 years, unity ran high. The convention was held a week after the primary elections in which labor was divided. Former Stamford Mayor Dan Malloy, who won by 15 points, was cheered by everyone. "Coming together starts in this hall on this day," he said.
Attorney General Richard Blumenthal, candidate for U.S. Senate, is opposed by Republican Linda McMahon of World Wrestling Enterprises fame, who did not respond to invitations to attend the convention.
"My opponent is spending $50 million. I have something money can't buy. I have you, I have friends," said Blumenthal.
Three Congressional seats, won by Democrats in the last two election cycles, are also at stake.
Keynote speaker Howard Dean emphasized the importance of this election. "We have a president we can believe in," he said. "Make sure between 2010 and 2012 he can continue to pass big pieces of legislation. He needs a Democratic majority in the House and Senate."
A diverse group of 20 local union leaders who have committed to the Labor 2010 effort gathered around the podium to tell their stories.
"In my plant, instead of hiring workers for a third shift with benefits, they have us working 12 hours a day," said Tammy Batella, a steelworker and Labor 2010 coordinator in her local. "I worked 68 hours last week," she told the convention. "I know how important it is to do the walks and get to people who aren't doing the right thing. We are the ones who have to get it done." she declared.
Everett Corey of IAM District 26 pledged that five percent of their members will talk to their union sisters and brothers and help pull out a massive pro-working family vote.
On Saturday, September 11, labor walks will kick off in each of the five congressional districts. Union members will visit co-workers at their homes. It is projected that by Election Day 36,278 home visits, 141,626 phone calls and 300,000 leaflets at work will have been completed.
Delegates voted unanimously to mobilize for the October 2 One Nation Working Together March in Washington, DC.
"We have to mend the shattered beloved community," said a teachers union delegate.
"Use this as an organizing tool to better communicate within the community," urged Olsen. "All of us are fighting for the same things, good jobs, housing, health care and peace for all."
Convention resolutions addressed a wide range of workplace issues including a call for the federal government to create a WPA type jobs program and a campaign to protect and expand Social Security.
"This is our opportunity to be concerned about our country, our dream," Olsen told the delegates. "People are angry, but they don't know who to be mad at. Commit for yourselves and for the future," he exclaimed.
Photo: Sen. Dodd meets with delegates to the Connecticut AFL-CIO convention, August 16, in Hartford. (Conn. AFL-CIO)