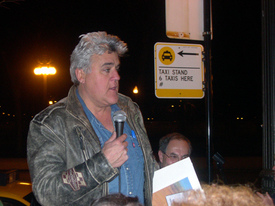 CHICAGO — Shirley Brown, 47, works very hard. Every day the 10-year veteran housekeeper with Resurrection Health Care Westlake Hospital here pushes her supply cart through the hospital, mopping, wiping and scrubbing, cleaning waiting rooms, patient-care rooms, bathrooms and countertops. She gets home about 3:45 in the afternoon. Most nights by 6 p.m., she's exhausted and goes straight to bed.
Nonetheless, Brown is deeply involved in a bitter struggle with her employer for the right to have a union. She is confident that a union victory will eventually ease her days.
On March 11, when executives from Resurrection showed up for its black-tie gala at the downtown Hilton Hotel, Brown, along with many of her co-workers, joined by religious and community leaders, held a candlelight vigil and rally outside. "Tonight Show" host Jay Leno, who was the featured entertainer at the gala, spoke to the crowd outside first, telling jokes and offering encouragement to the workers.
Protesters urged executives of Resurrection, the city's largest Catholic health care organization, to "come home" to its mission of quality patient care, compassion, and a fair and just workplace. They sang songs, held picket signs and chanted, "We shall not be moved."
Employees at Resurrection have been seeking to form a union with the American Federation of State, County and Municipal Employees Council 31 since 2003.
Resurrection has responded with an aggressive anti-union campaign spearheaded by the law firm Seyfarth Shaw, which specializes in helping employers fight unionization. Eight union supporters who were publicly active have been fired.
Lower-wage workers, many of whom are immigrants, have been told they will be fired or lose benefits if they support the union. Others have been pressured to sign petitions stating they oppose forming a union.
Resurrection takes in $1.4 billion in revenue annually. "What started as a small community hospital has evolved into a huge corporation," said Harald Anonsen, a registered nurse with Resurrection, at the rally. According to Anonsen, nurses no longer feel that they can give the high quality health care they want to provide.
"The heart and soul of Resurrection Health Care is right here, outside, on Michigan Avenue — not inside that hotel," said Father John Kobus, a Catholic priest and one-time employee of Resurrection.
Resurrection health care workers say they are underpaid, short staffed, and have inadequate supplies and insufficient infection control practices, putting patients' safety at risk. The lowest paid workers in the system cannot afford health insurance for themselves.
Chicago Federation of Labor President Dennis Gannon spoke to the crowd. "Keep fighting and we'll stand by you until you win," he said.
Shirley Brown was encouraged. "With the support I see here tonight," she said, "I know it's just a matter of time."