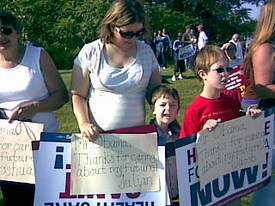 WAKARUSA, Ind. – In just a few hours on Aug. 5 the Steelworkers Union organized a bus load and several cars from Gary, Ind., to take the two hour trip to this small sleepy town near Elkhart and in the middle of the Amish area also known for RV and trailer construction.
More than 1,200 people from around the area gathered to support President Barack Obama and health care reform amongst other issues.
In contrast, The Young Republicans organized a smaller effort to protest Obama and health care reform efforts.
Earlier in the week many of these same protesters tried to disrupt a forum on health care with Congressman Pete Visclosky, sponsored by the Democratic Alliance group in Chesterton, Ind. The protesters are mounting "recess rallies" nationwide targeting Democrats and the president.
Obama spoke at the bankrupt and recently-purchased Monaco Coach RV manufacturer while supporters and protesters rallied outside. Unemployment in the area is nearly 20 percent in the state where it has reached 11 percent. Obama announced a $39 million stimulus grant to the company that purchased Monaco to make 400 electric trucks.
Ula Woods a school bus driver from Gary said she came to the rally, "to support Obama and his health care plans." JC, also of Gary and a SEIU member and custodian, said he came "for health care reform and jobs. I am laid off with 59 others."
Helen Johnson of South Bend, Ind. said "She came to show Obama that we support his efforts to get health care for all the people that don't have it."
Mike Olszanski, a retired steelworker from LaPorte, who was standing amongst the anti-Obama protesters with his sign calling for a single payer solution for health care.
"I'm for socialized medicine, and these people are saying that they don't want the government to do anything with health care. I'm glad I came to show these young Republicans what real Americans want," he said.