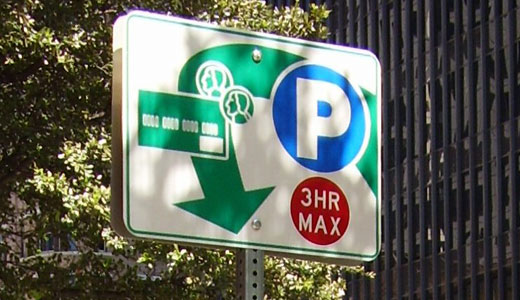 NEW YORK – Warning of reruns of disastrous "privatization" financial deals that occurred in Chicago and Indianapolis, New York City's public worker unions and several top politicians are blasting Mayor Michael Bloomberg's scheme to sell off the city's parking meter revenue to private firms.
If New York's 90,000 meters are sold, private owners would reap profits for years while the city – after a one-year $11 billion windfall for Bloomberg's last budget before his term ends – would be left with an annual $150 million revenue hole for decades.
Former Chicago Mayor Richard M. Daley sold off his city's parking meters to private investment groups that included Middle Eastern investors. The Village Voice reported that 75-year deal cost Chicago $5 billion in the long run, brought in $1.2 billion in one year, and let the investors quadruple city parking rates – and even charge for parking on Lincoln's Birthday, since the investors don't recognize U.S. holidays.
Lillian Roberts, President of AFSCME District Council 37, whose union includes the 450 parking meter maintenance personnel of Local 1455, doesn't want a rerun of Chicago. Neither did James Vacca, chair of the city council's Transportation Commit-tee, or City Comptroller John Liu, a potential candidate for Bloomberg's job next year.
"In the past two years, we helped expose the contracting-out fraud. Now we are here again speaking out against privatization that hasn't worked, doesn't work and won't work for our city," Roberts told a July 30 press conference. "The city wants to continue to misspend billions of dollars, this time on unnecessary private parking contract when city parking system workers are already doing an excellent job, generating approxi-mately $1.2 million per worker in revenue for the city. We're here to say to Mayor Bloomberg, 'Don't break something that's working.' "
The maintenance workers, represented by AFSCME Local 1455 and the Communications Workers, kept 95 percent of the city's meters working, added Vacca. That statistic "speaks for itself," he said. "I share the city's interest in parking meter innovation and technology, but outsourcing a workforce that is already doing a stellar job shouldn't be part of that process."
There is "no real reason to privatize New York City's parking meters," AFSCME added. "Yet Bloomberg is seeking qualifications from private corporations to manage muni-meters and off-street parking meters." Bloomberg's office had no comment, other than to vow – in the days before Roberts' press conference – that it would not repeat Chicago's mistakes and would keep control of New York meter rates.
Photo: Wikipedia