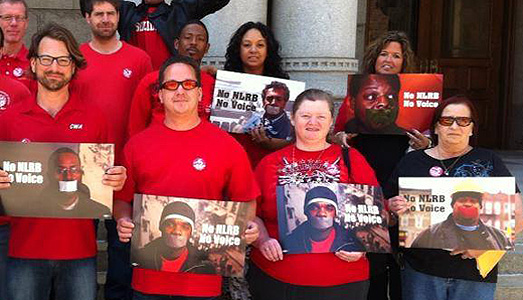 WASHINGTON (PAI )– The lack of a functioning National Labor Relations Board, which could occur within two months, threatens workers' free speech rights on social media, as well as in more traditional speech, the Communications Workers say.
And in a series of search ads on Google, it's laying the blame for that threat to free speech on the shoulders of Senate Minority Leader Mitch McConnell, R-Kent.
The ads are part of, and contain a link to, the union's www.giveus5nlrb.org campaign, trying to get the public to pressure senators to vote on Democratic President Barack Obama's five nominees to the NLRB before lawmakers head out of town for their August recess.
"This is one avenue to raise general public awareness" of the controversy around the NLRB nominees, says CWA spokeswoman Kendra Marr. "This is an accessible, easy-to-understand issue for a lot of people.
"When you tweet and your boss gets mad and you get fired, the NLRB lets you get your job back," Marr continues. But the GOP anti-NLRB drive would stop that protection, the ads point out. And McConnell's leading the GOP campaign.
McConnell's blockade is particularly important, the union says: The terms of all three current NLRB members, Chairman Mark Gaston Pearce and "recess appointees" Sharon Block and Richard Griffin, are expiring and the board then could not function. Obama re-nominated all three, plus two management-side labor law attorneys for the vacant minority-party board seats.
The board's continued existence is important to workers and bosses nationwide, as NLRB decisions set ground rules for labor-management relations for most private-sector workers. That includes rules about free speech and social media, CWA says.
Ironically, though CWA does not say so, McConnell defends free speech when it's in the form of unlimited sums of campaign cash from corporations and large individual contributors.
"Social media free speech has become an important – and growing – focus of the NLRB," the union explains in a fact sheet on the giveus5nlrb.org website. NLRB's top enforcement officer reports the board has decided more than 100 cases involving social media since 2010.
One NLRB social media ruling barred firms from firing people for anonymous comments on social media websites, as T-Mobile USA did during CWA's ongoing organizing drive there. But the board's social media policies also protect non-union workers. Workers at the Bettie Page woman's clothing store in San Francisco took to Facebook with complaints about their unprofessional manager, after the store owners ignored them. The store fired three workers on trumped-up charges. The board's administrative law judge reinstated the workers, with back pay.
"As companies adapt to 21st century technologies, the NLRB kept pace to protect workers and their rights to free speech. Without the NLRB's important protections and enforcement, employers would never be held accountable and workers would have no legal recourse for unjustified firings over tweets or Facebook posts," the fact sheet says.
But McConnell and the Senate GOP filibustered Democratic President Barack Obama's last set of NLRB nominees. It threatens to do so again, jeopardizing those free speech protections, CWA says in the Google ads criticizing McConnell. If the GOP tries to make the board inoperative, Democrats will have to break their filibuster or change Senate rules now to eliminate such talkathons against nominees, CWA says.
"Some people get their labor justice at the Labor Board," says NABET-CWA organizer Carrie Biggs-Adams. "But if they're closed by Labor Day" due to the filibuster and expiring terms of NLRB board members, "we won't have labor justice," she adds.
Photo: CWA Facebook page.