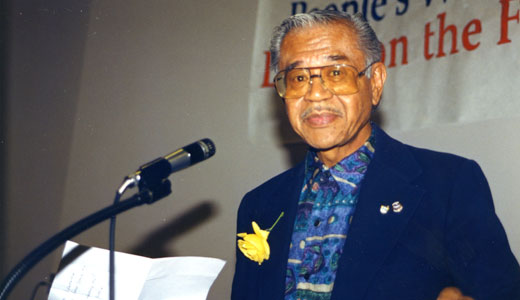 Avelino "Abba" Ramos, longtime leader in the International Longshore and Warehouse Union, died in his sleep of Lewy body dementia, June 5, at Bali Bay Care Home in Richmond, Calif.
Ramos was active all his life in the fight for justice for the Filipino community, in the Philippines and in every community where he lived and worked. He was a dedicated supporter of the People's World/Mundo Popular.
Born April 12, 1934, in Hilo, Hawaii, Ramos began his education about economic, social and racial justice in the 1930s, on the sugar plantations of the Big Island. His dedication to the ILWU started when he was a student and a sugar worker in the 1940s. In the late 1950s he became the first Hawaii-born organizer for the United Pacific Workers of Hawaii.
In 1958 Ramos graduated from the University of Hawaii, one of the first children of sugar workers to do so. In 1962 he met and married Kimiyo Ramos, a music teacher and jazz singer from Nagano, Japan.
In 1962, the couple moved to Berkeley, Calif., where he was elected first as shop steward and then as business agent in ILWU Local 6, serving the local until 1984, when he was named ILWU international representative.
Ramos retired in 1997. He was honored that year at the ILWU's 30th International Convention in Honolulu, for his lifetime of service to the union.
In its resolution, the ILWU said Ramos played a central role in the union's work to help form the Asian Pacific Labor Alliance. He was "always on the clock" as an organizer, "spreading the word about the benefits of unionization and ILWU membership to the unorganized," the resolution said, adding that he "consistently shared his experience and knowledge about the labor movement, international solidarity and community activism with young people in schools, writers and historians."
Ramos was preceded in death by his wife, Kimiyo Ramos. He is survived by his children, Renee Yamagishi, Ramona Ramos, Marcelino Ramos and Anna McKenzie, 10 grandchildren, a great-grandson and many more close family members.
A memorial celebration of Abba Ramos' life will be held on Tues., June 19, at 1:00 p.m. at ILWU Local 6, 99 Hegenberger Rd., Oakland, Calif.
Photo: Ramos speaking in 1997 at a People's World banquet in Washington State. Courtesy of the Daily Worker/Daily World Photographs Collection at the Tamiment Library/Robert F. Wagner Labor Archives, New York University.