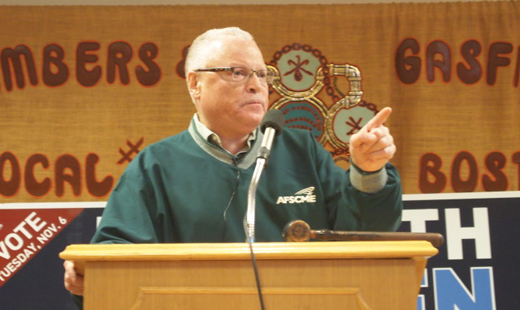 WASHINGTON – The U.S. Supreme Court's campaign finance rulings "open the gates to billionaires" to capture the U.S. political process while shutting workers out, AFSCME President Lee Saunders says.
Speaking recently at a Center for American Progress forum on campaign finance, Saunders said the court's campaign finance rulings, including one earlier this year, are part of a "business-friendly pattern" the court majority created.
The pattern also includes a court ruling against the Service Employees in a prior term, saying local and international unions could not add extra assessments for politics and lobbying without separate member approvals.
"The court's decisions have given billionaires more and more latitude into turning our democracy into a plutocracy," Saunders said. "And corporations have found a friend in the Supreme Court."
"Meanwhile, our right to represent workers is under question" from the justices, he warned, referring to a case the justices are wrestling with now, Harris vs. Quinn, over whether public sector unions can charge workers fees for basic functions such as contract bargaining and administration (see separate story).
"What does it mean when the court says 'Corporations are people'? It means working families are feeling more and more unstable," Saunders declared. "Our economy is unbalanced and broken."
Unions, he said, will have to fight back with "grassroots power," knocking on doors – union and non-union – and discussing the economic imbalance, how it affects people and how the court affects it. And that also means pointing out that presidents nominate and senators confirm Supreme Court justices, so voters should make that issue a high priority when casting ballots, Saunders added. And they'll enlist non-union progressive allies in doing so, he said.
Unions "are going to be building not just a trade union movement, but a movement, talking about the importance of all of us being engaged in this battle, in this fight for the future of our nation."
Photo: Lee Saunders. Greater Boston Labor Council