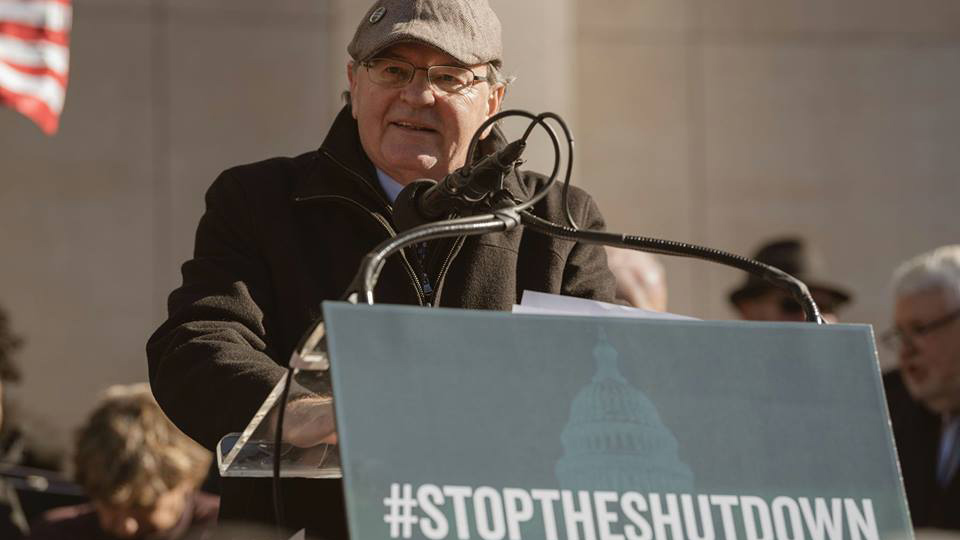 WASHINGTON—Add Paul Shearon to the union voices blasting GOP President Donald Trump's 35-day shutdown/lockout of 800,000 federal workers, but with a twist.
Shearon, whose union represents both public and private sector workers – including thousands of federal immigration judges and tens of thousands of Boeing aerospace workers – produced a pungent comparison between Trump's lockout and lockouts launched by corporate moguls.
"We represent people in the private sector," the Professional and Technical Engineers (IFPTE) president said in an interview during its legislative conference in D.C. "None of their bosses are as bad as this."
Trump's shutdown/lockout sent the immigration judges, among 350,000 others, home without pay for 35 days. He ordered another 450,000 workers, such as Transportation Security Officers – the airport screeners – to toil without pay.
The pressure of working for free for five weeks, wondering how he was going to pay the rent and feed his family, depressed one of the screeners, Robert Henry, in Orlando, Fla. He jumped off an interior hotel ledge in Orlando's airport, committing suicide. His local union president reported he was depressed beforehand and said working with no pay may have been a cause.
Trump took proud claim to the lockout, starting at midnight Dec. 21, by refusing to sign money bills to keep part of the federal government going, unless Congress prostrated itself and gave him $5.7 billion for his Mexican Wall. It didn't. Public pressure, led by unions, eventually forced him to back down – but the shutdown could resume Feb. 15.
Campaigning to prevent that shutdown and future closures was one big legislative goal of the IFPTE at its confab. Its delegates headed to Capitol Hill to lobby lawmakers on that and other issues the day of Trump's State of the Union address, Feb. 5. Trump's shutdown, Shearon said, "was one of the most outrageous things this country has ever seen."
IFPTE's private sector members were largely unaffected by Trump's shutdown, unlike the immigration judges and other public-sector members. Another Trump move, a pay freeze for this year, also drew IFPTE's ire, along with opposition from other federal worker unions. They all campaigned for a 2.6 percent increase, equal to the raise Trump gave the military.
Congress faces "difficulties…in these contentious times," the union admitted. But rank-and-file workers shouldn't pay the price for that, IFPTE added in a letter to lawmakers.
"We simply ask that the men and women who work hard every day in the trenches to deliver excellence for the taxpayer not be harmed any more than they already have by the political turmoil in Washington," Shearon and union Secretary-Treasurer/Legislative Director Matt Biggs wrote.
Nor should workers who toil for federal contractors, who are not covered by federal pay legislation – and who are not in line for back pay from the shutdown/lockout. In the interview, Shearon endorsed making the contract workers whole too, but with one caution: "We want to get guarantees that their bosses won't get the workers' dollars."
Among other issues, the IFPTE delegates asked lawmakers:
• Enact labor law reform "similar to the Employee Free Choice Act." Workers, unions and their allies pushed that bill in Democratic President Obama's years in office, but it fell victim to GOP hatred, an expensive business lobbying drive and Obama's concentration on passing the Affordable Care Act during the first two years of his first term.
EFCA would have legalized card check recognition, removed many of the obstacles bosses now use to stymie organizing, increased fines and damages for labor law-breaking and mandated arbitration of first contracts when the two sides couldn't agree.
"EFCA-like legislation continues to be desperately needed to level the playing field between private-sector workers who want to form unions, versus wealthy employers who all too often manipulate current law to frustrate organizing drives," Shearon and Biggs wrote.
• To pass Medicare For All legislation, to be introduced by Rep. Pramila Jayapal, D-Wash. It would not only cover everyone – including the 28.5 million uninsured and 41 million underinsured – but would cover medical, dental, vision, hearing, prescription drugs, and women's reproductive health services, Shearon and Biggs wrote. It also would be cheaper than the present private-insurer health care system.
• To permanently overturn Trump's anti-worker executive orders, issued last May, and later stopped by a U.S. District Court judge in D.C., siding with the union-filed suit against them. Trump's orders outlawed paid official time for shop stewards in federal shops, greatly weakened due process protections for federal workers and banned workers from communicating with lawmakers, among other things.
• Use legislation implementing the U.S.-Mexico-Canada trade pact – "NAFTA 2.0" – to rewrite the rules of international trade among the three nations to favor workers, not bosses. The "new NAFTA" would replace the heavily corporate 25-year-old "free trade" pact Republican President George H.W. Bush signed and Democratic President Bill Clinton pushed through Congress.
Clinton overcame strong worker and union campaigns against the original NAFTA, with unions warning it would cost tens of thousands of U.S. factory jobs. Later calculations by the Economic Policy Institute said factories alone lost 770,000 jobs to Mexico's low wages, company unions, weak labor laws, and lax environmental laws and enforcement.
Shearon gave an example. "We lost jobs in technical fields, such as engineers doing wire bundles for airplanes. Now those jobs are in Mexico." But it wasn't just job losses, he said.
"I was negotiating a contract at a (then) Boeing-owned plant in Irving, Texas, at the time NAFTA was signed," he said, without specifying what aircraft components were made there. "Management marched in and threw a padlock on the table." The bosses told the IFPTE bargainers that unless they yielded to draconian demands, Boeing would close the plant.
The workers didn't yield, Shearon said. Boeing didn't close. It sold the plant to a new owner – who closed it and moved the jobs to Mexico.