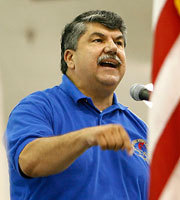 More than 266,000 You Tube views and growing
Union workers are among tens of thousands using You Tube to reach tens of thousands of others with a powerful message against the effects of racism in the 2008 elections.
As of Oct. 4 a record 182,974 people watched a You Tube video of AFL-CIO Secretary-Treasurer Richard Trumka blasting racism and underlining why workers should vote for Barack Obama in 2008. The You Tube piece is a video of a July 1 speech Trumka made at the Steelworkers Convention in Las Vegas. On Oct. 5 the views increased to 258,690. Three weeks ago it was 15,000.
At the Democratic National Convention in August Trumka told the World that he was proud of the speech because "it underlined the special responsibility labor has in fighting racism. They throw some white workers a few crumbs and they discriminate against Blacks and Latinos. They divide the workers and then we all lose," he said in that interview.
Trumka said that reports during the primaries about some white workers in West Virginia not wanting to vote for Obama because of his race and a personal encounter he had with someone he knew in his hometown in Pennsylvania motivated him to make the powerful speech at the Steelworkers convention.
The video was put onto You Tube soon after and it has continued to become more popular. Steelworkers and other union members continue to send the video to other union members, to friends, family members and other contacts. The video has also been posted on numerous Barack Obama campaign e-mail lists, personal Facebook and MySpace pages.
Union members out canvassing for Barack Obama often take down the e-mail addresses of voters they speak with and some send the video to the voters. You Tube reports that the video's popularity grew steadily from the day it was first put on but that it has now gone "viral.' It ranks in the top 20 most-watched You Tube videos.
"There's not a single good reason for any worker or union member to vote against Barack Obama and there's only one bad reason to vote against Barack Obama and that is because he is not white," Trumka declares in the speech.
"We must educate people about the fact that if they care about jobs, if they care about health care, if they care about their survival there is only one candidate on their side and that candidate is Barack Obama," Trumka says.
The overwhelming majority of comments logged onto You Tube give the video rave reviews, with many saying they were moved by what they see as one of the most effective challenges to racism they have seen.
View the video: