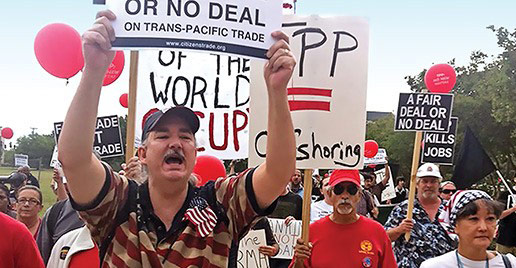 WASHINGTON (PAI) – Implementation of new "free trade" pacts, and specifically the Trans-Pacific Partnership (TPP) between the U.S. and 11 other Pacific Rim nations, could lead to mass unemployment in Latin America and a second wave of mass migration to the U.S. from those nations, a prominent union leader and immigrants' rights advocates warn.
So they're urging lawmakers not to make the same mistake they did by passing NAFTA and in succeeding years by approving a second "free trade" treaty covering Central American nations. Such a mistake could hurt workers' rights here and abroad, they add.
The warning, from Maria Elena Durazo, executive secretary-treasurer of the Los Angeles County Federation of Labor, plus immigrants' rights leaders from California and Texas, came as trade negotiators from the Obama administration and the Pacific Rim nations again discussed TPP behind closed doors in D.C. from Dec. 7-12.
Those talks also included discussions of giving Obama "fast-track" trade promotion authority to force TPP and other trade pacts through Congress without changes or worker rights. They drew protests, led by the Teamsters, in front of the U.S. Trade Representative's office.
Durazo and her colleagues cited what happened to Latin American employment, particularly on farms, after first NAFTA – the controversial U.S.-Canada-Mexico "free trade" pact – and then CAFTA (the Central American Free Trade Agreement) took effect.
Organized labor strongly opposed both, saying they would cost U.S. workers jobs as corporations decamped for Latin American nations with low wages and no worker rights. NAFTA and CAFTA, the group said, also threw farmers off the land even if they switched from farming food to eat to crops for export, as they could not compete with U.S. "factory farms" and their cheap goods. Those workers had to migrate to the U.S.
Once here, venal and vicious employers exploit the undocumented workers by paying them little and keeping them in the shadows. They also use the undocumented as leverage to force native workers to accept lower wages, declining living standards, an ending of union organizing, or all of those effects.
The combination has led labor to campaign strongly for comprehensive immigration reform to, among other things, immediately bring the undocumented under U.S. labor law.
This time, the advocates warned, TPP would prompt corporations to close their Latin American plants and decamp to even lower-wage nations. Those corporate moves would throw the already poor Latin Americans who got jobs in NAFTA- and CAFTA-spawned plants out of work – and they would head northwards, where jobs are.
The trade pacts and the fight over comprehensive immigration reform "are closely intertwined," said Communications Workers legislative director Shane Larson, whose union leads labor's anti-TPP fight. "Corporate free trade deals accelerate migration to the U.S."
"NAFTA and CAFTA helped" that migration. "The Trans-Pacific Partnership could move many more jobs from Mexico and Central America and force even more migration."
Durazo said labor's campaign for comprehensive immigration reform dealt with its effects in the U.S., including exploitation of the 11 million undocumented people and the impact on native workers. Now, it's time to deal with "the root causes," too, she explained.
"Men and women who come here" from Latin America "make the connection" between NAFTA, CAFTA, and other so-called free trade pacts and their unemployment south of the border and consequent need to unwillingly migrate northwards to earn a living, often in construction or in low-wage occupations, Durazo elaborated.
"If there's going to be 'fast-track' on trade policies, there needs to be 'fast-track' on a jobs bill, too," she explained. Beating fast-track and the TPP will help prevent a second mass migration, by tens of thousands of people who don't want to leave their families and their countries, she added.
Meanwhile, Teamsters president James Hoffa led hundreds of labor and fair-trade activists against TPP and fast-track in the D.C. protest the day before. Marchers said having workers across the globe toil for less money in unsafe workplaces to create goods that are harmful for the public is unreasonable, or worse.
"Voices of millions of working, middle-class Americans cannot be ignored," Hoffa said. "They are tired of being the casualties of bad trade deals that send good-paying jobs overseas. In return, the U.S. will receive unsafe food and products that will increasingly make their way into American homes. The Teamsters will continue to fight against fast-track and the Trans-Pacific Partnership. American workers cannot pay the price."
While the Obama administration pushes fast-track and TPP, several of the other 11 nations involved – specifically Japan and New Zealand – are balking at it, news reports say. So are workers in those nations. TPP also covers Australia, Brunei, Canada, Chile, Malaysia, Mexico, Peru, Singapore and Vietnam.
Obama's trade rep, for example, demands that New Zealand open its dairy market to U.S. goods. The New Zealand market is nationalized, and U.S. dairy producers are heavily subsidized. The New Zealand dairy farmers believe that what happened to Mexican and Central American farmers under NAFTA and CAFTA could happen to them under TPP.
Koji Tsuruoka, Japan's top negotiator, told the Japan Times before the D.C. talks started that many hurdles remain. He does not expect a final TPP until next year. "I don't think we will soon be in a situation where we are seeking political decisions" by ministers to solve difficult issues after the current chief negotiators' gathering ends, Tsuruoka said.
Photo: Over the past several years and in nearly every trade deal since NAFTA, corporations are given more power than actual governments. CWA