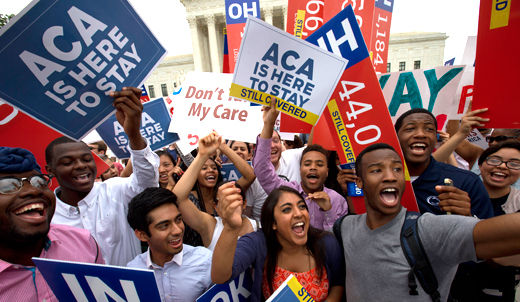 WASHINGTON (PAI)-By and large, union leaders applauded the U.S. Supreme Court's 6-3 ruling on June 25, keeping the Affordable Care Act's federal individual payments for health care insurance subsidies for users of health care exchanges, state or federal.
The leaders, including AFL-CIO President Richard Trumka, Teachers President Randi Weingarten, National Education Association President Lily Eskelsen-Garcia and the Steel Workers, praised the court for retaining individual access to affordable health care.
Two other leaders agreed, but warned of potholes ahead: Patricia Sheran-Diaz, an RN and Service Employees member, said Congress' ruling Republicans could still try to overturn the High Court's ruling through their constant war on the ACA and funding to run its programs.
And Laborers President Terry O'Sullivan reminded lawmakers the ACA still needs major work on its mistreatment of multi-employer labor-management-run health care plans, and that solons should repeal the so-called "Cadillac tax" on high-value health care plans.
"Congress passed the Affordable Care Act to improve insurance markets, not destroy them," the court majority said. The challengers wanted to outlaw the subsidies in states that did not establish their own health care exchanges to cover the uninsured-some 7 million-9 million people in 34 states. The largest group of uninsured is in deep-red Texas.
Trumka said Congress should now add protections to the ACA, since the court kept the subsidies. Additions are unlikely in the GOP-run Congress. The House GOP's money bill for the Health and Human Services Department-which helps administer the ACA-again bans use of money to implement the law. Trumka demanded the Republicans halt those efforts.
He called the court's ruling "an important victory for the millions of people who need financial assistance to make health insurance affordable and for everyone committed to improving America's health care system." It also removes the threat of them being "at the mercy of" the law's GOP foes, who hate the law and its mover President Barack Obama (D).
Trumka advocated expansion of Medicaid to "low-income workers in every state and making changes that will protect and strengthen the health coverage workers have fought for on the job." He was not specific. O'Sullivan, in his criticisms, was.
"Extremists in Congress tried to take away affordable healthcare from 8 million people with a bogus lawsuit, King v. Burwell, but the Supreme Court just handed down their decision: NO," said SEIU's Sheran-Diaz, whose union represents thousands of health care workers.
"Despite the ruling, Republicans won't be giving up their campaign to repeal" the ACA, Sheran-Diaz stated. "Let's put a stop to extremist attempts to tear down this law today. Call 855-728-5215 right now to tell Republicans in Congress it's time to stop playing politics." The ACA "is working and it's time to move forward."
Her SEIU president, Mary Kay Henry, added voters would remember the GOP's efforts to kill the Affordable Care Act-and retaliate at the polls next November.
"Working families will remember who fought against the ACA, who greased the gears for attacks against it in the courts, and which politicians voted to repeal the law without offering a single plausible plan as a replacement. In 2016, the extremists who are risking the healthcare of millions of people will be held responsible," Henry said.
The Laborers' O'Sullivan called expanded access to health care "a good thing," but said solons must fix two major ACA holes: Its threat to multi-employer plans and the imposition of the so-called "Cadillac tax" on individuals with high-value health care plans, starting in 2018. A transition tax has already cost his union's health care plans $45 million.
Those two problems create "the Obama Administration's pick-pocketing of working people" to fund the ACA, O'Sullivan said. Other unions, including the Steel Workers and the Communications Workers, are also campaigning to repeal the "Cadillac tax."
"Millions of workers in multi-employer plans, including Laborers members, have had quality coverage for generations. They collectively bargained for it, paid for it out of their paychecks, and were never a drag on our nation's health care system. Unless Congress fixes the ACA, their plans will be destroyed through new costs and taxes, such as the 40-percent so-called 'Cadillac tax,'" O'Sullivan explained. "The fees and taxes make the 'Affordable' in the ACA an oxymoron."
The Steel Workers, a leading labor advocate for single-payer government-run national health care, lauded the court's ruling and said "any other decision would have penalized citizens in 34 states solely because state leaders refused to act." Left unsaid: Republicans, dead set against the ACA, run most of those states. "Insurance companies can no longer play tricks and deny coverage to people with illnesses," USW added. It pledged to continue to fight to expand health care access and "will oppose future attacks that aim to" roll it back.
AFT's Weingarten, whose union includes 120,000 nurses, called the court's decision "a victory for working families," preventing "a major step backward" in U.S. health care coverage.
"Ask the nurse who sees patients every day who are getting healthy thanks to the Affordable Care Act. Ask the adjunct professor or the school support-staff worker who now have coverage thanks to the law. The Affordable Care Act is working," she declared.
She also said the law is starting to curb "out-of-control health care inflation," provides "a new focus on quality and outcomes" and expands preventive care. Left unsaid: The GOP money bill for the Health and Human Services Department kills the quality care-monitoring agency and axes the preventive care funds.
NEA President Eskelsen-Garcia said the court's ruling helps kids, too. "Millions of Americans breathe a little easier knowing their health insurance is secure and will remain affordable. The subsidies provided by the ACA help increase school children's access to quality health insurance and medical care," she explained.
Photo: Students cheer as they hold up signs supporting the Affordable Care Act (ACA) after the Supreme Court decided that the ACA may provide nationwide tax subsidies, June 25, outside of the Supreme Court in Washington. (AP Photo/Jacquelyn Martin)