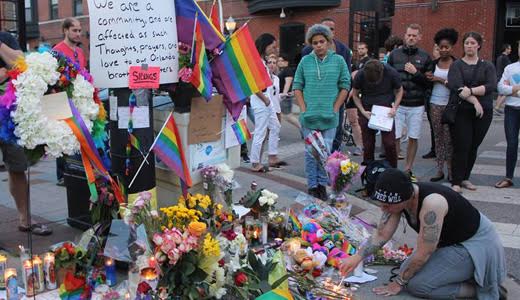 Union leaders expressed horror and outrage at a gunman's mass killing of 49 people, and wounding of 53 more, at an Orlando, Fla., club that catered to gay, lesbian, bisexual and transgender people. Several leaders again demanded increased gun control.
The unionists, including Randi Weingarten, the openly gay president of the American Federation of Teachers, joined other leaders across the ideological spectrum in condemning the massacre and expressing sympathy for the victims and their families. The exception: Donald Trump, the presumed GOP presidential nominee, in a harsh speech, spewed hatred of Muslims, instead. Other statements included:
"Hatred and violence have no place in a civilized society," said Jerame Davis, executive director of Pride@Work, the AFL-CIO constituency group for gay-lesbian-bisexual-transgendered unionists. "Our hearts break for the families of the Orlando massacre as we wait for more information about this horrific attack. Until then, we can only honor the victims and their families by working to make sure this never happens again."
AFT's Weingarten added the carnage in Orlando again proves the need to curb the availability of such weapons of mass destruction. One of the large prior massacres occurred in an elementary school in Newtown, Conn., she noted.
"I don't know where to begin," she said. "Fifty dead, many more wounded, in the worst mass shooting in American history. I am sick and heartbroken. I pray for the recovery of those who are wounded, and my heart goes out to the dead and their families and loved ones.
"While we wait for the details, we must find the courage to extend compassion to one another, not expand hate. Texas Lt. Gov. Dan Patrick and others are already trying to divide us by insinuating that the victims – because they are part of the LGBTQ community – deserved to die. Others have seized on the gunman's name to promote hate against Muslims." Patrick, like Trump, is a Republican.
"The victims are not to blame. Our Muslim neighbors are not to blame," Weingarten continued. "If we want to assign blame, let us look to the culture of radicalization and fear that creates hatred. Let us look to the outrageous laws that make it easier for gunmen to acquire assault rifles than it will be for members of the LGBTQ community to donate much-needed blood for the victims of this crime.
"The weapon used in Orlando is a kind of military-style assault rifle," a type of semi-automatic weapon that was also used "by Adam Lanza when he murdered innocent children and educators at Sandy Hook Elementary School in Newtown, Conn." That style of weapon was also "used in San Bernardino, Calif. In Aurora, Colo. In Portland, Ore.
"Let us find the political courage to pass commonsense laws to make it harder to commit these crimes. And let us find the moral courage to use this tragedy to build bridges and open our hearts, not to build walls and further hatred."
"We express our deepest condolences for everyone affected by the deadly shooting, including the victims, their families, the police force and the medical professionals," said Steelworkers President Leo Gerard.
"In the labor movement, we live by the fundamental belief that an injury to one is an injury to all. This event was not just an attack on the LGBT community or on the attendees of the Pulse nightclub; it was an attack on all Americans who have the right to be free.
"As a union, we pledge to continue working to secure the right of everyone in this nation and in this world to live their lives free from violence and hatred, regardless of race, gender identity or expression, sexual orientation, or religion. In the words of the Rev. Martin Luther King, 'Injustice anywhere is a threat to justice everywhere.'"
"There is no room in our country for such hatred, yet such tragedies are occurring far too often," the Communications Workers said. "However, it's clear that LGBTQ people were targeted by the gunman. We call on this country to replace hate with love.
"Shamefully, some elements already are using this horrific tragedy to push their political agenda and are condemning President Obama for his call to our nation to respect all people and all faiths. We stand with the President who has called this massacre an act of terror, in this case directed at LGBTQ Americans, and join all Americans who are sickened by the continuing carnage and loss of innocent life in our nation…We join in the demand for changes that will restore responsible gun ownership to communities across the nation.
"This was an attack on all of us," said Hector Sanchez, Executive Director of the Labor Council for Latin American Advancement, the AFL-CIO constituency group for Latino workers. Many of the Orlando victims are Latinos, as the club was hosting a Latin American-themed night.
Service Employees President Mary Kay Henry said her union also stands in solidarity with the lesbian-gay-bisexual-transgender community and that it will renew its efforts for stringent gun controls.
"We are reminded that the LGBTQ community has long been the target of hate and violence in their fight for freedom to love," said Henry, who is gay. "In the past year alone, African Americans in a church, health care workers in a women's health clinic and our union's members attending a holiday party have lost their lives. We must all stand united against all forms of hatred and violence.
"Together, we demand our nation does everything to ensure that no more families have to feel this pain, sadness and loss ever again. It's long past time for our nation to do something about gun violence in our communities."
"We stand in solidarity with the LGBT people who were the direct targets of this terrorist attack, and the larger communities they represent, sadly, by this most recent act of terrorist violence," said Stuart Appelbaum, president of the Jewish Labor Committee.
"This was not just an attack on the LGBT communities of Orlando, but on freedom itself, on the basic principles of cultural openness, diversity and tolerance. Indeed, our way of life," added Appelbaum, who is also president of the Retail, Wholesale and Department Store Union.
Appelbaum, who is gay, said "standing with the victims is not enough" and must be followed by serious state and federal gun control laws – despite the gun lobby-and that "homophobia, racism, anti-Semitism, and Islamophobia must be all be challenged wherever they rear their ugly heads, and we call on leaders in our communities and organizations to speak out clearly and consistently on this."
"Internationally, Islamist extremism, with religious and political components, provides inspiration to as well as support for terrorist acts such as that in Orlando. The full weight of the free world must be brought to bear to break its hold" without, however, demonizing Islam or legitimizing Islamophobia. Radical Islamism "is an extreme minority movement," Appelbaum pointed out.
Photo: Vigils have been held all across the country since the tragedy in Orlando. This photo is from one held in Chicago. | Michelle Zacarias/PW