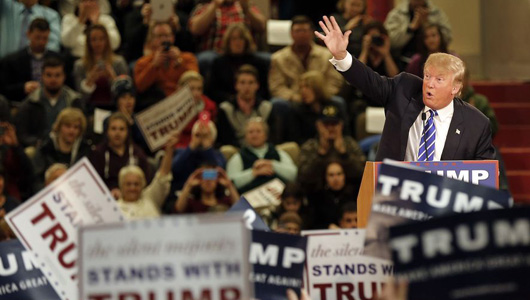 BOSTON – Like many Graphic Communications Conference / Teamsters (GCC/IBT) leaders, the president of Local 3-N in Boston, Stephen Sullivan, has heard his members speak favorably of Republican presidential candidate Donald Trump as a champion of the working class — a straight shooter who aims to bring greatness and jobs back to America.
But Sullivan urges caution. Trump, and other Republican presidential contenders, also have argued against the minimum wage, vilified the Affordable Care Act — widely known as "Obamacare" — and show persistent disregard for labor interests and minority rights, he warns.
"He's long on rhetoric but short on details," Sullivan said of Trump. "I tell people, 'Don't look at what he says. Look at what he does.'"
For labor leaders who find members leaning increasingly toward conservative, anti-labor candidates, there is an urgent need to counter right-wing arguments before November.
In the case of Trump, longtime Graphic Communications Conference/IBT leader John Agenbroad said the billionaire businessman has shrewdly portrayed himself as an "outsider" who has never held public office and doesn't seek funding from wealthy backers. To voters who feel betrayed by establishment politics, Trump can seem irresistible, Agenbroad said.
Often ignored are Trump's crude campaign trail remarks, lack of coherent policy statements and what often appears to be little knowledge of vital domestic and foreign policy issues. Also overlooked: His recent backing for right-to-work laws. "I like right to work," Trump said in South Carolina, adding the anti-union legislation is "better for the people."
"He's a loose cannon," Agenbroad said of Trump.
Agenbroad, former executive officer and secretary-treasurer of GCC/IBT District Council 3 and president of Local 508-M in Cincinnati who now works as a political consultant, said if Trump wins the GOP nomination he is likely to lead his party to defeat in November. But in an unusual election year, predictions often have proved risky.
Union leaders admit they are wary. "Don't ever be over-confident," said Graphic Communications Conference/IBT President George Tedeschi. "Anything can happen."
Writing in The Atlantic magazine, journalist Richard Brownstein observed that Trump is "amplifying the voices of constituencies that have usually been outshouted in fights for their party's nomination," Brownstein said.
Worried union leaders acknowledge that many members feel "outshouted" by powerful voices in American politics and are showing anger by backing extreme candidates.
Trump may be the most obvious beneficiary of the trend, labor officials say, but GOP hopeful Sen. Ted Cruz of Texas also represents extreme right-wing positions and is a Tea Party favorite. Even Ohio Gov. John Kasich, cast as a moderate in the GOP race, has a strong conservative streak.
In recent years, many union members voted for candidates like Kasich and right-wing GOP Wisconsin Gov. Scott Walker, who stripped public unions of most collective bargaining rights. It is a development that causes concern at the highest union levels.
As Teamsters President James Hoffa often has observed, the irony of union people voting for conservatives is obvious.
"We've made them into Republicans," Hoffa has said.
Tedeschi also laments the rightward drift evident in union ranks.
"Sometimes people become comfortable and lose focus," Tedeschi said. "They get won over by empty talk and distracted by hot button social issues that have little to do with real-life worries like wages and plant safety. And they forget who have been long-time friends of unions and who wants to tear down our movement. Voting for any Republican candidate this year is a huge mistake. When it comes to labor, one is worse than the other."
Mark Cooper, a member of GCC/IBT Local 727-S in Des Moines, Iowa, and president of the South Central Iowa Federation of Labor said, for instance, that he knows union members who oppose Hillary Clinton so strongly that they might vote for a Republican alternative, including Trump. Clinton, a former First Lady, U.S. senator and Secretary of State, is leading the race for the Democratic presidential nomination.
It is a case in point, Cooper said. Clinton has been criticized for her stand on some international trade agreements but, in general, stands strongly with union workers.
On the other hand, Cooper recalled meeting a worker at one of Trump's hotels who said he made $9 per hour working at non-union Trump property and $18 hour working for another property that was unionized.
It is essential that union leaders point out disparities of this sort as the election season continues, Cooper said.
Union people must vote for candidates who will oppose the Republican anti-union agenda that includes pushing a federal right-to-work law, gutting the National Labor Relations Board and seating a far-right justice on the Supreme Court to replace the late Antonin Scalia, labor leaders say.
"You need to have those conversations with your members," Cooper said. "We do have Republicans in our ranks."
Zachary Dowdy is a Newsday reporter and editorial unit vice president of GCC/IBT Local 406-C, Long Island.This article comes to the PW via PAI.
Photo: Crowd at a Donald Trump rally. Union leaders admit that they face an uphill battle convincing many woirkers that Donald Trump pushes policies that are not in their interest.. | Jim Cole/AP