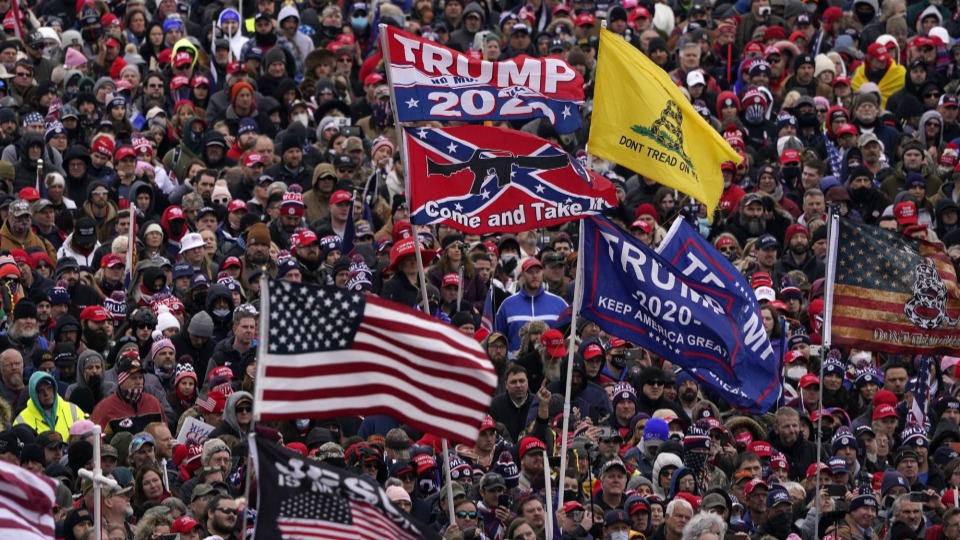 WASHINGTON— Union leaders blamed GOP White House occupant Donald Trump for the violent insurrection which saw thousands of white nationalist domestic terrorists overrun the U.S. Capitol on Jan. 6.
Their denunciations came as more than 100 lawmakers, including soon-to-be Senate Majority Leader Chuck Schumer and House Speaker Nancy Pelosi, demanded that Trump be immediately removed. There are presidential aides, not yet Cabinet members or Vice President Pence, seriously discussing the use of the 25th Amendment to immediately remove him. The amendment can be used only if the Vice President and the Cabinet act.
The right-wing insurrectionists, urged by Trump lawyer Rudy Giuliani to conduct "trial by combat" as they began their march from the White House to the Capitol,  tried to pull off a coup to keep Trump in power. The Trumpite invasion of the Capitol temporarily suspended—but did not ultimately halt—counting the electoral votes which put Democratic nominee Joe Biden into the Oval Office. The count, and the certification, came at 3:45 a.m. Jan. 7.
Trump, through an aide, promised "an orderly transition" on Jan. 20. Twitter, Facebook, and Instagram have suspended his accounts. In his statement he continued to lie, however, refusing to concede the election and still declaring the November election was stolen.
Union leaders, including AFL-CIO President Richard Trumka and particularly National Nurses United Executive Director Bonnie Castillo, declared Trump is liable for inciting the insurrection. She called for punishment but did not suggest how.
"The president has been encouraging sedition. No one is above the law," said Castillo. "He is responsible for the scenes we have seen today at the Capitol and he should be held accountable."
"We are witnessing one of the greatest assaults on our democracy since the Civil War. Today's attempted coup has been years in the making as Donald Trump consistently spews venom, conspiracies, hate, and lies to his supporters," Trumka said in a statement.
Castillo, in a long statement on the union's website, also went through the long history of right-wing extremism—and not just from Trump—that led to the insurrection.
Reps. Ilhan Omar, DFL-Minn., Ayanna Pressley, D-Mass., and others wanted immediate accountability for Trump. They drafted articles of impeachment against him.
The NAACP endorsed impeachment and started a petition for it. In just hours, another pro-impeachment petition, on MoveOn.org, drew more than 157,000 signatures.
"He deserves to be impeached," new Rep. Cori Bush, D-Mo., the first Black Lives Matter activist elected to Congress, told National Public Radio. "I come from protests…This was not a protest…This was an insurrection."
"I can't believe domestic terrorists are roaming around inside the Capitol. I'm remembering being brutalized and treated like a domestic terrorist just for protesting to keep my people alive," she tweeted.
Bush also said the 140 House GOPers who enabled Trump's lies about a stolen election violated their oaths of office and that she would introduce a resolution to expel them.
Insurrectionists "are carrying out his [Trump's] wishes," Trumka added. "Far too many Republican lawmakers have enabled and even encouraged this violent threat to our republic… This is an effort to violate the constitutional rights of every law-abiding American and the labor movement will not stand for it. Not today. Not ever."
"#Trump has enabled rioters who stormed the U.S. Capitol & threatened the lives of duly elected officials. It is domestic terrorism. It is reprehensible. It will not stop the peaceful transfer of power, but there must be #accountability 4 this criminal behavior. #DefendDemocracy," AFT President Randi Weingarten, a New York City civics teacher, tweeted.
"Today is a dark and devastating day in our country's history," said Amalgamated Transit Union President John Costa. "What was supposed to be a routine procedure to follow the Constitution and certify the democratically decided election turned into a violent siege on the U.S. Capitol and the foundations of our democracy.
"While our nation was founded on freedom of speech and the right to have a voice, this was not an exercise of those rights. We condemn the actions of those turning to violence and mob rule.  We will not stand for this unprecedented and heinous assault on our democratic principles."
Trump "encouraged a mob of anti-democracy protestors to breach the security perimeter of the U.S. Capitol, forcing a lockdown, and endangering the safety of members of Congress, workers at the Capitol, innocent civilians who live nearby, and the law enforcement officials charged with keeping the peace," said Government Employees President Everett Kelley.
"It is nothing short of a desperate attempt to use violence to cling onto power after a clear defeat at the ballot box."
Other commenters demanded the Cabinet invoke the 25th Amendment, which sets the president aside when a majority of that group declares the president unable to carry out duties of the office.
That would put Vice President Mike Pence in power until noon on Jan. 20. "The president [Trump] is dangerous" to national security and should be replaced, Olivia Troy, Pence's former national security senior advisor, told National Public Radio. Trump, she said, could take the U.S. into war before then.
The insurrection left the Capitol with smashed windows and doors, bullet holes everywhere, scenes of mayhem inside, looting of House Speaker Nancy Pelosi's office, and worse. One woman, part of the Trump mob, was fatally shot in the chest and later died. Three other people died after "medical emergencies" on the Capitol grounds.
More than 50 people were arrested for breaking D.C.'s 6 p.m. curfew, which came after the Capitol was cleared. Police recovered and disarmed pipe bombs and a cache of Molotov cocktails. Another 42 were arrested on other charges.
By contrast, more than 300 peaceful racial justice protesters, almost all of them Black, were arrested in D.C. after one demonstration last summer. More force was used in that infamous law enforcement clearance of Lafayette Square for a Trump photo-op, but none of the white nationalists who infiltrated that protest and caused mayhem—including trashing the AFL-CIO headquarters lobby—were arrested.
Capitol Police were filmed talking and taking selfies with the invaders and offering little resistance. Thousands of insurrectionists got away, and police, the National Guard, and other law enforcement did not pursue them.
Law enforcement officials also had months of notice of the threat, through monitoring hate speech and invasion plans on social media, along with Trump's incendiary tweets. They did little to prepare.
The contrast between police non-reaction to white nationalists versus massive crackdowns on Black Lives Matter activists drew notice from Service Employees President Mary Kay Henry, too. She noted white nationalists infiltrated the BLM protests, caused mayhem, and got away with it.
"This attack on the U.S. Capitol provoked by Trump is about wielding the power of whiteness to threaten what we hold dear: The chance for families of every race to thrive, to have good jobs and healthcare, for our kids to be safe and have clean air to breathe," Henry said.
"I'm thinking of Black and brown families waiting for their loved ones to come home," Henry tweeted later. Those families were "watching the news of armed white supremacists in the Capitol, taking selfies with Capitol police, when peaceful Black Lives Matter protesters were met with tanks, tear gas, and rubber bullets."
"This attack will not stand. We the people chose President Biden, we chose Raphael Warnock and Jon Ossoff"—the two Georgia Democrats who won U.S. Senate seats in a Jan. 5 special election, producing Democratic control there—"and we choose to move forward together," Henry said.
"This is an absolute embarrassment for our country. My thoughts are with all the amazing journalists covering this moment. Stay safe, by God, you are our light," News Guild-CWA President Jon Schleuss tweeted.
News Guild members, from the New York Times, the Washington Post, the Associated Press, and Reuters and other papers were among the media members threatened by the insurrectionists. AP photographers had their cameras smashed.  NABET members, television and video journalists, were inside, too.
Other groups also denounced the white nationalists' insurrection.
"This attempted coup is a direct result of Trump stoking fear, spreading disinformation, and emboldening anti-democratic white supremacists," said Ilyse Hogue, president of NARAL Pro-Choice America. "They have been aided and abetted by far too many in the Republican Party. We must stand strong in the face of these attacks, certify the rightful winner of this election, and double down on our commitment to democracy and freedom."
"Trump has conclusively (and repeatedly) demonstrated his unfitness for office. He must not be permitted to remain in office even for two more weeks. The risks of more deranged action are simply too high," said Public Citizen President Robert Weissman.
He called for immediate invocation of the 25th Amendment, House impeachment and Senate conviction of Trump, and criminal prosecution of him afterwards.
Leaders of Britain, France, and Germany condemned both the invaders and held Trump responsible. But Trump's closest ally ideologically, Israeli Prime Minister Benjamin Netanyahu, condemned the insurrection, then shut up. Iranian and Syrian leaders condemned the U.S. hypocritical denunciation of their governments.
The international labor movement immediately expressed solidarity with the American working class against the Trump attack on democracy. IndustriALL Global Union, in a statement, declared, "Trump's presidency has been a sustained assault on not just democracy, but on truth itself, along with fundamental human and workers' rights." Going further, the union said, "Attempting to overthrow a democratic election through violence is fascism. The labor movement has always been and remains an implacable opponent of fascism and defender of democracy. "